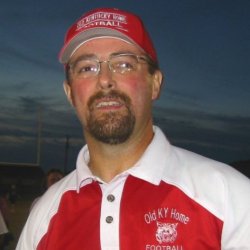 bdbrown66
---
Boston, KY (via Tiltonsville, OH)
MEMBER SINCE August 26, 2014
Recent Activity
Show us on the doll where the Tressel hurt you.
What is the opposite of "BOOM!" ?? MOOB?
4 of 13?
At least some of the M fans seem to agree with you. I found this comment on MGo, in a thread about their spring game:
"I'm sure some people will take situations like this and use it as another reason why interest and attendance at the games seems to be dwindling. The reality is that there has been a perfect storm of negative things happening around the football program. Lack of a consistently strong team over the past 10-12 years. Incompetent leadership in the AD. Increase of ticket prices. Bungled coaching searches and hires. The proliferation of inexpensive 70-inch TV's. Etc. Spring games and fan experiences are way down on the list of things that are important to most Michigan fans. Having been to my first (and last) game at Ohio Stadium last November, I realized instantly that their fan base is much more intense about and interested in the football program. The reality is that football just isn't as important to Michigan's fan base...for a variety of reasons."
HAHAHAHA!!! Wolverine tears are the saltiest.
Ryan Day has already lost control. /s
Because of Jim Harbaugh's proven record for developing QB's. </s>
I was going to say the same thing. That jumped out at me, and I don't think it's accidental. Ryan Day's offense will look very different from Urban's offense, at least where the QB is concerned.
He would probably never see the court with how they recruit down there, but he may think the grass is greener.
It's Kentucky. The grass is bluer, not greener.
And, with a name like "Blue," he would be a perfect fit.
Just a standard jock strap is the ticket. Just keep everything nice and snug for a few days, and you'll be much better off. I had it done 22 years ago, easy-peasy. I've had tooth fillings that hurt worse.
My uncle on a local radio show, talking about Chuck's heroism in Vietnam. Starts at about the 6:00 mark.
https://www.iheart.com/podcast/530-Bloomdaddy-On-Demand-28256832/episode/bloomdaddy-7-730-jan-24-30460480/
Dude...the guy that died was the chopper pilot. He lead the mission to rescue the 40 guys on the ground, one of which was my uncle. He flew into the middle of that firefight 4 times to bring those men out.
He never got to meet him, but he did speak to him by phone a couple of times just last year. He is going to be doing a radio tribute to Charles tomorrow. I can post a link to the podcast when it's up.
Other way around, bro. My uncle was one of the guys pinned down, about to be overrun. This guy and his chopper crew got them all out.
Not my loss, KB. My uncle is alive today because of this man's bravery. It's a loss for America.
I had a #MeToo moment on that one. Blinked my eyes a few times and adjusted my glasses. Needed more coffee at 0600, I guess.
Hey, OP. Do you happen to be an alumnus of Buckeye South HS?
Who are you referring to as the one who has never played or coached football? I assume you're referring to Odierno, but he played at West Point for 2 years, before suffering a knee injury.
If he's not keeping up in the classroom, he'll have to Hopalong down the road. He might end up working at the Golden Archies.
That's essentially reverse racism though.

If Fields is leaving UGA because of the racial slur hurled his way and the impact it had on him and his existence at UGA, what right would anyone on the board of the NCAA (the rich, old, white assholes) have to tell him about how that experience should have made him feel, and tell him his experience doesn't warrant the hardship waiver he's requesting?

What could they possibly know about being disparaged upon because of their race? And in that vein, being an 18 year old kid and dealing with it in that environment with that high of a profile?
Do you want to add sexism to your list? Because that group of "rich old white men" that you're referring to (the NCAA Legislative Relief Committee) has 7 members; 3 are white males, 3 are white females, and 1 is a black female athlete. But yeah, whatever.
Here's the list, BTW:
http://web1.ncaa.org/committees/committees_roster.jsp?CommitteeName=1CLR
It is for sure laden in conspiracy theory which I normally loathe, but I feel like where there is smoke there is a room full of dumb, old, white, rich assholes who think they can decide what's best for tens of thousands of kids who have moved away from home and are just trying to do the best they can for themselves and those back home depending on them for a better future.
Do you realize what you just said is as racist as the comment which started this whole transfer in the first place? We may not agree with their decisions, but what does the fact that any of them are white (or black/yellow/green//whatever) have to do with it?
You're right, my bad. Trying to listen on a conference call at work and read 11W at the same time. :)
Dude, Nick Saban pulled a national-championship-winning QB at **halftime** and plugged in his backup. It's kill or be killed at this level.
Unless Tate transfers to a bottom-feeding program, he's going to have to compete with someone who's a pretty good athlete in order to win the job. No one is just going to hand it to him.
Curled up in the fetal position in his treehouse, would be my guess.