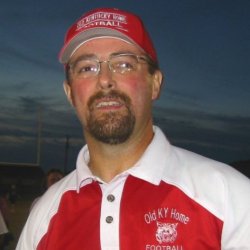 bdbrown66
---
Boston, KY (via Tiltonsville, OH)
MEMBER SINCE August 26, 2014
Recent Activity
Dude is ripped.
Looks like he's a great kid. A welcome addition, for sure.
Don't forget to mention that Epstein was a financier and partner in that little construction project. It would appear that he and Les were pretty cozy.
https://www.businessinsider.com/jeffrey-epstein-helped-les-wexner-build-model-town-ohio-2019-7
I've come to talk with you again.
Let's hope not.
Why, Eleven Warriors, do you keep forcing me to relive my dark past? Let it die...
) The second reason they have ever lost a game, besides the other teams all cheating, is that the refs jobbed them. Any game. Not just "the spot". (btw, they got the spot right). If you read the ongoing during their baseball run, they were complaining about the strike zone.....EVERY PITCH. Some of their forums, they'll dissect losses over the last few years and conclude that if the refs hadn't been obviously against them, they'd have been National champs about 6 times in the last 10 years....lol

2) Academics: obviously, as stated, their General Studies is equivalent to anything from Yale or Harvard.

3) They have "special plays" they are just saving for the right time. Not just with Gattis. During their revenge tour epic failure of last season, they kept telling each other that Jimmy had these top secret plays he'd been saving all year to pull out against OSU....because you know, you never need to actually work on plays under actual game conditions to be successful....unless you're OSU with a first time 12 gauge throwing bombs all night.
Substitute PSU fans for UM fans, and this is the same rationale that you get on the BWI circle-jerk.
Ah, but Ryan Day doesn't clap nearly as well as Hoke. On the other hand, Day wears a headset, so maybe it all evens out.
He turned me into a newt.
Oooh...that's gonna leave a mark.
Awesome speech, Coach.
And I am totally fine with that.
Hey, Hove. Whereabouts do you have family? My wife is from the Bedford/Altoona area, little town called Claysburg.
What the flip does this babbling have to do with the discussion at hand? Too many martinis at lunch?
It's hard to sue a "journalist" for defamation or slander. Not that McMurphy deserves the label.

Hilarious to think of PSU losing out to OSU because of academics. The guys over on BWI are always harping on the "didn't come to play school" quote as evidence of the supposed OSU "football factory." When Toutant decommitted, they were saying things like "he's not that good, anyway" (of course). Now, they'll probably change over to "he's not that smart, probably couldn't make it in our (PSU's) engineering program." Just too funny.
If he is smart, he's got an attorney listening to the recorded program before it goes out. But, maybe not.
I'm not getting mad. Obviously, it doesn't affect me in the least, and I've said up front that I have no way of knowing if it is true as reported. I'm just saying that, if it is true, that's no way to roll. And if I had been on the receiving end of something like that, it would make me question whether I wanted to work for someone who obviously didn't care about my well-being in the least.
As a certain other legendary OSU coach was known to say, "You win with people." This ain't "winning with people." Woody was as hard-nosed and anal as they come, but I can't imagine him forcing an assistant to drive halfway across the state in a blizzard while he cooled his heels on a private jet...just to save 20 minutes.
There's a vast difference between "doing your job" and "getting screwed by your boss." Based on the results on the field, I would say that Coombs was "doing his job" very well indeed. And as far as we know, the whole reason he left OSU and went to the NFL is because he didn't want to put up with crap like this anymore.
Again, I don't know if the story, as told by ZS, is 100% factual, or has been embellished to some degree. But if it is true, that's a crappy way to treat your employees. I learned long ago, from my experience in the military, that "authority is given, but respect is earned." Actions like this do not earn respect. Quite the opposite.
We don't, and I'll readily admit that. But enough of what he has said has been either confirmed or at least believable, so I'm inclined to think there's some truth to it.
I'll tell you what: If I had been Kerry Coombs, and would have had to drive all the way home from Toledo in a blizzard because my boss couldn't wait 20 minutes, my resignation would have been on his desk the next morning. That's just blatant disrespect for the people who are working their azzes off for you.
The denizens of BWI and MGo are telling themselves that tOSU is in for a down year, with a new coaching staff, QB, etc. I. Can't. Wait. The salty tears will be so delicious.
I'm just curious about the mechanics of the situation. How does a guy who bears a striking resemblance to Curly from the Three Stooges win the heart and hand of a cute blonde chiquita? It can't be his sunny, pleasant personality. I'm going with greenbacks.
Bert is Dirt.
How he scored with Jen is beyond me.
A great example of the Peter Principle...people getting promoted one grade above their competency level.
In my memory, I can't think of a great OL coach who went on to become a great OC or HC. Maybe someone can remind me of someone who made the transition successfully.
For the record, I am not Zach Smith. :)