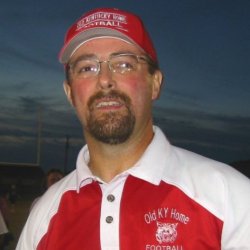 bdbrown66
---
Boston, KY (via Tiltonsville, OH)
MEMBER SINCE August 26, 2014
Recent Activity
Because he couldn't go for 101.
Logged in just so I could upvote this.
Very, very well done, fellas. They've even created a BPONE thread on MGo about it. A "microcosm of the last 20 years" is how someone described it. Beautiful!!
Beer? Naw, that's milk...whole milk. None of that 2% stuff.
The only thing we can be assured of is that Brett McMurphy has a new Twitter handle.
I do read the Skully almost every morning during breakfast. Was running late today and didn't have time.
Lake Erie rose 6 inches today from the influx of Wolvie tears.
These days, you could get away with that just by "identifying."
Maybe just have a whole bunch of candles burning 24/7. Twinkling little lights of fire are awesome.
Not when mixed with methane. ;)
Hello, Transfer Portal, my old friend. We've come to talk to you again. Got any DB's on your list today? We could use 2, send 'em our way...
I'm in Radcliff, KY at least 5 days a week, doing IT work for the Army at Ft. Knox. I'm sure Coach Barnes had lunch at one of the many outstanding fast food joints in Radcliff. If you want fancy, it's Mexican. Or, for top shelf, Applebee's. Lol.
Maybe TTUN wanted to make a good impression, so they sent the OC instead of Crazy Jim.
Hey...TTUN seems to get all of its starting QB's from the portal. Wouldn't that be an interesting twist???
Except, that doesn't seem to be his M.O.
McCall, who has bounced back-and-forth between running back and H-back as a Buckeye, could end up in either position group in 2020 but theoretically could offer the most value as a complement to Teague in the RB rotation.
Please stop. I've got nothing against the kid, but he's done absolutely nothing in the last 3 years to make anyone believe that he is the next-best option behind Teague, in spite of the constant promotion by the 11W writers.
Go read BWI and then report back on hate for another program and its coaches. I'll wait.
What a flippin' loser. The guy has absolutely no sense of propriety. May he go 0-for-life in The Game.
Are you saying we need a schematic advantage?
They probably have better talent than Bama, as well. /s
I also live in Kentucky (Louisville area), and it would be great to get another win against them. I asked one of my UK buddies the other day, when was the last time UK had 3 losses by the end of December? Still waiting on a reply, lol.
Big fish meets little pond. That's it and that's all.
Don't confuse the issue with facts, son.