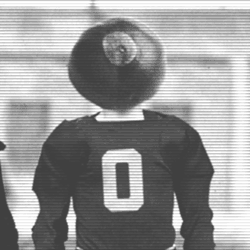 bcarp87
---
Member since 24 September 2012 | Blog
Favorites
NFL TEAM: Browns
NBA TEAM: Cavs
MLB TEAM: Indians
Recent Activity
Didn't know that, google says TCU is 50k vs 100k in Arlington. That explains it
Fair point. TCU will draw better than Cal in a 1-11 season though
Then why not make it an away game so we don't split it? It's not money
Right, that's why I was asking. Almost better off playing them in a true away game because of this. I didn't think of the recruiting explanation though, that makes a lot of sense. Much better experience for a kid to come in and see OSU play at Jerry's World than TCU's stadium.
Makes sense, thanks for the explanation. In light of what happened this year though I'm not sure it's worth it.
I had to look this up... 1989 was the last time no OSU LBs were on any All Big-Ten teams.
There are ethical issues with at-will states? So you think the employee should be able to quit whenever they want, regardless of the impact to the business, but the employer should not be able to terminate someone whenever they want?
I know we tend to think of these laws in terms of the big corporation firing the powerless Joe Schmoe, but in smaller businesses, one employee quitting at the right time can have an enormous impact.
Crazy how people change their minds on oversigning when we start doing it.
This article is centered on stats. They don't have a stats or talent problem, they have an attitude problem. It was supposed to get better when those guys left last year and it didn't.
YEAH!!! No need to look into this further. Bring the Hammer down!!!
yes but the interest would go down as you pay down the principal... while the licence fees increase
He's joking... He just posted a picture of when he tore his patella after the doctor told him it was just tendanitis
No offense.. but did you have to put the '87 cover up there? We went 61-101 in 1987, worst team in baseball.
That's really a terrible attitude to have about your favorite team."You think the team is doing something morally wrong? Here's the door."
Most of the SEC schools were 4-5 over each year. I don't ever remember seeing one over 10. We are doing the same thing most of them were doing.
you are clearly arguing about oversigning.
you clearly care about oversigning
He didn't try that strategy
I'm not sure what this is about, but surely he and Finebaum can't be just people who express their opinions without ulterior motives.
We have not won 23 straight regular season games
Thanks guys...
ill be in the Dominican so hopefully it's on TV but if not I'll try one of those sites.
Sorry if this is a stupid question, I don't follow recruiting much. Is Gibson expected to play QB for the Buckeyes or will he play another skill position?