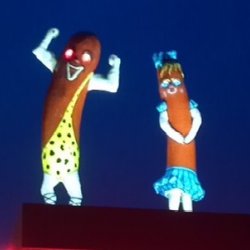 BBQ_Fan
---
Columbus
MEMBER SINCE May 04, 2015
Went to Indiana and one of my kids was on athletic scholarship at Iowa. But having lived in Columbus near campus for about 20 years now I root for the Buckeyes the most (except when my daughter competed). I do love to cook - and not just BBQ.
Recent Activity
+1 Milhouse. I nearly spit the coffee out on that one.
Wow Freddy Adu. I had completely forgotten about him. I guess a lot of people did. Interesting story.
And "creepy mascot" is an understatement.
Can't say enough good things about the Job Fair and helping these kids understand options outside of football. Even the ones that go pro will eventually need to do something else.
I was in Mumbai on business and one day they brought in Domino's for a working lunch. Something similar to Chicken Tikka was on it. Wasn't bad, but I found it depressing - one of the oldest and culture-rich countries in the world and we're having localized American chain store pizza. Later that trip while in Pune I saw a sign that said "Coming Soon! Papa John's". Sad.
I'm a fan of this idea. Literally.
Nice article. Weird list.
Yeah I was thinking of creating a Forum Post at 5:30, but then I thought - WTF am I doing?
Not my genre, but sounds like a great project. Best of luck with it Miami!
Link about the Euro symbol reminded me of when I travelled to Ireland on business right after the Euro bank notes and coins were issued in 2001. First time I was ever in another country where EVERYONE was looking at their money trying to figure out what was what. Felt like a local!
One of my good friends from college was the daughter of an Air Force B24 bomber pilot who flew his very first combat mission over Normandy on D-Day. He flew another 15 or so missions and was shot down later that Summer. Served the rest of the war in a German POW camp. I read an interview he gave to a local newspaper where he said that while he and other prisoners were being shipped back to a camp in Germany, their train was attacked by their Air Force colleagues who were actively trying to destroy German trains - of course without any way to know the cargo. He died just a few months ago, and I know this anniversary would have been special to the entire family.
Curious, they sign contracts AFTER rookie camps? What if he had been injured? Are there short term insurance options for that?
The piece on Ernie Pyle writing about DDay and WW2 was great. Sometimes it's hard to remember a time when first-hand accounts were only available days later. He was the average person , writing for the average person, which is much more difficult than it sounds.
Someone probably hit a wrong key and accidentally sent you Form Letter 27-H with the "partial government shutdown" explanation instead of Form Letter 6-B with the "we're getting around to it, just chillax" explanation.
Just finished watching. Great series. I didn't see Bran taking over for Gorbachev coming. Whoa!
Seriously, there were a lot of great lines, including the one about the cost of lies above. One of my favorites was in an early episode when Gorbo says "Our power comes from the perception that we have power". Some would say that's still true.
Watched 3 episodes to date and have been very impressed. Engaging work.
"Scarlet Notification" - sorry, I came here thinking this was some sort of Nathaniel Hawthorne reference and associated discussion. Oops.
Ok my daughter, let's call her Baby BBQ, was a beast rower in HS at UA. Fun to watch. Captain and led boats to Nationals Jr & Sr years. Then four years varsity at Iowa and got named 1st Team All-Big Ten one year. Academic All-Big Ten three years. I'm going with that. #bragging #sorrynotsorry
Turn off the Bleacher Report alerts on your phone and go outside and live life a bit. The season will still be there in the Fall.
And I just noticed that all six got invited to the 22-team field for the NCAAs. That's like getting the entire conference into March Madness.
Lost in this is that the B1G had 6 of it's 8 teams ranked in the Top 15. Impressive. #rowingconference
Drive-by Truckers - Carl Perkins' Cadillac
A few years ago someone used 11w to drum up interest in a local prospect
The implication of this statement is that there are people that think the coaching staff reads 11W threads to discover prospects that have been missed through the many regular channels (camps, rating services, HS coaches, tape coming unsolicited in the mail, etc.).
"Hey Coach Day! I read about this kid on 11W, let's check him out"
I'm having a hard time processing that.
+1 on cooking. A lot of people find it a chore, but I find it can be very relaxing and a chance to be creative and focus on something else.