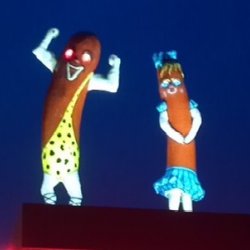 BBQ_Fan
---
Columbus
MEMBER SINCE May 04, 2015
Went to Indiana and one of my kids was on athletic scholarship at Iowa and another recently graduated OSU. Having lived in Columbus near campus for more than 20 years now I root for the Buckeyes the most (except when my daughter competed). I do love to cook - and not just BBQ.
Recent Activity
We'll it's not as if they are rendering it unusable. Funny actually.
Comedy is so welcome these days.
Assuming that things quiet down on the virus front come summer, I wonder if the NCAA will make changes to the historical practice schedules.
Good news! Sports will return!
Thanks Iowa. Yeah I have a son who is a medical case manager who works with HIV patients and his partner works at the Ohio Dept of Health so it must run in the family. Oh wait, there's me.
Eligibility question is interesting. Rowing season is very short and hadn't even started yet. Wanted to ask my daughter how she would have felt about losing a season. She works in hospital admin now and is buried with contingency planning now. No time to talk with Dad.
I was at Costco last weekend and their toilet paper was in short supply. I felt embarrassed buying it and even had to tell the checkout lady - but we are really out at home! (which was true).
The run on bottled water is a mystery. The same checkout lady and I were wondering if people thought water stations would become compromised as can happen when there are earthquakes, floods, tornadoes, etc.
"Headed to Ireland tomorrow - no restrictions" Ireland is great. Make sure you have a contingency plan as you may be quarantined on arrival there, and possibly on the way back by then. I know people stuck in Israel and even in Florida now.
As a Kentucky native, I'd love to see some of these kids come to OSU and be successful, but I'm not holding my breath. The local pull is too strong in most cases.
So, while UM may have a good number of invites none of them are the sort of prospects Young & Okudah are. The same with last year's guys. UM is just not getting those first round guys enough
But isn't it reasonable that after 4 years, outside of measurables, they would be significantly better ? Both Young and Okudah benefited from coaching. Shouldn't UM fans expect (demand) the same?
This reminds me that there haven't been any Tate Martell threads in a while!
Mel gets paid to talk, not to be correct.
Any guesses on the over/under of thread comments this upcoming season that include the phrase "takes poor angles"? While I hope the LB issues are in the past, that seemed to be the historical default complaint for a lot of folks and I always found it amusing.
The one bit of positive news in all of this is that thankfully the fatality rate seems to be much lower than the flu.
Given that the CDC estimates that >29 million cases of the "regular flu" have caused the death of 16,000 this season alone, it makes sense to pay attention to that. Get those flu shots folks!
Give him a contract competitive with Hairball
Well Michigan isn't paying Harbaugh to be competitive.
Cool story, thanks
Despite all the talk of "brotherhood", top tier programs are tough competition day in and out. That being said, getting a football scholarship at OSU and a chance to compete and get an education is incredible. Not everyone is going to be a starter, and there's no shame in that. Good luck to these kids. Chase your dreams.
There are a handful of ttun fans that post here regularly in a reasonable and respectful way. Maine is one of them and I'm okay with that.
Maybe OP has uncovered a business opportunity for himself
Certainly operating below his expected ceiling. Wonder if seeing him in the program caused them to cool on his brother as well.
+1 for Sisyphus reference
Really wish the best for this kid.
I didn't realize that most other sports allowed this already. When my daughter was rowing at Iowa only 5 years ago, she had a teammate transferring in from Miami that had to sit. (Miami to Iowa -see it's not always about the weather even for a sport on the water!)
I have Ally Bank accounts and love it. It was originally suggested to me by my financial adviser. We sold a house and had a lot of cash to park while we lived in an apartment and were looking for a lot on which to build. They have a great "No-Penalty CD" that also pays a significantly better interest rate than regular bank CD's. They have 11 month terms and you can liquidate them after only six *days*, as the name implies, without any penalty. You still got all accrued interest. So I purchased several of them and could liquidate them as needed to pay for our lot, construction loan etc. Was able to easily transfer to our brick and mortar bank (PNC) in about 24 hours.
They have all the usual debit/credit cards, checks, bill pay type stuff, but that was not interesting to us. Phone customer service was very good.
Danny Clark doesn't really apply as he was offered and accepted way too early
And that "Block O" tattoo.....