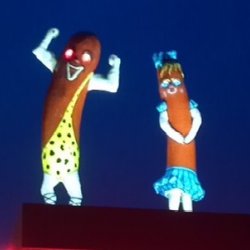 BBQ_Fan
---
Columbus
MEMBER SINCE May 04, 2015
Went to Indiana and one of my kids was on athletic scholarship at Iowa and another recently graduated OSU. Having lived in Columbus near campus for more than 20 years now I root for the Buckeyes the most (except when my daughter competed). I do love to cook - and not just BBQ.
Recent Activity
Congrats Kevin!
I believe it was non other than Blu.Fan that suggested staying away from MGo right now. While I've read it occasionally in the past, since Saturday it's simply been Crazy Town.
Being an Indiana grad and having kids that are Iowa and OSU grads, I tend to be a fan of the B1G. I believe that all of the B1G schools do a better than average job enforcing rules (looking at you SEC). I was pretty amazed hearing about all the compliance stuff that my daughter had to go through at Iowa even though there aren't any $100 handshakes going on with the Women's Rowing Team. (I'm sorry to say, that would have saved me some money!) They did get some deluxe perks though.
All that being said, it shouldn't surprise anyone that there may be some shenanigans occasionally going on at various places including both OSU and Michigan and 12 other schools. (Yeah some kid at Rutgers probably took some meatball subs from a low-level wise guy). To claim that OSU somehow sold itself out and enforces no standards with respect to participating in classes or has other basic parameters of conduct, and that all the fans and donors are okay with that, is just foolish.
Michigan plans to go through warmups wearing "Bama Takes Online Classes" shirts. Crowd goes wild.
This could be the "Neither Team Wants to Be Here" Bowl
It's kind of refreshing to listen to this after reading so much rambling crap from their "fans" the last few days.
Yeah I spent about a half hour reading comments on that one. A lot of crapping on online classes and especially Fields. When several posters mentioned that they took online classes, including at UM, other posters would effectively say, "well he's not taking those kinds of online classes". Bizarre. Mostly bullshit.
Hey Blu - welcome back. Well that had to suck for you!
One bit of context on online classes as someone from a similar vintage. My wife wanted to change careers and went back to school at age 53 to get a two-year degree in a different field. While most of her coursework from her original degree in the mid-80's was accepted, she did have to take a few gen-Ed type classes online, such as Psychology and Art History. We both assumed they would be blow-off courses, but as noted above, they actually were pretty tough because you had to be very disciplined and prepared. My son just finished his degree in Social Work at OSU this summer and surprisingly he also had to do several online classes - a few courses *in his major* were only offered that way. My daughter did several while living on campus at Iowa too.
Personally, I don't get it, I'm a "enjoy sitting in a lecture" kind of guy. But I do know enough now to avoid disparaging online courses as a rule. Like anything, there's always a possibility that something might be abused, but there's no evidence of that in the Fields case.
This is what successful, large business organizations do every day. Surprised this is not more common than what often seems like "Musical Chairs"
Can't believe that idiot wore a shirt with Mattison on it. What's even worse is that some OTHER coach(es) up there allowed that to go on.
Where's Jimmy's control of the team and staff?
Thanks for the context - I'm not a full-timer on the recruiting threads. The way that was written did not suggest that level of performance (which seemed odd)
When JH coached at Stanford, he was quoted saying he wanted to study History at UM and was steered away because they said it required "too much reading". Such hypocritical BS.
Not the way the Patriots played the first half against the Texans
Having had a B1G athlete in the family, they don't respect much of anything. I kept wondering how embarrassing that must have been for their parents to watch.
And no references to player development. Case in point: the above Rashan Gary, a 5* that OSU desperately wanted, had a good but in some ways disappointing college career. Then look at Zach Harrison, a 5* that UM desperately wanted that already had an incredible Freshman year, even stepping in to start a few times. All this bagman crap is so offensive.
Serious question: How do you get to be the #1 rated receiver and come from a program that doesn't throw much? Are most of the expectations/ratings based on performance in various camps?
I bet Don Brown will be available!
I browsed around a bit myself. I'm surprised there were not more comments on the Dobbins shoe incident. A couple people commented it was amusing, but not much else. How embarrassing for the program - what did they think would happen? Add in the late hit on Fields out of bounds, the lining up offsides on 4th and 4, as well as various trash talking (by COACHES) , and it's apparent how undisciplined and unfocused the organization is. Sorry, that's all on Jimmy H.
"It's worse than Charlie Brown falling for Lucy's phony snap. It's starting to become Wile E. Coyote getting sucked in by the Road Runner." LOL
I'm sure I don't follow CFB nearly as close as many people on this site, but the talent discrepancy is quite apparent.
And it's got to be horrible for the average UM fan to not only watch that, but to hear players last year and coaches this year talk smack. Shut the hell up and beat your rival, then you can talk whatever you want - at least for a year.
Yeah milk out the clock with a TD then get the 2nd half kickoff!
What Assholes with the shoe! I'm sure that's a GIF in the making.