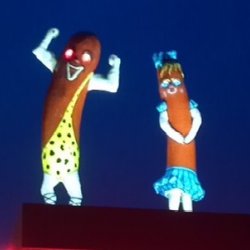 BBQ_Fan
---
Columbus
MEMBER SINCE May 04, 2015
Went to Indiana and one of my kids was on athletic scholarship at Iowa. But having lived in Columbus near campus for about 20 years now I root for the Buckeyes the most (except when my daughter competed). I do love to cook - and not just BBQ.
Recent Activity
I'd have taken the over as well. Maybe by 9 or 10 AM though.
You make great points. I'm just saying "never" is a long time and I sometimes think that people will figure out how to avoid the dystopic future I've read about in all of those science fiction novels and movies. Maybe not.
True story - my wife and I were married 30 years ago in Chicago. My out-of-town family came over after the (small) wedding to help get all the gifts and other items back to our place. My wife and I realize that we really haven't eaten anything all day, so we order Lou Malnati's and my brother in-law goes to pick it. up. Oh and then my Dad decided to turn on ESPN and watch boxing. That's how we spent our wedding night - at least for a while. Lou Malnati's Pizza and boxing. LOL.
any restaurants or other attractions you recommend visiting while in town
Certainly when I lived back in the area, "Mustard's Last Stand" is close by, and one of the Best Named Hot Dog Joints of all time.
a giant that's too big to be stopped, too powerful to be regulated
Who knows where it will all go, but similar words were once spoken about railroads, oil companies, steel companies, and Ma Bell
Lance didn't just lie. He also actively worked to destroy the careers and reputations of people who criticized him , Eg Freddie and Betsey Andreu and others including LeMond. Heck do you think Trek bicycles bought LeMond Bikes and shut it down just for fun? LA had his fingerprints on that. In other bike news, the greatest cyclist ever, Eddie Merckxx fell while riding this week and sustained a serious head injury. (He's 74)
I'll just mention that the Aer Lingus Business Class Lounge at the Dublin airport was quite pleasant.
There's a noticeable dropoff to Friday nights ratings-wise.
Might that apply to baseball as well vs something mid-week?
Thanks BB. Interesting that you refer to a "good regular season game" of which there are theoretically many over a several month period, and that favorably compares to what should be one of MLB's limited "showcase" playoff events in a short window.
Fortunately I have BTN!
Does baseball actually draw the ratings to have this make sense or was it all contract driven? I thought baseball ratings have been dropping for years (not just in my house where they are zero)
Yeah - I've been known to say, "hey let's have a bottle of wine and fall asleep on the couch by 9:30".
I've been married 30 years. Exactly my question.
This is strangely mesmerizing
Owned two manual transmission cars and both were a blast to drive. My daughter learned to drive on a manual Saab 900S.
I saw him perform at the Chicago Lyric Opera House about 30 years ago. Lucinda Williams was the opening act and they also sang a bunch of stuff together. Still a great memory of that concert (including the serious nose-bleed seats) He is such an American treasure.
Flight engineers and designers of station modules and experiments can have pull with the crew, since they work closely together leading up to the mission.
Would be an interesting story. I'm sure the astronauts are allowed a small amount of personal items. I'm assuming it was brought by someone for this exact purpose - and then to hang in their bar back at home.
If your last name ends in B-O-S-A you wear 97
You know money isn't everything. If you make several million a year already and you like the job, and your spouse is happy and your kids have friends and like their school, it's not unrealistic to turn down an extra couple million that would mean moving again and going to a dysfunctional organization in a strange place for the family. And if he does well, he'll get a significant pay boost too and all sorts of extra perks. So in 20 years if he only makes $100 million and not $122 million does it really matter?
I'm not sure how to read that "player location chart". What is that really showing? Just where they line up? Is it as meaningful since it does not show any other players? How does that reflect performance?
Michigan had 8 sacks and got 4 turnovers, yet only scores 10. Iowa still has a decent chance to tie/win at the end but has penalties on 4 consecutive plays. (Or was it 5?). Sad.
MNF had such a history of interesting and/or entertaining announcers. And then there are these two guys.
Always a +1 for Elvis Costello, especially the early stuff with The Attractions
It's not crazy to suggest he could be somewhere "on the spectrum" and that's not a reason for him to be criticized either. His social awkwardness and lack of context are alarming at times. He's not stupid.
I'm only here to read the grayed out responses