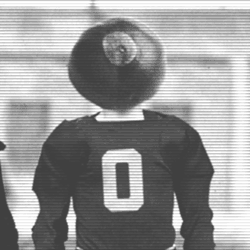 BbBnD
---
Chicago (via Columbus)
MEMBER SINCE September 18, 2016
Grew up in the northern burbs of Columbus.
Recent Activity
Borland doesn't run an electronic time 4.8. We've all seen him run down the sideline n
The third stringers and walk ons probably disagree and it was a W. The SEC has proved these games don't hurt you in CFP selection as long as you win.
I'm not sure I'd call anything he's done cold blooded. Walk ons we're getting solid playing time. Having said that, couldn't be happier with Day and that's not just a figure of speech.
He was a great recruiter. I'll happily acknowledge that. A great recruiter that managed to get blown out by Iowa and Purdue. Nobody is perfect and therefore everyone is deserving of criticism. People that are paid millions of dollars are even more deserving. You sound like some new-age kindergarten teacher.
Check out Zeke in high school. Kids add a lot of muscle in college.
Not the bottom line. JT had the 9th lowest (out of 61) dropped pass rate in his draft class. Stop pushing this easily debunked narrative.
https://www.google.com/amp/s/amp.reddit.com/r/NFL_Draft/comments/7snjda/qb_draft_class_ranked_by_drop_rate_josh_allen/
Losing games is one thing, getting blown out by Purdue and Iowa is another. Expecting one of the most talented teams to not get blown out by middling to bad teams isn't an "imaginary standard" and comparing urban to 99% of the other coaches in college football history makes zero sense because 99% of coaches have never had the consistent talent advantage that he had. I liked Urban and I'm very glad he coached at OSU, but he is certainly deserving of some criticism. Championships are always the goal, but a lack of them wasn't the only issue. Your arguments are repetitive, tired, and lazy.
Clearly Chris doesn't either based on his predicted score.
I don't care about Schiano, but didn't he preside over two top 20 defenses, one of which was a top 10, before it went to shit last year? Granted, the Iowa game happened before Grinch got here, but at least they weren't consistently bad until Grinch came.
2 of the three major efficiency stats improved and they were arguably the most important ones, completion percentage and TD to Int ratio. Improved efficiency is a product of improved decision making, which is a skill. Arm strength isn't the only QB skill.
NPF might have something to say about that.
YPA and even YPC isn't necessarily indicative of a completed pass' difficulty and/or distance. Fields has had a lot of completions outside of the hashes, which is a long throw even if it's only a 7 or 8 yard gain.
Teague might not be at OSU in 2021 if things go well for him.
He was saying based on that performance, LSU looked like the #1 team, but he even backed off of that by saying he needed to see how other teams performed, specifically mentioning OSU. And to be clear, he wasn't saying he thought they'd jump to #1 in the polls, he said they looked like a #1. Based on the fact that Texas was by far the best opponent of any of the top 10, A&M looked like crap to me, it's not a ridiculous take. Outside of Clemson and LSU, no one in the top 10 played anyone with a pulse (sorry cinci).
I'm ok with seeing Borland in the red zone. He does have very good instincts and there isn't a ton of space so the lack of speed isn't as much of an issue. Unless he intercepts the ball and gets caught by O Linemen, but hey, that's still a win.
Facts disagree. JT's passing stats during his last year were better than his RS FR year and much better than his RS SO and RS JR years. He was never an NFL arm talent, but he certainly improved his last year with Day.
Not sure about the tots balance, but I'm guessing penalties gave us a few.
Certainly not on Tuf's int play. Watch it again. He didn't get his hands anywhere near that ball. It got to the receiver's hands and bounced out as Wade went to hit him with his body. Still a good play obviously, but probably a pick 6 if he knows where the ball is.
While I agree with your first point, most of us don't want other people seeing us take a shit.
He needs to work on his ball awareness. The deflection to Tuf wasn't the first time he was in really good position, but had no idea where the ball was.
A lot of people were trashing Arnette in the game comments, but I completely agree with you. He ran with the receiver and swiped at the receivers hands as the ball was getting there. It was a great thrown and good catch. Not much much a CB can do without drawing a flag.
This isn't a run up the score game. There are 11 others for that.
This year or recently? The inability to run the ball against Purdue last year disagrees with the latter.