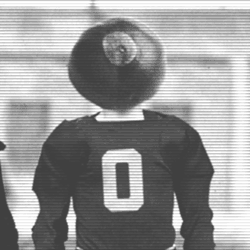 BbBnD
---
New York City (via Columbus)
MEMBER SINCE September 18, 2016
I grew up in the northern burbs of Columbus. No favorite pro teams, there's only enough room in my heart for OSU.
Recent Activity
Who is this Miss Leading? She sounds hot.
OSU wasn't consistently dominant until the last 2 games of 2015, which is the inverse of the years mentioned.
There was one angle they showed where you could see that the ball was still in the QB's control and he was clearly beyond the goal line. It was a legitimate TD.

Agreed regarding the feel of the win. Rutgers may be the worst team OSU has played this season, yet Rutgers had optically the best offensive performance of any opponent since FAU. In the grand scheme it doesn't matter, but the circumstances make the win "disappointing."
Yeah, Vilma or Sanchez, can't recall which, said that tonight.
"Not sure how you can go up by 35 being soft on the o-line but OK."
by playing a truly bad football team. The o-line was definitely soft today.
Gallia didn't say the game won't have significance, Gallia said it will have less significance if we beat PSU because the East will already be clinched. This is an objective fact.
Fair point, but they were playing Rutgers.
Do you have a drinking problem or something?
I'm not sure I'd call the starting O Line's performance "shining." The starting D line wasn't great either.
They're joking because he was a highly touted recruit that seems to rarely see the field.
BS? 3 point loss vs 29 point loss. That's a lot of ifs and they don't mean anything. 29 points is 29 points.
Ironic stance considering your name.
Agreed. These are horrible takes on Fitz. He's had three 10 win seasons since 2012 and had a 9 win, divisional champ season just last year. That's amazing for NW. Like you said, most programs have down years every few years. They don't recruit as consistently and that leads to shitty seasons when the team is young or if a recruiting class or two were unusually bad.
I'm pretty sure he never redshirted so he wouldn't even need a 6th year, he just can't play in more than 4 games.
You're being obtuse. The NCAA is the governing body and they know the amount. The rules stipulating the number of games an athlete should be suspended is obviously more guidance than law, otherwise athletes wouldn't have the ability to appeal for reductions based on circumstance. The NCAA knew the amount, there was an appeal process, and a 2 game suspension was levied. The amount is irrelevant at this point. $1,000 or $100,000, the NCAA felt the circumstances warrants a 2 game suspension and anyone claiming the NCAA is biased in favor of OSU is absurdly ignorant. OSU covered up tattoos and got hammered. UM covered up a rapist and the kid finished his career without penalty to himself or the school.
Claiming 11w commenters didn't obsess over Carmen after he spurned us must either be a joke or you have very selective memory. We're still taking about him.
3-4 more years? I'll take it.
So OSU athletics are on top of the world and you still manage to find a way to make yourself a victim of the sports world? Give it a rest.
Very safe to say you're not alone.
The defense was a huge question mark before the season too, though. I think some people are taking that for granted now. While I know a lot of folks around here had a strong feeling the defense would be much improved, anyone claiming they predicted the D would be this dominant after last year's performance is full of shit. If OSU had a top 20-30 D, which still would've been a huge improvement, and Chug started, we'd probably look a lot like UF (better RBs offsetting worse D).
I'm pretty sure he said he expects everyone to stick around for a while, but hasn't discussed and consequently doesn't require a 2-year commitment.
LSU proved that they can beat a top 6 team (I think Alabama is down that year, but still almost certainly the 5th or 6th best team) on the road. OSU appears to be capable, but it hasn't done that yet.
LSU has a better resume (better wins) right now. You'd have to be a delusional homer to think differently. Their resume wasn't as strong before beating Alabama and didn't offset OSU's dominance until they did. It amazes me that people can't understand this.
The context of that article is important though. The "test" was the implication that we may be losing Young for an extended period of time and the team would have to navigate without him, potentially through the remainder of the season. This was before we knew it definitely wasn't an agent. Playing PSU, UM, the Big10 West champ, and more importantly CFP opponents, would have been a test without him. Shit, even with Young, the PSU and UM stretch will be a legitimate test. OSU is better than both of those teams, but they haven't played multiple good teams in a row yet. Conversely, the article specifically said Maryland and Rutgers won't be difficult games, even without Young. Based on that caveat, the test posed in that article never occurred and wasn't passed (or failed).