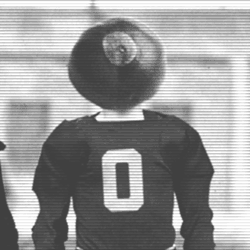 BbBnD
---
Chicago (via Columbus)
MEMBER SINCE September 18, 2016
Grew up in the northern burbs of Columbus.
Recent Activity
The Purdue game proved that isn't a reliable strategy.
What do you want? Sports writers to know what they're writing about? Don't be ridiculous.
I'd say Rashard Mendenhall was a bigger name, but yeah, not many.
Urban is one of about 12 associate/assistant/executive athletic directors and he isn't one of the top two or three in terms of title, all working for Gene. Was there anything besides his title that made you think he was being groomed for AD? I'm genuinely curious. I don't think he'd want it.
I didn't communicate it well, but long story short I don't think it makes sense to declare the "recruiting won't drop off under Day" battle won until we've seen him keep it at this level for a few years. If he can't win at the same level as Urban, it's highly unlikely he'll recruit at the same level. One year isn't a trend.
Exactly. Throw in the coaching changes on defense and that unit's overall poor performance last year and my expectation was a down year for OSU recruiting. With all of that chance it seemed inevitable to me. Fortunately our down year these days is a top 5 class instead of a top 3 class. Not too bad.
Frankly, basing performance projections on last year's results are more reasonable than basing them on our (OSU fans) biased feelings. OSU will probably do better than last year, but expecting national pundits to make that assumption is a little ridiculous. Who would've guessed our defense was going to be such a relative shit show last year? I certainly didn't. I think the change in defensive staff will improve the defense, but it's entirely possible things will be worse.
Milton and Robinson won't end up at the same place. Most likely is Robinson and Knighton followed by Robinson and Smith followed by combos of Milton and the APBs.
While I certainly don't expect this to happen, if day strings together a few 9 win seasons, recruiting will absolutely take a step back. Day is doing great and my gut tells me he'll end up with a better legacy at OSU than Urban, but those claims are pure conjecture at this point. Claiming wins based on conjecture is something Michigan does. Let's wait for a few years of results before we declare victory here.
It seems to me ILBs need to be larger to take on linemen to fill holes in between the tackles. OLBs need to be faster, and therefore usually smaller, to play in space. Borland is undersized, but the other two ILBs that come to mind are Mitchell and Browning and they're both 6'2"/3" and 240+ pounds.
Hat comes off and not seeing his stomach doesn't make him thinner.
Why ILB? Aren't inside backers traditionally bigger?
Agreed, the game is more spread out these days making rushing yards easier, but I don't think that accounts for all of the difference in their YPCs, it's a pretty big gap. Also, Zeke was a true sophomore in 2014. Eddie didn't start until his junior year.
I think you forgot Baylor.
I think the fear with a mobile QB is that they'll get hurt by being decked while running downfield, not that they'll get hurt by being sacked in the pocket in the 4th quarter.
Weber hit holes better last year and had much better top end speed. Dobbins danced too much and didn't have the top end speed allowing him to get caught from behind a lot. Both good backs, but Weber played better last year. If anything Dobbins had the benefit of circumstance because he wasn't battling injuries all year. That also allowed him to have a full game to himself where he could get in the groove.
I agree with everything except Zeke and Eddie. 27 is one of my favorite Buckeyes, but Zeke was a better RB in college and so far he's a better pro. Zeke didn't win a heisman, but when comparing Zeke's last year to Eddie's heisman year, Eddie only had 100 more yards and one more touchdown on 40 more carries. Zeke's career college stats are also better than Eddie's too. Lastly, Eddie averaged below 4 yards a carry most of his pro career. Zeke is well above that so far.
He probably lost his starting spot when he went down with the injury. A lot of schools don't rotate guys on the line as much as OSU does. Not starting his final year would make his presumed nfl dreams a longer shot.
This is one of the most hilariously ignorant comments I've read in a while. I don't live in California, but this made me laugh.
Why not? The reasonable readers realize "big recruiting weekend" doesn't necessarily mean commitments the day or weekend of. "Big weekend" means a lot of Important targets attended and were convinced to commit; regardless of timing.
He coached in the SEC when it was undoubtedly the top conference and started in the Big10 when it was much weaker than it is now. I think he played a big part in that shift, but there's no doubt in my mind peak Urban was his UF days. Granted he kind of burned out at UF from over exertion, but I think that was the beginning of the decline. He got a little boost when he came to OSU and we got the one national championship, but I don't think he maintained the UF-level intensity. I'm sure it's better for his health that he didn't.
It's pretty reasonable to question someone's ability when they haven't done it before and tons of nfl players have made awful coaches. Also, it's not like there was a large (or even small) contingent of the fan base that was upset he was promoted. Many were being reasonable and taking a wait and see approach. Now we've seen.
Day might end up being better and having more longevity. No reason to think the golden era has ended yet. Meyer was great, but he peaked in Florida. We caught him towards the top of his gradual decline.
Exactly this. Plenty of teams with immobile QBs and supposedly less talented RBs and linemen figured out how to not be ranked 100+ in red zone efficiency. Poor scheming. Hopefully Day does better this year.
You can thank Ted Turner for the 24 hour news cycle and Roger Ailes for making it about entertainment instead of information.