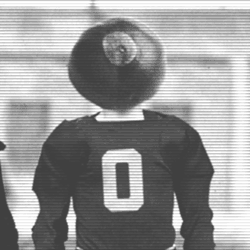 BbBnD
---
New York City (via Columbus)
MEMBER SINCE September 18, 2016
I grew up in the northern burbs of Columbus. No favorite pro teams, there's only enough room in my heart for OSU.
Recent Activity
Exactly. Find a remote one and tell no one about it.
He had 62 yards, averaged 3.6 a carry, and had 0 rushing touchdowns. He had three receptions for 23 yards and one receiving TD. I wouldn't call that a good game.
Not sure I'd call Big12 defenses the "highest level," but I generally agree he's much more proven than Jackson.
UT's history with RBs over the last 15 years makes that very unlikely.
Same goes for Manhattan apartments. If you hesitate, you lose.
How will bringing back seniors add to the top line? Top line is revenue.
"death rate is likely extremely skewed because only the sickest of people are being tested and only those with specific travel history due to limited testing kits available. That means there are likely thousands more people out there with the virus and recovering which drastically reduces the death rate."
by this logic, wouldn't the flu's mortality rate also be drastically lower than reported? I haven't seen a doctor for the flu in my adult life, even when it's incapacitated me for several days. I assume due to the hysteria around COVID-19 people are more likely to go see a doctor now than they would during a typical flu season so more of the population is reporting than they would for flu. With that being the case, how do they model flu mortality in a typical season accurately considering a lot of people don't go to a doctor? Not trying to be an ass, it's a serious question.
People that have a medical background, except the ones at the CDC that have made it clear this is not like the flu?
Not at all. Tons of great and sometimes reliable information can be gleaned from rumors. I suppose it depends on how you define "going off" (you're an idiot if you believe every rumor, but there's use for rumors even if you don't believe them), but claiming "You want to live your life going off rumors you will live most of it in the fucking dark no matter how much smoke there is." is objectively false.
Fair enough, I didn't realize his paycheck only increased by $18 compared to last year. That is telling when looking at the other increases.
Having said that, until Teague, Crowley, and Chambers get significant playing time and prove they aren't able to perform at a high level, I still don't care about the lack of recurring stars. I'm not one of those "ignore the stars, three star recruits are great if the coaches want them" commenters either, but I'm not going to throw shade at a coach that's performed well with his on-field product until that stops, because that's what matters.
TTUN already announced they would through 4/21.
Based on China, it appears there's a period where transmission is accelerated and then it slows down after a few months. BAU when the new cases as a percentage of total are relatively low instead of exponential growth
"This is an unusual year where there's a number of MI kids that are higher rated recruits than the top OH kids."
maybe at certain positions, but Jack Sawyer disagrees in general.
Does he? Or can he just get production. I don't care about stars if the RBs combine for 2,000 yards and average 5+ yards per carry. I think the recruiting thing is overblown until it proves to have an impact on production. I also think it's pretty presumptuous by Zach to assume the 1 year contract was based on recruiting misses, which there undeniably have been, unless that's been communicated.
The mortality rate for COVID19 among people 20-50 is still multiples higher than the mortality rate for the flu and as people have mentioned, COVID19 is more transmissible. Its pretty simple.
It sounds like Babb hasn't been getting on the field. He was recognized for his performance during winter workouts, but the article notes he wasn't on the field for the start of spring practice. Hopefully that changes.
More likely should be read as, based on conversations Day expects him to jump at the next HC opportunity he has making a contract for more than 1 year pointless.
So he moved the bar from "sloppy" to "not perfect." Way to go, buddy.
That's objectively false.
The one time I saw Eddie in person, he looked like a very tall 6'3" to me.
Rewatch Borland gimping down the field after his interception last year, that's probably the best case scenario. I was amazed and impressed he was even back on the field that fast.
That was a pretty interesting read. Thanks for posting.
Day is not going to fire Alford unless production drops off for multiple years. He just coached a RB to 2,000 yards. You guys are delusional if you think Alford is going anywhere without multiple years of poor production - and I'm talking sub 1,500 yards from the entire stable in two consecutive years or more. If he can get decent product from his mid-4 stars, Day isn't going to care about the lack of 5 stars.