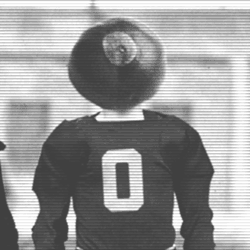 BayArea_Buckeye
---
MEMBER SINCE September 02, 2012
Recent Activity
Agreed, Cristobal is an ace recruiter and is building a championship contending program in Eugene.
I think you have it backwards with the comparison of Day and Riley
Day is legit, probably a clear #2 QB developer, but he's trying to get into Riley's zip code, not the other way round.
If the ultimate goal and measure of success are Heismans and then how high you get drafted, how can you not crown Riley? He had two back to back Heisman winners and #1 overall NFL picks.
that'll be a crazy year
Wash, UT, PSU, MSU home games
WIS, Iowa, TTUN away
2021 class is now higher ranked than the 2020 class with only 18 commits. Dayam!
I'm not so sure on the small chance. I hope this is all overblown and 2020 season starts. I need something normal to happen as much as the next guy. But....
If you read the NCAA guidelines for when sports can resume, that criteria is almost impossible seeing the direction the data is going.
With many States easing restrictions, a spike, even in the summer months is likely. The newest model from the WH says 130K deaths by fall, which means everything we have experienced so far will double. A new Wharton model says that easing of restrictions will produce another 250K of deaths by fall. Again....not here to discuss the accuracy or validity of these models, but what I think is somewhat of a consensus is that the data will get worse before it gets better. Since we are now into May, who knows? NCAA tourney cancelled when a player and a coach got sick. Hockey, NBA, and MLB all on temporary or permanent hiatus.
I will put every single dime I have on a bet that at least 2-3 players from each conference will get the virus once practice resumes and restrictions eased. So what do you then? Put the entire team in isolation and quarantine for two weeks every time there is a positive test? How do you get a team prepared like that? And even if you pull it off, you think first round picks are going to be excited to get on the field with a half-ass offseason and risk major injury? I don't know, man.
Season is supposed to kick off in less than 4 months. I think people are under-estimating the complexity of getting thousands of kids across multiple states into football ready shape, healthy, and playing games in the midst of a pandemic.
NCAA for sure will extend eligibility to seniors and graduate transfers if season gets cancelled.
Fields will be a sure-fire first round pick without a season.
ok dude, I get it. But unless you're the NCAA or Big Ten commissioner, your vote doesn't matter.
I'm posing a hypothetical that can be a likely outcome. If they start June practices and 20-30-50 athletes become sick across the country, which is not out of the realm of possibility, probably even likely, the season's chances of getting cancelled are high. So do the superstar juniors stay or go?
Unfortunately the only thing that sticks out for me right now is his stupid roughing the punter penalty against Clemson that turned another 4th down into Clemson TD.

Hope he builds us all better memories once it's all said and done for him.

AE just CB'd Bradford for LSU.....so if that happens, the only competition for Gibbs might be UF and obviously GT.
UF is 6+ hours from Dalton, OSU is 7+hours (so no big difference).
I think we have a really good shot at getting this kid.
With Zach Evans, they will be the #1 class in the country.
Clemson? Bama? Ok....I get it. I'm just shocked how this team can consistently pull 5-star blue chip type players having never won anything.
They did this under Richt and even more so now under Smart.
Hopefully this is true.
After missing out on Devyn Ford, Noah Cain, Zamir White, Kendal Milton, Bijan Robinson.......the last 2-3 years, and with Snead out, we are in desperate need of a game-changing RB recruit.
And now the line is down to -8.
I follow vegas lines all the time......what happens the day before leading up to kickoff will be hugely indicative. If line goes back up to 9 or 9.5, good news, if its keeps dropping, get ready for a legit potential upset.
This is not the game for anyone to be walking into confident. Those players up north are going to use the motivation of last year and the idea of ruining out season as the driving force to throw everything they have at us.
People who think we are going to blow them out are just being stupid.
sorry but these threads are just so dumb.
this is going to be a very very close game, and I hope this type of confidence to even contemplate running up the score isn't even in Day or the players' minds.
Are we seriously not going to have a primetime night game all year?
Are we still having trouble recruiting DTs?
Every year there is a flavor.....RB is the new DT.
LOL
the celebration was amazing, never seen a team be so excited to beat a team that almost upset the shit out if them....it was like they win a real game and a real opponent
not true
this is all I needed to see from the year before to know Haskins was the next great Buckeye
Whatever happens, happens.
I am just curious what, if anything, happened in the past week. Is there something drastic that jarred Bijan and his team? Does he know something we don't? Just an explanation would be great. Every single one of our commits, every national, regional 247 and Rivals, and even our own experts (Andrew, Birm, etc.) had this locked up to us. And then, out of nowhere, to everyone's surprise, it completely flips 3 days before.
I just want to know WTF went awry.
If Bijan wants to play in Texas, be my guest dude. It's your life, do with it what you want. Not trying to be a OSU homer here, I just genuinely think that's a bad move. If he chose Bama, or Georgia or Clemson, I couldn't objectively say that, but Texas won't go anywhere anytime soon.
reputable Texas A&M Insider CB's Bijan to the good guys......further validating the expectation of good news in a couple of weeks