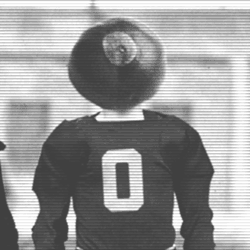 bassplayer7770
Ohio
MEMBER SINCE December 02, 2011
Favorites
SPORTS MOMENT: The Buckeyes NC certainly is hard to beat, but I think I had 14 heart attacks that year. One great moment at a Buckeye football game was when my father-in-law and I were running late, and, as we were sliding over to sit in our seats, Ted Ginn caught a pass and ran down the sideline for a touchdown.
COLLEGE FOOTBALL PLAYER: Every Buckeye Player
Recent Activity
$1 extra for craft beer? Is there even a choice to be made?
I'm really excited about what I'm hearing about Coaches Wilson and Day. The Offense should be a lot of fun to watch.
Best of luck to you, Stephen, and Go Bucks!
I wish Warinner well, but it was time for a change.
I'm definitely excited to see what Coach Wilson will do with our Offense along with Day as the co-OC (per the OSU website) and QB Coach. Go Bucks!
I'm glad Baugh is back as he is a nice receiving target as well as a blocker. Go Bucks!
Since Samual was facing the ground, I'm guessing he just didn't know he was being purposefully fondled.
Welcome, Coach Day. Coach up that talented QB room, and Buckeye Nation will love you.
And that pic was taken immediately after it appeared Weber was hit late out of bounds and did NOT get the call...
I saw a tweet from Josh Perry that he's excited about the Davis hire. For me, that's a pretty big endorsement.
You are 100% correct on the timing of that image. I watched the replay on BTN, and I thought the officiating was just fine other than the main missed call from the 1st Quarter that was mentioned.
Playing at a powerhouse high school no less...
I am definitely hoping Matta's team will get back to their winning ways and be a force in college basketball. Looking forward to seeing this team play!
Wow, that's a lot of red!
Those gloves, in particular, make my eyes hurt...
Really? Well, now I hope the Buckeyes drop 100 on them this season.
Way to go, coaching staff! Always putting in work, and it shows come every signing day. Go Bucks!
I wish Cam the best! That must be an absolute dream job for him.
Keep up the good work, Lady Bucks!
I will certainly be rooting for Sparty.
You took the words right out of my mouth.
All I can say is I wish NB a speedy recovery, and here's hoping some of the younger guys really step up.
Looks like he got exactly what he wanted when he decided to compete at FNL. Way to earn that offer!
Wow, so sorry to hear and my condolences to all who loved him.
Congratulations, Austin. You will be a great Buckeye.