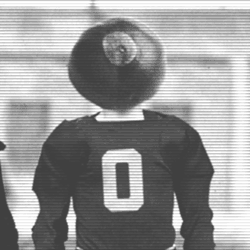 Banks of olentangy
---
MEMBER SINCE July 07, 2017
Recent Activity
Of course nothing on espn. Brett mcdickbag, are u starting your scathing article on the Uga program? If it was osu espn would do the equivalent of an amber alert.
Those who stay will get a ncaa 2nd round champions banner.
Salty tears for UC and Iowa st today. Aaron Craft is laughing along with Ron burgundy and his group.
I thought Greg oden was 58.
I mean the game that was only 4 months ago was a mirage right? We've gone from a 23 point advantage to down 6.5? Maybe the spread will get to 7 after scums trip to South Africa....
Those who stay will think they are the best in the draft...
We're kind of in our own top level in the big ten so that the awards are handed out like 7th place participation.
I would trip on the carpet monster on purpose and say that's part of the game.
Wilson totally moss'd both of the dbs.
What class would fields be in if he transfers? Did he burn his redshirt this year?
Pick mic back up, say this phrase, 62-39. Drop mic, again, that is all. Peace out scum beotches. Thanks buckeyenut 74!
I like the new role. He can also help close recruits and give pre game speeches.
If Zach Harrison picks the good guys on Wednesday that's worth a gallon of gasoline that's getting dumped on the Mgoblog dumpster fire. Wait that's not enough, it will be like an Irish car bomb hitting the dumpster.
I hope he would score an important td against ttun in the game at Ann Arbor and that script turned out perfectly. Thanks for the effort mike! Sh*t happens bum juice=best phrase in recent memory.
And if teams from the south can't handle a game at Ohio state or Notre Dame in December when its 32 degrees, well then don't make the trip. Maybe then can find a sport for non tough people instead.
I don't know how he comes back if this is a permanent medical issue. Won't the headaches just come back the minute the team he's coaching does something stupid?
No don brown, Mgoblog meltdown! Easy rhyming this morning!
White jersey in 1985. Thanks u tube
Did we wear the away jerseys in '85 when spielman had about 20 tackles?
Nice try with that excuse Rece. Those who stay will play for an 0-5 powerhouse
Harbaugh said he's staying. They have big plans. Vacation plans for next year?london? Munich?
The whole thing just sucks. It looks like they are at a bad outdated wedding reception. And who was the guy announcing the winner? He sounded like an Englishman who owns Manchester United. Plus the whole thing is right in espn's wheelhouse with their agenda.
FWIW Greg McElroy was the only espn person who had us in the playoffs out of about 25 espn experts.
We play at nw October 19 next year. I would think we'll be ready after the last two years. The game will probably be at night too.