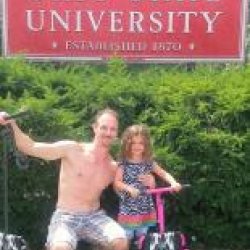 BammBammRiley
---
lyndhurst, ohio (via Shaker heights, Ohio)
MEMBER SINCE October 15, 2012
Favorites
SPORTS MOMENT: At a bar in in parma heights going bananas with a packed crazy house for 2002 NC!!
NFL TEAM: Browns
NHL TEAM: blue jackets
NBA TEAM: cavaliers
MLB TEAM: indians
Recent Activity
And change the offense... and the wide receivers coach. Because it's certainly all three
Glad Secret Service is keeping a secure tight ship there for Marvin, lol, that security dude on stage with him is no joke
Is it just me or is the Buckeyes hat way bigger than the rest of them?
Exactly. Just because Warriner knows Urbs offene doesn't mean he knows how to use it.
Herman was able to set the defense up many plays in advance. It's like he was playing chess and Warriner playing checkers. Plays, motions, and formations just were not fooling anybody the last two years.
Wow, the Diamond package! That was so inovative it even fooled us watching the games. Never even noticed when it was being implemented on the field, such trickery.
Plenty of things I was once good at ten years ago that I suck at now, for reasons involving a number of variables. Some people just lose their touch, trust me it sucks but its the truth
Nah, great time to give the old 4 QB system a go. I mean... Barret, Haskins, Burrow, and Martel! No brainer right there ;)
Well, Herman happened. Then Beck happened. Someone had to be in the booth calling plays, other then Beck after that failed. 'Member initially Warriner was on the sideline just for the purpose of keeping the line in order.
Would love to see a Herman-like qb guru up-and-coming offensive mind join the staff in the future, but now is now, and I believe we have the tools to win it all as is.
I'm a fan coach! Thank you. I'll follow and root for you always.
This was a great write-up Eric. Really well done. Someone started cooking onions while I was trying to finish reading the last paragraph, but like Coach Fickel I used tough dedication to see through these blurry eyes and get it done.
1. Prince, please listen to coaching and follow your teammates leadership. Find your angry aggression.
2. QB coaching, needs to step up. Needs to teach and demand better passing fundamentals, quicker decisions and release, which maybe means less thinking. Hey Beck, thats you man. Step the fuck up.
3. Wide reciever coaching, needs to step up and shut up. The talent is there, the developement is lacking. Seems like blame gets shifted to recievers and their route running. Sorry, thats getting old. WR coach's job to teach those routes and get them to run them. Teach to use hands for separation. Our wr recruits have been up there with all the top programs including Clemson. No excuses.
It's not surprising that these three things go hand in hand in hand. A little improvement in all three, not necessarily perfection in one, will have the sum of an offensive outburst we've been salivating for, and a hard-to-defeat championship calliber Buckeye team.
Urban repeatedly said "I have the best QB coach in the country" while Herman was OC here.
I believe there is an obvious point that can be elaborated from this, that I'll let someone else do out of laziness.
Not sure this garnered that many... nevermind I'm not saying it, I know better, But anyway, a silent could be true, I have no idea, but I do know things can change in recruiting in an instant. Recruits are still kids, who are not only influenced by the content of information presented to them, or pre-conceived beliefs, but HOW, and WHEN that information hits them. There could be a magical moment of clarity, or an event of destiny-like proportions that alter a previous or current path. This is why Urban is so anti early-signing. Things always need to work themselves out through a process, up until the very last second. You just never know, even when you Think you do!
Seems to me, tempo has been used in a very situational type manner. They have controlled games how ever they have wanted, based on current game-management strategy reqired for the moment. whether it be long slow drives, or the occasional hurried-up tempo used for a shot in the arm early in the game. It seems it has also been used to test the young wide receivers out by spreading the ball all over the place, a couple times. I think we will see more tempo early on against Michigan State and ttun, but still mixed up with slower drives. There seems to be a heavy emphasis on avoiding any kind of tendacies, which is smart football, and mixing speeds of offense helps achieve this. I'm sure if games are tighter deeper into the game clock, it be used as needed as well. After all, doesn't the term 'tempo' relate to varying speeds of all kinds, not just quick and fast, technically speaking. Just my opinion from the guy with his ass firmly planted on the couch, as the wise DJ would say ;)
"But personally, I just want to choose one thing I need to get better at every practice and have it come to culmination in the games." Great quote, articulating his great approach. The ceiling is sky-high for these guys!
486
but I hope I'm wrong and it's a couple hundred more.
I agree with you 100%
Huge difference between this particular site and most others. I can write a book detailing it out, but leaving it at that.
Yeah, but our reserves don't seem very interested in slacking off when given an opportunity. Defensive starters have two things in mind. Scoring, and not being scored upon. Different kind of team we're dealing with here. Couple that with a lack of playmakers and depth for Ru...
Not sure Rutgers musters up a TD. Just don't see it. 63-3
Now that I think about it, perfect week for a by. Not only do players like Conley, Wilson, and Booker get much needed timely healing but...
1.) Instead of having to gameplan, the penalties take center focus along with other fine details to iron out and
2.) Going an extra week without a game after such a huge matchup and win will have the players more amped up to finally play again, minimizing the likelihood of coming out flat for a letdown performance against a subpar oponent. With no certainty, but hopefully I'm right!
I really hope Meyer's two-year stay verbal agreement with assistant coaches holds true for Schiano as well. I mean, if you break that rule for one guy, you know how that looks for the rest.
This coment... pure gold!