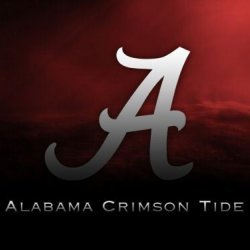 BamaMike
Pittsburgh, PA (via Winfield, AL)
MEMBER SINCE August 17, 2012
Favorites
SPORTS MOMENT: So many come to mind. Probably my favorite is the 1992 National Championship game where everyone said that Alabama didn't even belong on the same field as Miami, much less in the Championship game. 34 - 13. Best play in the game was one that didn't even count when Teague ran down that receiver and took the ball away from him from behind. Penalty nixed the play, but it was incredible!

Holding the vaunted Miami offense to 6 rushing yards, not counting the 42 they got on the final drive of the game, was also pretty sweet :)
COLLEGE FOOTBALL PLAYER: Landon Collins, Derrick Henry, and Amari Cooper.
COLLEGE BASKETBALL PLAYER: Aaron Craft, even though he's graduated. I don't watch much Basketball to have a new pick
NFL TEAM: Hmmm, I guess the Redskins, I don't follow it enou
NHL TEAM: Penguins. I know nothing about Hockey, though.
NBA TEAM: I'm still trying to figure out why the NBA exists.
MLB TEAM: SF Giants
SOCCER TEAM: I refuse to acknowledge this as a sport.
Recent Activity
I'm drunk and yelling, lol
That's how it should be. No second chances. Don't and you're gone
The fact that kid shoved a coach and is back on the field... His ass should be in street clothes arranging a ride back to Tuscaloosa, not in the game. I'm insanely disappointed in my coach right now.
I am absolutely embarrassed at how my team is behaving right now. Forget how they're playing, they're behaving like goons, and I'm ashamed. I hope some asses get chewed over there. :(
I still don't understand the lack of respect Wisco has gotten. You could be right, but until someone beats them, it's hard to really argue that they shouldn't be in the top 4. I bet they will be now, lol.
I agree. However, this game tonight showed just how badly having four linebackers hurt really effects our ability to stop the run. That was always Alabama's core, being able to stop the run and forcing people to pass. Sure, we got lit up several times on the pass, but they ran through us tonight like a wet paper bag for most of the game.

My faith in Hurts went up tonight, but I always felt comfortable with him. We get a freebie next week, but Auburn looked awfully good today.
If Alabama defends the run like they did tonight, Auburn is going to beat us by 4 TDs
Same old, same old! Good to see you guys again, looking forward to another year! Kinda nervous about Bama's opener, but feeling pretty good.
I have a feeling JT is about to shut a lot of naysayers up from last year.
Nice patience and hitting a check down. I think JT last year would have tucked and run for that
I'm liking the play calling so far
Heard a lot going into this game that with the Big 12 crew, there probably wouldn't be many holding or PI calls due to the pass-heavy tendency of the Big12. They seemed to let A LOT of stuff go, with just as many of the no-calls benefiting Bama as well. Hell of a game, but when you go 3 and out a billion times in a row, and have an over-sized defense, you don't give those big-uns enough time to rest and they got nothing left at the end of the game.
I think every team showboats a little, but Watson has been a complete prick tonight.
Before this game, I had a lot of respect for Watson, or at least I thought person I thought Watson was. He's been a preening buttnugget all night long, and I was shocked to see it. Really shocked to see the show boating and crap he's been doing tonight, not to mention claiming he's the best player in the country.
The D has been playing great. The lack of offensive production is just keeping them on the field too much with little to no rest. You just can't keep a potent offense in check like that. They've produced 2 picks, it's hard to ask much more than that from them, honestly.
Hopefully we can make them pay for the early mistake. I'd like to see them do what Kiffin seemed to avoid and run the ball right at them. OSU is bigger and stronger, show them!
Aww yeah!
I like the Buckeyes to FORCE Clemson to Clemson here, which I guess isn't really Clemsoning... Anyway, Go Bucks!
Thanks! Just took my Bama jersey off and pulled on my Buckeye shirt and hat. Go Bucks!
Saban blamed Washington before or after he chewed out the two guys who got the penalty and sent both of them to the locker room? I missed it
Saban kicked both of those guys off the field that got the flag. Ass chewing and sent to the locker room, lol
Me! Right now I'm trying to not have an aneurysm and list my voice from screaming at the TV to run the effin ball. This play calling has been infuriating.
They have looked absolutely AWFUL this entire game. I'm not sure what in the world is going on, honestly.
Allen and Foster on the defensive side were limping around, too. This game has pissed me off from the start.