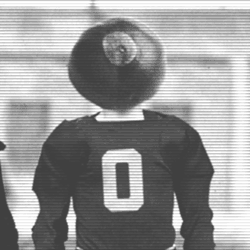 Bamabucknut
---
Florida
Member since 25 March 2013 | Blog
Yes,I'm an Ohio State grad. Buckeye football is my primary interest,and to a lesser degree OSU basketball
Recent Activity
I will actually start to watch the team play again.
Football...Basketball. It does NOT need to be either or.
Some seem to want lower standards for basketball success.Why...I don't know. OSU has championship teams on a regular basis in other sports...yet basketball has always gotten a pass.Being better than those who proceed you is no cause for passing out multi million dollar paychecks every year in my opinion.
Another who actively defends mediocrity,by casting the illusion of a false reality.

Why should fans care about the basketball program....when the head of Athletic Department does not care.Multi million dollar participation trophies are being handed out year after year.
Just when you think the OP will stop this endless player pay rant...he starts again.Consider all the players who never contribute to the teams success.They never start...they play a few minutes in a few games. They are a dollar drag on the bottom line...yet they get all the benefits of star players and the school covers these non contributors expenses.Yet the school should pay them for not generating revenue ? In the RW these people would be fired for not contributing.But not when they have a scholarship.
OP are you ready to give schools the right to fire players for non performance ...or are you saying this is a one way street with players given money and no responsibilities to generate revenue ?
MR green...you left out the costs of the football coaches,trainers uniforms and 24/7 use of the facilities.
I don't know how all this QB talent stays at OHIO STATE.The talent level of the back ups is too high to accept watching the game from the sidelines.
Stunning that he was judged the best we had for the position. I still remember how he failed...regularly against any ranked defense.
An important fact that some coaches seem to have forgotten...all coaches are not good at all aspects of coaching. I think we had some coaches given responsibilities they were incapable of executing.
Urban took teams that had poor attendance...gave them great coaching and attendance grew.BB teams that have performed at OSU have drawn large crowds. Matta's teams of the last few years have proven that poor performance is rewarded with low attendance.What is not to understand ?
Release time is critical. Manning's was 2.33...Brady's 2.54....Wilson 3.35. JT holds the ball far far too long.
What business do you know that pays people $4,000,000 a year, for accomplishments that happened several years ago ? I know one.
I frankly don't get this earning the "trust" speak. The OSU offense has under performed the last two years. JT was a significant part of that. HE UNDER PERFORMED(some use the words regressed). Now we have to sell him on new coaches that Meyer brings in to fix things ?
Do new CEO's that come unto a company have to sell themselves to their employees ?
Lets see if the J.T. cheerleaders continue to wear their scarlet colored glasses after the PENN STATE,MSU, Michigan,Wisconsin games.
Matta gets another participation trophy of $ 4 million for showing up next year. When are the fans going to start to not show up ? Oops...they have already have.
Why aren't our receivers learning how to get open.....despite years of training ?
Frankly.....I don't give a dam. if the university doesn't care about the BB teams performance....I certainly won't either.
Matta gets another "participation" trophy(his multi million dollar salary).
What business would tolerate this type of abysmal performance ? Only the college business.
If his body allows him..he will have good opportunities elsewhere.
I think there should be an open competition. The problem is the qb's wearing black jerseys won't easily reveal how they are going to perform against ranked defenses.
JT should win the competition when the tests are not live.In game, late in the season, against Penn State,MSU,Michigan is a little late to find out we haven't progressed.
I don't know why Prince has his job ? Has our OL recruiting been that poor,that two others aren't there to take his job ? Is it coaching ?
If your OL doesn't dominate....you get more Clemson like losses.