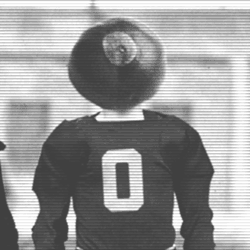 balmerbuck
---
from Worthington, OH
MEMBER SINCE October 24, 2012
Recent Activity
I logged in just t upvote this. Brilliant!
Second hand news. Maybe the flames out first round draft pick us taking a conversation out of context.
Reddit was the only thing I could get to work for me last year from Taiwan for the Penn State game.
I think you are looking at this wrong. the "biggest test yet" builds drama like the "most dramatic rose ceremony ever". And, I love the media building these games up like big tests. As we pass them with flying colors, we build momentum in the eyes of the poll voters.
I am really excited to see how our back 7 deals with JD Spielman and Wandale Robinson. Big measuring stick for the defense
You do know if you pick MSU -9, that means they have to score at least 10 points?
I am trying to not get too pumped, but I agree that:
1) Justin Fields looks very accurate and making good decisions. Way ahead of where I thought he'd be. I imagine they are holding back on the over the middle throws if the outside stuff is open. That will be the next step when they see press man.
2) Dobbins is doing much less dancing in the backfield. Turning it up field instead. If I had access, I'd love to see the stats from last year on how many runs he had of two yards or less compared to freshman year. Seems to be running more decisively and taking what is there.
3) The offensive line hasn't come up against a high caliber player yet who can win one on one, but they seem to be gelling. Communication, missed assignments, blitz pick-up. Everything took a big step forward.
I get what you're saying, but it's not that. Of all the running backs, he jumps off the screen. Maybe it is just the style that makes me take notice. I was looking and hoping for McCall to be 2nd guy. Maybe that happens as the O-line solidifies.
I see it differently. Schiano's defenses got worse each year and I think it was because he didn't mix it up that coaches that had NFL talent were able to scheme so well against it.
40 times aren't as important as running good routes. Case in point, Michael Thomas and his 4.57 second combine 40
MTIII has stood out as the 2nd best back in those first two games. I love that he always falls forward, gains those extra couple of yards
Dobbins also looks better than last year in that he is being more decisive hitting holes, less dancing in the backfield than last year. As the line gels, I think this year will look more like his freshman year.
Over here, just trying to visualize a chess pool ;)
I honestly feel like the defense will be lights out better this year just because Schiano is gone. I know it is the conventional wisdom here and in Buckeye Nation as a whole that last year was aberration, but the defense declined (in ranking - 3rd, 15th, 53rd - and in what I saw on the field) each year under Schiano. Seemed like we became very predictable and teams figured out how to exploit that. Curious what the X and O guys say.
From the Ohio State side, I am glad they are letting the kids play. It's the right thing to do. I am for the one "free" transfer rule, although I don't know if you need it. Any college looking at a player on a second transfer would be looking very closely at the player's history and character anyway.
First game I attended was Minnesota 1977. My friend's dad was a professor and took us. The next week was the first game I distinctly remember watching. That was the last minute Uwe Von Shaumann field goal 29-28 loss to Oklahoma. First time Ohio State broke my heart!
YES! Please someone who knows the ins and outs of what the NCAA allows answer this question?
No. Winter night games blow.
I reproduced this from a twitter post, but the only modern era player under 5'10" with over 10 td passes is Doug Flutie. Best part of the list is that Greg Pruitt and Earnest Byner show up on the list
I'd argue his most significant play to date was the kick-off return near the end of regulation in the Maryland game. That put us in a position to come back and tie the game in regulation.
@jake32anderson is trolling Clayton Thronton pretty hard! ;)
I expect a solid but unspectacular defensive game coupled with an offense that gets Tate in for the 4th quarter. Still not the complete game we have been waiting for