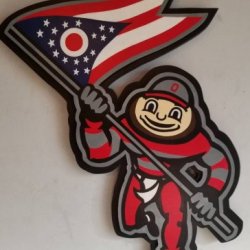 ballotboxco
---
Columbus (via Eastlake)
MEMBER SINCE August 21, 2019
I'm a transplant to Columbus, a buckeye fan and that's all I have to say about that.
Favorites
SPORTS MOMENT: The 1992 Cleveland Indians are up 100 games on the season - and they went on strike... the World Series Team that never was.
COLLEGE FOOTBALL PLAYER: Cardale Jones
NFL TEAM: Jets... sigh.
NHL TEAM: Blue Jackets
NBA TEAM: Cavs
MLB TEAM: Mets... sigh.
SOCCER TEAM: Crew
Recent Activity
I don't see scenario 3 because I don't think Georgia can get in. Who knows though....
We can't worry about hypothetical situations. We play the game to win. God forbid something happens to star players but the expectation at Ohio State is next man up cover the void and keep marching towards victory. I understand your concerns and they are valid - but we have recruited at a very high level. Chug would just have to step up and on defense - I'm not really personally worried at all. We just keep marching to destiny whatever that may be.
Lol - I knew something was wrong there. Nice retract - I appreciate good journalism.
https://www.espn.com/college-football/boxscore?gameId=401112254
I was at the game so it definitely is a typo. And even then its not accurate there were at least three or four plays where they gained 5 - 10 yards.
Hey Joshua, first off you are my favorite commentator/broadcaster on the B1G network, I watch primarily because of you and your deep knowledge of football. You played on THE team, you won the first National Championship - for which I will be eternally grateful. To the question - TTUN just played Notre Dame and Penn State in back to back weeks, it feels to me like this team is very special and is going to steam roll everyone we play. They say Coach Day has embraced the idealism of incremental improvement - having run the first gauntlet yourself, do you see any glaring weakness that we non players wouldn't see?
It's all shaping up well for The Ohio State University to march onward to the CFP.
Speaking of Minnesota, I've been listening to their smug ass coach a lot lately. I hope we end up playing them in the B1G and smashing them. He's such an unbelievable dick.
It's good for the players as well. I'm glad - the temperature is always coming into the warmest of the day then and the players don't have to sit all day with anticipation for what comes ahead. Plus I think Fox's coverage has been head and shoulders above ESPN for the most part. Although I do personally like listening to Herby because his knowledge of football is so deep, and he's played at both levels so its real world experience.
I watched that play a couple of times - he might have thought it was the way he landed, but it was the opposing defender he hit him in his lower back with his helmet. It was dirty football Dan honestly. It could also be that he's just a warrior and isn't going to sell out the opposition.
He did and honestly it should have been targeting - he was already in the end zone and the defender lead with his helmet. You know when they should throw the flag they don't.
The only way for this to happen is if they reshuffle the B1G east and west conference, or we beat PSU by 1 point. Maybe then... but it's really a long shot.
Arnette talking about they should've played a shut out. This team is hyper focused - I love the humility and the the personal expectation from each player that they can get better. This team is very special.
It truly would be amazing if we had Dobbins, Young and Fields get an invite. They just gotta keep winning(convincingly) and it might happen.
The weather hurt us a bit yesterday - if you watched the postgame interviews Fields says they would've been able to put up over 50, but the weather was a damper.
At the end of the day we want them to keep rising - till we crush their souls.
Top 20 sitting at 7-5. That's the way it goes if you're in the SEC, a huge eye roll with that statement.
No respect for us manhandling our opponent in a down pour.
I know its only week 4 but that's some bullshit.
I think it has to do with Arnette and his broken wrist, it limits his ability to reach inside and punch the ball away. He'll have that cast for a few more weeks at most and then I think he's back to normal.
Penn State's biggest problem is their offensive set is the same every single year and James Franklin is a solid but not elite coach. Same as Wiscy and TTUN.
Penn State is highly overrated.
I think they have - they are just as talented as we've been told they are. Those recruiting classes had talent all over the board, but the on field product last year was not good. Ohio State is just a cut above the rest that is being well coached. Last years issues were plentiful - it appears that Day has righted the ship and we are playing at our full potential.
I think Grinch owns part of that as well. Oklahoma has grinch and their outing yesterday and all season has shown a team with similar issues as we had last year. I think it was a culmination.
How about we enjoy it week to week. Dobbins, Fields and Young deserve that prognostication at the end of October. They have earned every single mention about it.