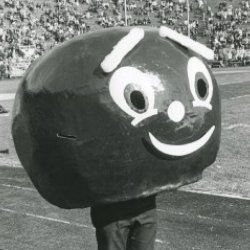 bakerjon
San Diego, CA (via Van Wert)
MEMBER SINCE July 03, 2014
Favorites
COLLEGE FOOTBALL PLAYER: Archie Griffin
Recent Activity
Jamarco Jones had 2 catches for 16 yards and it didn't make the summary? Wow!
He's better, but I'm still not convinced on consistency. I hope he convinces me throughout the year
I knew this would be run-heavy offense this season as Fields developed. I was mostly right. Fields has been much better passing than expect, but I had no expectation the run game would be this good. I love seeing the interior OL getting to the 2nd level and destroying the LBs. Those are things you hope to get to with an experienced group. Meyers and Davis are young, but you wouldn't know it. Munford is still a true Jr, so still kinda young. Crazy how good they are. It's a clinic every Saturday
Additionally, I think Day said this in a Presser, but they instructed the LBs and DLs to tackle the FB no matter what, take away that option and force them outside to the additional linebacker.
They punted 8 times in a game. Our punter has punted 17 times in 6 games LOLOLOLOLOL
Wilson can block like a boss. He's complete, surprisingly for a freshman. And he's getting better!
599
Noice
5 nice
I unfortunately sat near that one particular "super fan" against Miami. Ugh. I controlled myself, but he is unbearable. OSU fans were heckling him asking if he'd seen Earl Bruce's picture anywhere.
It's very different then Haskins chat last year. The mesh concept against man coverage was so often used, but we've hardly seen it this season
Have we seen Yurcich in a presser yet?
Wouldn't it be interesting to see Fields and Burrow as a finalist with Haskins there last year. Day's influence on all 3 would be of course ridiculous
Could you just do the hands, mic and his chin maybe? Then out the O I O around it? I'd buy that
On the improved running game, I saw Dobbins run with more patience last week.He more willing to wait that beat, then stick his foot in the ground and get north and south. This is what set Zeke apart in 2014 and 2015. He found it late in the season. Dobbins had it as a freshman, but somehow lost it late that season and all last season. Now he had a hint of it again last week, and they turned into big gains. Hopefully, it is back and better this week.
I saw the 2003 PU game in person. Was cold and sleeting iirc. Geez that was a mess of a game
We are running about twice as many plays as our opponents. That's nothing but good
Is BB hurt?
Best book on the subject right here.
http://mgo.fail/
I can't wait for next week's Film Study when we actually know what the defense looks like a little bit. Speculation and guessing are good fillers, but I'm ready for the real thing
But will they play back or the line?
No takers on Haskins winning the job in Washington?
I hope you are right. If we do it again, their are going to name it after us like they did Clemson a few years back
Mike Kudla (may he rest in peace) DL
Kudla was a beast and was 1st Team All-Big Ten and Defensive MVP in 2005. He played in the NC in 2002. Dude once played with a torn pec and still played well. Yet he's not a name you hear much, possibly because of his untimely passing or because an injury cut his NFL playing days a bit short. Not enough props for him

Joel Penton DL
He's just a good human being. Admittedly, I like him a little because he's from my hometown, where he's still a legend. He's done so much for the community there. He's now a motivational speaker for kids and has 2 books out for teens. My parents knew him well (I had moved out of town when he made his mark) and had nothing but good things to say about the young man. He was of course a Wuerffel Award winner and was a 4-time Academic All-B1G honoree while at OSU.