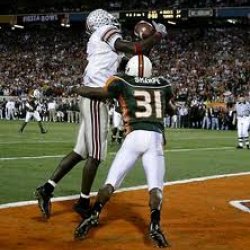 Bailey458
---
from Columbus
Member since 03 January 2014 | Blog
Favorites
SPORTS MOMENT: 2003 Ohio State v. Miami
NFL TEAM: Cincinnati Bengals
NHL TEAM: Columbus Blue Jackets
MLB TEAM: Cincinnati Reds
Recent Activity
I believe he is in the tournament. All former master's champions are eligible for life. As they age normally the main few (like Nicklaus, Palmer, Player and before them Hogan, Snead etc.) start the tournament by hitting a drive off the first tee. I think they then pseudo-voluntarily withdrawal. But if Nicklaus wanted to I think he could play the first two days to try to make the cut. I'm pretty sure that's right but if I goofed that up slightly forgive me
ugh, I agree you might just dislike classic rock radio. I still listen to those bands albums all the time, the greatest hits catalogue is incredibly watered down, but the bands themselves are greater than anything out today.
new beatles album or 5 bieber albums? which would you rather hear?
night...night buckeye fans sweet dreams

I think that's my first ever downvote, I have given out more than a few so I guess it's poetic justice.
edit: that is a fantastic version, i'm not a good enough piano player to judge, but your link is fantastic
re-edit:listened to it twice it's amazing
re-re-edit-thank you m man for turning me on to the vladimir horowitz, wow!!
everything is conjecture friend...music is what you want it to be.
uv for you for considering what you like, that's what makes music work.
wow forgot how good liszt was...listening again
please post the link, it was merely a tangent of my own catalogue...always welcome your opinion. A *ichigan degree does give you some credibility, I just liked the visuals from an artistic perspective, even without a specific master playing it (which i'm not sure can be properly done)
I should have never carelessly indicted the general public. I just think the classics may be unappreciated. Thank you for proving me wrong.
modernity and the classics need not be mutually exclusive
I can't believe this guy. Why won't he go away? Something has to be done! There needs to be a petition or a standing mandate to give him the business whenever you see him
One morning I shot an elephant in my pajamas. How he got in my pajamas, I don't know. Then we tried to remove the tusks. The tusks. That's not so easy to say. Tusks. You try it some time. As I say, we tried to remove the tusks. But they were embedded so firmly we couldn't budge them. Of course, in Alabama the Tuscaloosa, but that is entirely ir-elephant to what I was talking about.
That would be some very rancid calamari...
When I was at NOLA for LSU championship game Bourbon St. was Buckeye central New Year's Eve. When I woke up LSU fans had taken over, a luxury of not having to travel so far. Bama fans get there tomorrow.
One of many reasons the SEC-B1G bowl structure is massively skewed in SECs favor
The chase doesn't end until you pass the lead dog. Saban is that lead dog, we have only just returned to the track. I know Buckeye nation believes, but none of us can rest on the laurels of our team nor let any fatalistic mentality creep in. I strongly believe a collective resolve is necessary, the team has it and the fans better too. Tonight isn't the big night, tomorrow is. The end of 2014 isn't the coup de grace, not for Buckeye fans. Bama's demise is and the cracking of another 30+game win streak for a Florida team. Then we are really back, time to be on top of the nation's mountain not just the B1Gs
ultimate double edge sword, heavy is the head that wears the crown, other random aphorism...
I think it's kind of brilliant and would bet dollars to doughnuts that I watch at least some of it out of curiosity (as I think many of you will too). Imagine watching Brutus walk around Columbus for hours hitting the side of his head and shaking his mask around at people. Got to love seeing animals in their semi-natural habitats.
Also judging from this thread somebody is going to try something eventually, hell I may even dvr it.
I am worried about Trey/Amir/Lee combo and inability to drive into the post (I like Trey's heart but he isn't athletic enough, Amir still seems ambivalent and uninvolved and Lee seems behind those guys in Matta's eyes). The Bucks also seemed scared to even try to dribble penetrate into the lane and settled for jumpers all game. UNC has some athletes and my fear is to win we have to be 85 Nova whenever we play against a team with good interior defense, let alone Duke or Kentucky.
yup my head went here quickly too after the previous forum...
I don't know if I can rate them but I'll go through alphabetically
Alice in Chains Jar of Flies
AcDc Live
Bad Company Bad Company
The Band-The Band
Beatles Abbey Road
Bob Dylan Infidels (produced by Mark Knopfler with him doing guitar) Blood on the Tracks
Black Label Society Hangover Music IV
Bruce Springsteen-darkness on the edge of town
CCR Cosmos Factory
Collective Soul-self titled
Doors-la woman, morrison hotel, waiting for the sun
Dr Dre 2001
Dire Straits communique and brothers in arms
Guns n roses- use your illusion 1 + 2, appetite for destruction
Jethro Tull-thick as a brick, songs from the wood, aqualung
Zeppelin-1, 2, houses of the holy
Live-throwing copper
Lou Reed-transformer
Metallica black album
Nas God's Son
Neil Young Harvest
Nirvana unplugged
Phish-farmhouse, billy breathes
Pink Floyd The Wall, Animals, Meddle
Prince-Purple Rain, Self titled
Radiohead-bends, ok computer
Snoop doggy style
Stone Temple Pilots Core
Warren G regulators
can't help but throw in double disc greatest hits for supertramp and hall and oates
I define this list by albums that you put on and just listen all the way through. There are so many more, but that's a lot of them and I really have to stop. I got carried away bc I love the topic so much and I'm insanely long winded, sorry.