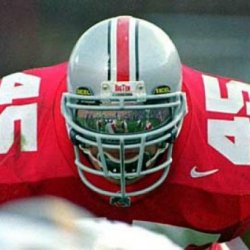 Bags5150
Bellbrook, Ohio (via Kettering, Ohio)
MEMBER SINCE March 06, 2012
Longtime Buckeye Fan and alum. I was there in '84 when Keith lost his shoe in The Shoe!
Favorites
SPORTS MOMENT: 1984, Buckeyes down 21 to Illinois. Come back to win. The game that Keith Byars lost his shoe!
COLLEGE FOOTBALL PLAYER: Eddie George
COLLEGE BASKETBALL PLAYER: Aaron Craft
NFL TEAM: Bengals
NHL TEAM: Blackhawks
NBA TEAM: Anyone playing the Lakers
MLB TEAM: Reds
SOCCER TEAM: What is this Futbol you speak of?
Recent Activity
Verlon Reed went on to have a really good career at Findlay playing quarterback.
That would be awesome but Bleacher report is the same site that reported that Clay Helton was out and Urban was in...
My guess is without Haskins, we lose 3 games last year.
Penalties for certain, in particular for me the pass interference penalties. I honestly don't think we've had one although I'm sure we have. But 8 games into the season and I can't think of one. Holding is the other. My theory though is yes they are more disciplined, but most importantly they are simply better and don't need to hold as much and are better in coverage and technique.
Obviously the running game is much improved, red zone offense is improved, linebacker play much improved and as mentioned here before, in game adjustments much improved, both offensively and defensively.
Another thing I'll mention is that at any given time I feel like the best 11 guys are on the field. Never felt like that last year. Especially on defense. Only time I don't feel like that this year is when Wilson is not back there returning punts. I love who Mcall is but Wilson is special and dynamic. He's shown it every time he touches the ball. I also don't feel like we're forcing the ball to guys so that they get their touches. I know it's important to spread the ball around but I think it's being done by what the defense is giving us rather than by whose turn it is.
This is lazy. Georgia and Wisky lose to unranked teams and drop 6 or 8 and Oklahoma drops 4? How does Georgia move UP when their best "win" just got throttled and their loss got boat raced by Tennessee?
This may have been said somewhere before, but I'm gonna put my two cents in. The narrative seems to be that Day was blindsided by Martell transferring. I think Day told him he wasn't going to fit...especially after his twitter grandstanding. I think once Fields became available (and maybe even before Fields became available with Baldwin as his guy), Day had a plan in place and knew that Martell wasn't going to be a part of it. I'm sure he's not sitting in his office with his head in his hands saying why oh why...and where am I gonna get another qb!! My guess (with absolutely no basis whatsoever or any inside knowledge) is that Day is already talking with 2 if not 3 or more kids, whether they be transfers, juco kids or HS seniors about coming to tOSU to fill a spot and be a valuable member of this team. Every business owner has been in this situation at one point or another and almost always has a backup plan in place or are already working on one. You're usually not completely blindsided. I trust in Day and believe that the situation is a blip at this point. I'd rather be at this point today, than in the middle of a team dividing, toxic qb battle in the spring and fall.
Agree! College playoffs and NFL playoffs couldn't be more different. That's like comparing March Madness with the MLB & the World Series. Totally different.
Now if you took the conferences and could somehow match them like NFL divisions...then you've got something...but you can't so there's that.
I LOVE when someone points out that someone doesn't know anything about something...and they can't possibly know it themselves.
Through my job I've known alot of big time college athletes. It's a full time job. I think that college athletes should get some sort of payment beyond their schooling, but I just think it's too hard to ever determine what it should be and what is fair and equitable across the board.
I'm OK with Johnson staying. I think over time he has shown to be an outstanding coach. Stud, I can't decide on but one thing I will say is that it seems that Nestor is waiting to see if he stays or goes. Now I have no idea if Stud is the one that recruited him, but when he committed, he committed to Stud being the one to coach him. I want Nestor here, and having said that, I think it's important that Stud is as well. I think that there has been a huge shift in our offensive philosophy since Stud came on board and there needs to be a shift in recruits that will fit that philosophy. I feel like he's still in transition and I think it could be premature to jettison him at this point.
I personally believe that this is the biggest loss of all of the underclassmen, regardless of who else declares...except for Haskins of course.
You're taking Cooper off the field. I want him in there. 4-3 allows him and Young to wreak havoc together
Let me preface this by saying ND makes me want to be Baptist...I for one would love if ND was left out but I don't see how you can. They have won every game, beaten quality opponents and gotten better as the season progressed, especially once Book was in and the running back was back. PLUS the committee loves them. They will bring ratings and fans. I see ZERO chance that they are left out and quite frankly if they are then the playoffs have become a joke.
Fickell, Ash and Warriner.
There are a lot of issues but lackluster passing game? That's ridiculous. The fact is that we can pass protect but not run block and the defense routinely gives up 30 plus yard plays. We make average qbs look like fricking Drew Brees
Just stop it. This team has gotten progressively worse every game. They are 1 dimensional with horrible linebackers and a nearly non existent secondary. They have given up huge plays to EVERY team they've played and don't seem to have any answers to stop it. They need to worry about the next game and forget about the playoffs. They are no where near the caliber of an Alabama or a Clemson or for that matter anyone else. I know I'm mad right now but there is nothing you can point to right now that would indicate this is a playoff team.
This is PURELY speculation and a guess on my part, but my theory is that the information that they always had, and the reason Shelley didn't say anything to him is that Cortney Smith had a credibility issue. Both her and ZS clearly have a lot of issues. For Urban to come out now and say that the reason sShelley didn't tell me is because she thought that Cortney was batshit crazy, it's not gonna happen. So he continues to say that he cannot speak for Shelley. He continually has to skirt around CS because he can't say she's just as nuts as ZS.
Makes perfect sense seeing as how the NFL is well known for it's moral high ground...(insert sarcasm)...
Just my two cents worth...domestic violence is despicable. No one argues against that. And as someone mentioned above somewhere, we all know a couple that everyone knows is gonna get into a fight that night. In my opinion based solely on what we've seen, ZS may just be a POS...having said that, you'll never convince me that Courtney didn't know he was a POS before the got married. The old adage "you don't change the spots on a leopard" certainly could apply here. I'm not blaming Courtney as a victim, but I am saying that she had to have known prior to marriage and kids that the dude was not right. What this says to me about Courtney, and let me be clear that I am not blaming her for being a victim, but it says to me that she's not right either. And what the F*** were her parents thinking?? First of all if my daughter came to me and said "my husband beat me", that SOB would be laying in a pool of his own blood and teeth within the hour. I can guarandamntee you that. And she sure as hell wouldn't be going back there. If ANYONE other than CS & ZS are to blame here it's them.
I believe the reason Day was chosen was because it causes the least amount of disruption. Wilson and Schiano are experienced on their sides of the ball and Day was most likely going to be right next to Urban anyways on game day. Taking Schiano away from the D or giving him extra responsibility or Wilson I think cause more things to have to change like a domino effect. Day doesn't. Just my opinion.
PSU began to play not to lose instead of to win.
Offensive line gave JT all day to throw. Too many false starts though.
Receivers played overall the best game in the last 5 years (just my opinion).
Defensive line took over the second half.
If not for mistakes, penalties, the kickoff return and Mcsorley, we win that game by at least 14 if not 21.
I met Coach Bruce about 3 years ago when he was our Honorary Captain at the Inaugural Border Classic game. I worked with The OHSFCA on it. I met him at the banquet and we spoke about the team he had back when I was in school which had Spielman, Carter, Lanese, Lachey, Loudermilk, Uhlenhake, Tomszak, Karsatos etc. He spoke about that team like it was yesterday and knew wha each one of them was doing now. The next day I met him on the field again and without prompting he remembered my name and said how great it was to reminisce about that team. Sharp as a tack. This news saddens me very much. I wish Coach well in his battle.
We had a fiberglass but the excavation work was shoddy and after 7 years it cracked down the entire center. Dug it out two years ago after suing the installer and built a big paver patio and fire pit
I don't kmow if anyone remembers the Sullivan Brothers from the mid 80's but They were batshit crazy. I know firsthand. Was a bartender and bouncer where they hung out. Nuts. One jumped on a car and kicked in the windshield at OU once because the driver almost hit him.