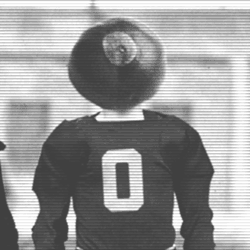 baddogmaine
---
MEMBER SINCE June 15, 2011
Recent Activity
As of 7:15PM ET Sunday Bovada has it down to 10.
Hmmmm. I agree with you about Young, Gene. But what was your thinking in 2011 when you let a 6-6 team go bowling (where it lost), only to have a 12-0 team kept home? I'm not convinced that you do look at things strategically, I think you make knee-jerk decisions and then defend them. But you did get it right in this case.
In past years I have wanted OSU to use these glorified scrimmages to work on things we needed to get better at, without worrying about style points. Meyer rarely took that approach - sometimes we looked good, sometimes it really backfired and we struggled at what we were supposed to be good at, either way the problems continued. Not always with losses, but no way we should have lost to Clemson by 31.This year there is little that needs to be fixed. So we should have two goals for the game: 1) no injuries, and 2) get back-ups a lot of reps in case they are needed. These are addressed with the same fix - put the back-ups in early. This might depress the winning margin but we don't need style points, we need to ensure we can win out starting with PSU. With healthy starters preferably, and with back-ups if necessary.
Fields is playing very well. But as the article points out by mentioning The Walrus (Bollman) Fields is benefitting from a coherent offensive plan that previous OSU QBs did not have. I'd like to see how Pryor or Guiton would have done with this set of coaches.
McCall's catch of a punt while falling down was terrifying. If you lose your balance get out of the way!
I don't take comparison to Marshall as a positive. Marshall did have some exciting returns, but he also fumbled too much and had trouble judging the ball, far too often letting kicks hit the ground and roll towards our end zone. It was said that we would have averaged better field position with no one back to return punts.
42-17 is a weird prediction, because it says that a bad offense will have a strong game against us. Is NW's 17 based on us turning the ball over a couple of times, giving NW very short fields or defensive scores? us getting up 42-0 and Day letting our back-ups struggle? or the Wildcats' offense actually outperforming itself? How does NW get 17 points?
I haven't seen PSU play but their box scores are impressive. I'm now more worried about the Lions than the Badgers.
Why on earth did Ferentz not call a timeout before TTUN punted the last time? You don't save TOs for offense, you use them on defense, because your offense can control the clock. He gave away almost half a minute of time he desperately needed. So yeah, probably COY.
I also agree with Westside - I thought Victor lost control before he crossed the line, was not OOB with control, it was a live ball lying on the ground - and Buckeyes ran by it leaving it there. WHEN THE BALL IS ON THE GROUND PICK IT UP!!! And Victor, your #1 goal is not scoring, it is ball control!!! Victor earlier dropped a ball right on his hands, had a false start. He did make some nice moves on what was scored the TD, but as in this game his ups are matched by downs. I think Wilson should be getting the playing time.
Smith can dress it up as much as he wants but he is still supporting making players property of their schools. A hundred years ago he would have opposed women getting paid. If he's afraid OSU will have a recruiting disadvantage against CA schools he should lobby for OH to pass a similar bill ASAP. If he prevents OSU teams from going to CA to compete he should be fired.
Haskins got offensive POTG for reaching the 50 TD milestone and not for how he played overall. He was badly inconsistent, missing open receivers and forcing throws. Not always, but too much. The QB of a team, that got only 97 yards of offense in an entire half (I think that's what we had in the second half) almost by definition did not do enough. I'd have given it to Campbell, with Weber second choice.
A struggling running game does not make our passing game more potent - it makes a potent passing game more necessary. Our struggles running is not and can not be made to be a good thing.
I really really hope Haskins running is not part of Urban's plan. I put the over/under on injury at the 9th carry.
I live in aine. The football tea is not good. I do not want to see that gae. It will not help OSU ake the playoffs,
Yup, that was brutal. A classic "What was the coach thinking?"
I thought we should have been underdogs to a team that had lost to directional Michigan, as well as NW and MO. We lost by 29. I thought we'd be close at home against a team that lost its first six. We won by 5. So yeah, I read us as dogs in East Lansing.
This line is as goofy as the Purdue line. Since I think all factors favor MSU - even their offensive problems are not a handicap against our defense - the only question is how much MSU will win by.
Some turnovers are forced. We didn't force turnovers, any more than we forced a missed short FG. A freshman walk-on QB threw two bad passes and a receiver coughed it up on minimal contact. Especially on the INTs if the QB holds the ball, as Haskins is doing, MN keeps the ball and maybe continues marching. We are not intentionally using risk-and-reward, we are struggling and hoping. That's a bad recipe.
Assuming that we are capable of playing defense without giving up big chunk plays to any offense with a heartbeat then our best game is still ahead of us.
Three weeks of less than stellar o-line numbers. We could not run effectively against Tulane either (though pass blocking was fine).
Was our plan to let Trace complete some passes and get some rushing yards? Or was it really to let him have such a big day that he got the most rushing yards by a PSU QB in 80 years (AND another 280 yards in the air)? But for a bizarre call on 4th-and-5 he might have turned our plan to let him have a big day into an OSU loss. If that was our defensive strategy it was like Tulane's against us - they took away our run and trailed by 42 at half because what they let us have killed them. A champion-level defense does not give up so much the team loses or even is threatened unless there is no other choice.
There is no sane defensive philosophy that is OK with as many big gainers as we have given up. What we are doing is not even bend-but-don't-break, we're doing sometimes-we-win-and-sometimes-you-win. These free points can kill us against a strong defensive team.
Some people downvote everything not 100% positive. They're not really sports fans, they're in love. I upvoted too.
Games matter not just for win or lose on that day, but how they affect the future. Including recruiting. Among the huge audience watching were some really good still unsigned guys from the current signing class, and high school players who will be graduating in a year or two. If you were an offensive player the Cotton Bowl gave you no reason to come to Columbus - and high profile games can be an important factor for a kid with choices. Saying that Meyer shut it down sounds better than saying that Meyer got outcoached, but either way our performance did little to help the Buckeye offensive brand.