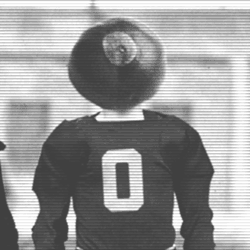 BABuckeye
---
MEMBER SINCE June 29, 2013
Recent Activity
Or at least dedicate parts 81, 82, and 83 to talking about it.
But would he still win B1G COTY at tsun? Haha, who am I kidding...of course he would!
Yeah, that "just means more" immediately reminded me of that annoying sec slogan too
I think Harbaugh is just trying to get out of the post-game presser without saying something like Franklin's "not elite" comment that will come back to haunt him.
I loved hearing that on TV!
Mike Hart is the RB coach at Indiana, right? He must be thinking RB>OC>HC>HC at tsun.
1. Yeah, Shea was the only person in the Universe who didn't know Ole Miss was getting sanctions.
2. Refs paid off by whom? I didnt see any egregious bad calls or missed calls today.
3. Ok, we all can agree Desmond Howard should be in MENSA.
4. I'd reply: OSU V tsun is hardly a rivalry now. Purdue has beaten OSU more times than tsun has this century, so OSU can call Purdue a rival and free tsun up for their many other rivals, which I can only assume means Sparty and...App State.
Day doesn't have same 2 year requirement that Urban had?
Couple other records the Buckeyes need:
Longest winning streak. TSUN has 9. (1901-1909). Buckeyes at 7, heading into the Game tomorrow.
Also, largest victory. Tsun won 86-0 back in 1902. I don't see Buckeyes even trying for this because they need to keep healthy for the B1G CG.
Counting the 2010 season through this point in 2019, TSUN has won 67% of their games. Though he didn't make picks in all 127 games, Dez picked them to win 94% of the time.
I like Herbie. We all know he has a job that requires him to appear to be objective but he's a bleeds Scarlet. He's more knowledgeable and insightful than most, and that alone makes him a good representative of Ohio State.
Like THE Ohio State University ARE ranked 2nd?
He's great at subtlety insulting...referring to explosive plays and not fumbles as the reason for the loss, and calling the crowd 102k rather than the real number over 105k which is closer to PSU's size.
Fit is the key. Look for a vendor where you can choose jacket and pant size separately so no tailoring is required meaning they fit the way they're supposed to fit. A good option not mentioned here is Walmart's Bonobos store. Suits are trendy, you can choose sizes separately, they run $600 but can always get 20% off, so under $500.
We don't need the committee to place more or less value on OOC games if everyone plays by the same rules.

1. Make the SEC play 9 conference games like everyone else.
2. Don't count FCS games in WIN totals. If not competing for same championship at the end of a season, then it has no more relevance than a scrimmage against the women's basketball team from DeVry night school.
3. Only get up to 2 regional or in-state FBS games. Good for kids of taxpayers in Ohio/Midwest to play in Ohio Stadium, and same elsewhere.

4. At least One OOC game must be against other P5 team.
You can Update that one with a Bay Area man buying a Tesla and the contractor coming in the morning!
I disagree. If OSU could have appealed and won so Chase can play against Rutgers, why not appeal? Especially when this is a lame duck rule that may not be a violation next year. I just feel like someone was out to get Chase (or OSU) and Smith should stand up to it. Someone very clearly had ulterior motives. The source was not a whistleblower like people exposing a company defrauding the government or the government knowing about contaminated water. No, this person was self serving. Feels like someone waiting to tell on a player for running a stop sign...last December. Come on, Gene. Don't make this about your reputation, just do the right s d just thing.
If a court (which can supersede the NCAA) were to weigh who acted with decency and who acted with an intent to cause harm, then with what we know, it seems to me that Chase is innocent and the person reporting him is guilty.
Best outcome at this point would be one game and MD game being that one game.
Good question. Minnesota offered the boat tower more money and an extension. I recall LSU offering the Hat an extension when he was considered the favorite to take over at tsun years ago. What is PSU offering Franklin to stay?
Black father and white mother, I believe. One from Pittsburgh and the other from England. Nice story a few years ago on his family and upbringing.
WR and RB combo of Catch Up and Mustard?
Well, we haven't heard about Knighton having a bad year and dropping in the rankings so maybe he offended someone on the staff or did something improper on the visit.