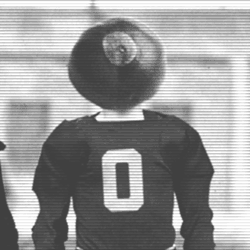 BABuckeye
---
Member since 29 June 2013 | Blog
Recent Activity
Wasn't there a Ryan Timmons site? And a Where in the World is Meg site?
Texas got a commitment from Rondale Moore, the WR out of Louisville with a laser timed 4.3. Looks like Texas Tom got an electric WR or KR/PR.
http://247sports.com/Player/Rondale-Moore-92949
Pushed Texas up in rankings. At this [early] point, looks like team rankings could be: 1. tOSU, 2. Texas, 3. Miami, 4. Clemson, 5. State Penn. Could this be the first year in the Internet era (2000+) that no SEC team is in the top 5?
And at least a bracket of 16 candidates for coaches. I'd suggest another bracket of 16 candidates for sportscasters, but wouldn't that just come down to Mark May and Trev Alberts in the CG?
Looks like we have enough for a 64-candidate, single elimination bracket.
Rather than the march madness East, Midwest, West and South categories, we could have:
1-16 That School, 1-16 College Sports, 1-16 Pro Sports, and 1-16 D-bags (murderers, rapists, neck stompers, NBA crotch kickers, Armstrong, etc).
Will 11W be adding kids sizes this year?
Im asking for a friend.
He can't type. Or read. But loves Buckeye gear.
I must have looked during an update. Now he's listed only once (at 54), and the numeric score changed. Nothing to see here.
Are the Buckeyes recruiting Matthew Jones the #50 player, or his doppelgänger, Matthew Jones the #54 player in the 247 composite? Here's a link to the current list. The photo didn't load and it will change, so I'll just point out he's listed twice
http://247sports.com/Season/2018-Football/CompositeRecruitRankings?InstitutionGroup=HighSchool
Chelsea clinches. The Chelsea players clinch.
Here's where this can get interesting.
An AD with a rising star coach puts big bonus in comp plan to secure early signings. So when coach leaves for bigger program, the school still has decent team. Of course, the kids are screwed but that's not the NCAAs concern.
Or a new coach like a James Franklin-type tells. The world he intends to close the entire class early with truly committed kids (to get a head start gelling or whatever). He tells kids to get in board or lose their spot. Some kids on the fence will get on board. They may not be OSU flip candidates; but still flip candidates off the table.
Agree it's 98% no issue. Still don't see a benefit to recruits though.
Become a branch campus of the University of Texas.
BTN still in low-def via Comcast in the Bay Area. It hurts to watch a game like that. Feels like Keith Jackson should be announcing a game from the 70s. Not cool, Comcast!
You're the best, Birm. Thanks and best of luck!
Are recruits accepting offers at elite schools (with limited space) early in the process simply to reserve a spot while they continue to look around?
Are they being coached to do so?
(Looking at it objectively, it's a good strategy; reserve a spot and shut others out, with no real obligation.)
A Sparty win would crush TTUN fans. One rival wins a natty in 2014/15, then the other rival wins a natty in 2015/16. I can get on board with that.
Nice of that school up north to roll out a RED carpet in the tunnel to the field for the Buckeyes.
So, when Art Briles blames "politics" for the CFP committee leaving Baylor out, we've just got to grin and bear it? That's doable.
Did Phyllis from Mulga make it into the ESPN HOF?
So when Ahmir Mitchell announces for tsun, the tsun class will be good enough (243) to be ranked 5th at the moment. If George Hill leaves the Buckeye class, the tOSU would drop to 3rd (269). These rankings are per the 247 calculator. The classes are not full yet, so for idea of what it takes to get a #1 class, here are the #1/#5/#10 class calcs for the last 10 years:
2015: 311/285/271 (Bama #1)
2014: 319/278/264 (Bama #1)
2013: 319/284/266 (Bama #1)
2012: 310/281/264 (Bama #1)
2011: 298/280/269 (Bama #1)
2010: 324/281/262 (Florida #1, example of Urban leaving cupboard bare for Poor Muschamp)
2009: 291/279/256 (LSU #1)
2008: 294/285/261 (ND #1)
2007: 310/278/240 (Florida #1)
2006: 315/276/249 (USC #1)
So Birm mentioned Walker and Jordan--two players discussed in forum posts as potential decommits--but not Hill.
Works both ways. The tarnished brand of the B1G meant tOSU and MSU were inappropriately suppressed in the rankings all season long.
Last season, the Big XII and most media pundits focused on the quality of the loss rather than the quality of the wins. This was backwards, or at least an incomplete argument that seemed to focus on keeping tOSU snd the B1G suppressed in the rankings. Let's see how the arguments are [conveniently] framed this year.
The blogger who posted the poll went to ... The University of Minnesota.
Everyone wants to see all 3 QBs on the field for the first play. It's the only way to show respect and indicate all 3 deserve to start. But after first series, it is too risky to have all QBs out there.
Interesting that Jordan Fuller did not participate in the camp and moved up. The reason he moved up was positive feedback from sources.
Also, George Hill is now ranked higher than Walker (an ironic name for a fast running back) on 247's list. Camps are a risk.
Has Walker been invited to The Opening in Oregon? He can gain back ground there.