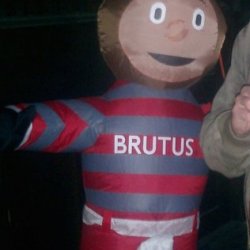 B44
---
Chicago
MEMBER SINCE November 28, 2015
Favorites
COLLEGE FOOTBALL PLAYER: Troy Smith
NFL TEAM: Broncos
NHL TEAM: Blackhawks
Recent Activity
I am also a degenerate gambler; I've been using TwinSpires and betting on the ponies.
Ah see you changed the terms there; I think a full spring schedule is well within the realm of possibility of what will happen (and what I think is most likely to happen). My bet was an OR condition, doesn't start on schedule OR isn't a full season.
Does not matter what today is. We need a vaccine or sports are going to be difficult if not impossible. This virus will make another appearance this fall; no question about it.
I'll make you an avatar bet; if the season doesn't start on schedule or is not a full season, you have to change your avatar to a UM one for an entire year just so you get crap posting on this board; i'll do the same if it starts on time and is a full season. How confident are you in that bet?
When i was a student there was a date that the football guys had marked on their calendars every spring when the last date they could get tested was. That date and for like 4 weeks they were clear of ever getting tested due to school ending for the year and before they had to be back on campus. They smoked soo much then it was awesome.
No way a full season happens on schedule. I'll bet you anything you want. You need to remember it is not just ohio state but the entire country that needs to be rid of this to get schools open so summer football can start. if kids in half the country don't get to practice this summer / early fall then they won't hold the season. Even though ohio has done a great job, a lot of the mouth breathers in the south have done a shit job and will be running with this virus through may/june meaning they wont relax until july/august. A visiting team/fans could re-spark infection in ohio which we wouldn't allow to happen. Spring football looks tasty though.....
damn - thats easily 15 yards for unnecessary roughness - straight up murdered him
If they run him carlos hyde style and just feed him the ball in quick run plays the LBs and even safety will be forced to come up and help tackle, leaving our TEs streaking down the middle behind them on a few play actions. Love what this can do for us. Just need Teague to block in pass pro and Fields will have a monster year
Dude is going to be a stud in pass pro. I hope he lasts 2 seasons before bolting to NFL. Going to show off this year
Im really surprised that Cardale is not still in the league. Maybe someone who follows NFL more than I can shed light on it. I thought he had what most NFL teams were looking for in terms of arm strength / size, was he not able to grasp and run an NFL system?
Booth fucking reviews fucked us
I have no idea but I hope your right
How on earth do Booth refs have this much sway in a game? WTF
Sold them to hondo. Mods you can delete. go bucks!
Shot you an note w my email address. Tickets are yours.
Thanks. Figure buckeye nation is everywhere and maybe there's a father / son combo in AZ who might not have been able to afford it and would love to see them go or just anyone who wasn't going to go cheer on our Buckeyes and now can!
hope to see you in New Orleans! Will be there as well after we give Clemson a butt kicking they deserve on Saturday!
The correct answer is always Toos
Want to grab a drink at Green Door tavern or Erie Cafe when you leave 600W after the game? Used to work out of that building for years. Hopefully they put you up in river north and not out in rosemont
Exactly. It's why I think they keep us at 1 just to avoid a Clemson v LSU final. The only reason I think we could get shafted is OSu travels well so Arizona would do well w OSU playing there and the impact to local economy + selling out the stadium is a big deal
I thought it was 50/50 but then remembered ESPN is biased to SEC and that gave them the 3%. After all the teams in that conference have the best quality losses.
I'm at 53% we end up as #2 seed. Although the OSU v OU Storyline sells ads and let the two southern teams battle it out in the desert. The worst thing would be if the semi final had higher ratings(eyeballs) than the final and that's a risk if you put OSU v Clemson as the semifinal. If we lose you end up w Clemson v LSU which won't excite large chunks of the country. They hedge their bet by putting the two southern markets together in the first round. Gotta remember this is an entertainment business at the end of the day
If you want a hotel on the cheap, check out Lunatix.com - they didn't sell their allotment of Wisc reservations so for $25 you can get a room for $275/night downtown. I'd act quick tho as they are gonna move fast as people make their plans. https://lunatix.com/ncaaf/ohio-state-buckeyes/big-ten-championship-hotel-room-2019 As far as buying tickets, with Wisc going, ticket prices are going to plummet, you can get in lower level for face or below if you wait until a few days before