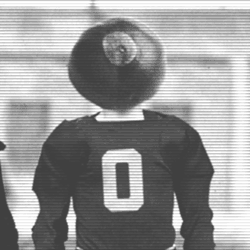 B1Gbuckeye
---
from Baltimore
MEMBER SINCE May 22, 2019
Love the Buckeyes and support them all the time. Live long fan.
Favorites
SPORTS MOMENT: 85 yards through the heart of the south
COLLEGE FOOTBALL PLAYER: Zeke Elliott
COLLEGE BASKETBALL PLAYER: Evan Turner
NFL TEAM: Bengals
NHL TEAM: Blue jackets
NBA TEAM: Cavs
MLB TEAM: Reds
SOCCER TEAM: Crew
Recent Activity
It is the ALCS between 2 great teams, so it is pretty important.
DC is loading up on Buckeyes. They drafted Tracy Sprinkle and Doran Grant as well.
They will very likely be 8-0 heading into Penn State. Probably their biggest game since the 50's when they won a championship.
7:30 is the pregame coverage. Fox always does this. They say coverage begins at 11 on Saturday's.
Do you have an opinion on OSU football? Cause the only time you talk is about ESPN. You may be right, but at least talk about the team instead of the media.
That was even worse than the one called on Browning against the Spartans.
That will be one big game between LSU and Alabama on November 9.
You're welcome Wisconsin. Ohio State beat up MSU so bad that they limped into this beat down.
What poor tackling form the Horns
Can people stop making new threads please? This open thread is not being displayed on the main page.
Texas just needs to throw the ball up with arm punts. OU's secondary is terrible, and you have a 6'6 receiver in Colin Johnson. At least draw some PI's.
Pick six for Scar. Up 17-10 with one min left in the half.
South Carolina playing Georgia tough. Just stopped UGA on 4th down
This is a classic Tim beck game. A whole lot of horizontal, and no threat downfield.
Oklahoma can't pass block, so Jalen Hurts can run whenever he wants.
A bunch of morons, even so called Ohio state fans said he quit last year. In no way is that true. He left to heal up, and he was never returning anyway. Even his teammates love him. He chose his future instead of the pleasure of some fans. It bothers me to the core.
I hate this Friday night game. I'll miss the Pickerington North vs Pickerington Central game for this crap. It better be worth it.
Should that be Baylor at 22 in the AP?
It wasn't. It was the one with Indiana last year. Not to play race, but the head official was not African American in the Michigan game.
The initial contact isn't even in the back. It's close, but not quite a block in the back.
He got Stewart in the side, not the back. There's a difference.
Ran the ball really well. Defense made timely stops. Only 67 yards rushing by MSU. Fields played OK. Still a lot to work on, but MSU has a good defense. Win the bye, and come out ready to play against Northwestern. Could be a sleepy game.
Kansas is playing dumb. This could easily be tied. Who grabs a face mask trying to get off a block?