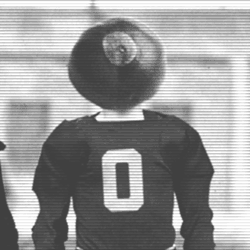 B-Razor
---
MEMBER SINCE December 15, 2017
Recent Activity
I remember when Gronk was a real possibility.
Mayfield is the type of player you hate when he's not playing for your team but you LOVE him when he does.
J. T. Barrett is the greatest QB in Ohio State history.
Love that picture, so awesome when your worst coaches are still hall of farmers.
Unfortunately I am sure I will see him going on about another sport he has no idea about tonight (UFC).
At least a Buckeye still had a hand in the game. Great snap by Jake McQuaide.
Why on God's beautiful green earth would they do that? Harbaugh is good motivator but that's about it.
If the media begins to talk about your team as the greatest of all time, you are probably not winning the title that year.
Indeed, I think we are the only team that has a chance against them.
Wannstedt is the man though, dropping truth on everyone.
I don't understand how the Purdue game isn't offset by the Michigan game. Like yeah, we lost to a 6-6 team by 30 but we also beat the #7 team in the nation by 30.
What if the unthinkable happens and Alabama loses by 2 or more touchdowns? Would be sweet to see the panic from all the talking heads if Alabama looks like crap against the best team they have faced all season.
Bama let crappy Arkansas put up 31 points. We will see about the Tide. I am not 100 percent sold on them yet.
I am pretty sure Millen was humming Carmen Ohio with the team after the Tulane game. Which was pretty awesome.
He is going to win parents, the same way Tressell used to.