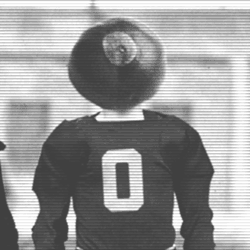 b-dub4545
---
MEMBER SINCE June 19, 2014
Recent Activity
Schiano scheme is Goal line defense all for downs.
I was at the Ironton vs Portsmouth game. Parker didn't run the football he floats in mid air with feet never touching the ground.
Gonna be cold, wet and rainy with up to a 25mph wind. I don't think Haskins will get quite to 400 yards passing in those conditions. Im guessing about 200 yards through the air and 200 yards on the ground. 31-13 bucks
I'd be ok with WVU. They'd at least be a lot more competitve in football and basketball than Rutgers or Maryland. Makes sense geographically too.
I've heard Wright is all Bama and his family is pushing hard for it too.
I agree with Gobucks10 Mclaurin should get the game ball for taking out all three defenders!
Targeting rules cost us this game.
Give me two space eater DT's like Jonathan Hankins and Michael Bennett and call it good.
Shakobe Harper...short for Shack and Kobe?
Just think, HOF left tackle Anthony Munoz was 6' 6" and 278 pounds. Kinda light weight by todays standards.
Im ready for some football. And that's the Fact. Jack!
I'd like to see Herbie team up with Gus and Klatt.
Izwatudidthere
Is that Drew Carey?
Start this kid over someone else and maybe it'll light a fire under their ass!!!
We can use some more Hookers on the team!
I guess Marcus Hooker is the younger brother of Malik, since they're both from New Castle, Pa?
Basketball tickets???
Thats the same logo/emblem as the one used on Mark Zonas awesome fishing show.
NASTY...Some women don't shave their armpits.
I swear thats Lewis Skolnick from revenge of the nerds meeting the Pope!
BOOM????
At one time, many doctors in the Huntington, WV and tri- state area seemingly only wrote narcotic prescription pain medications to treat patients. I believe the doctors, hospitals and pharmacys are/were getting kickbacks from the drug manufacturers. Hence the massive amount of narcotics in the area.
I served in an F/18 hornet squadron aboard the Big "E". And youre welcome sir.
The technology of todays military is simply awesome. The catapult system on the USS Ford uses an Electro-Magnetic launch system whereas carriers from the past used a steam system.