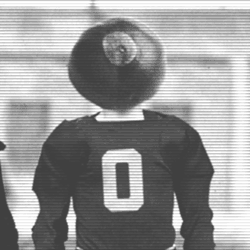 b-dub4545
---
MEMBER SINCE June 19, 2014
Recent Activity
Bring back the oversized shoulder pads too!
I'll be in the stands for Ironton's first game of the season against Wheelersburg rooting hard for Reid and my tigers!
Anyone know if Reid Carrico ends up in this class?
Cane Be-wrong.
Carrico with an offer from Bama after running his 40!
Just saw a video of Carrico running a 4.58 40 on fb.
Johns pass and boardwalk area are really nice to visit. Agree with Tarpon Springs. Exellent restaurant s and shopping area. Take the dolphin watch tour at Tarpon Springs where you will see dolphin and they also stop on a small island to collect seashells.
Logged in just to upvote you on the Orgeron quote Bzilla!
Anyone know if OSU is recruiting Talyn Parker from Portsmouth, OH?
Schiano scheme is Goal line defense all for downs.
I was at the Ironton vs Portsmouth game. Parker didn't run the football he floats in mid air with feet never touching the ground.
Gonna be cold, wet and rainy with up to a 25mph wind. I don't think Haskins will get quite to 400 yards passing in those conditions. Im guessing about 200 yards through the air and 200 yards on the ground. 31-13 bucks
I'd be ok with WVU. They'd at least be a lot more competitve in football and basketball than Rutgers or Maryland. Makes sense geographically too.
I've heard Wright is all Bama and his family is pushing hard for it too.
I agree with Gobucks10 Mclaurin should get the game ball for taking out all three defenders!
Targeting rules cost us this game.
Give me two space eater DT's like Jonathan Hankins and Michael Bennett and call it good.
Shakobe Harper...short for Shack and Kobe?
Just think, HOF left tackle Anthony Munoz was 6' 6" and 278 pounds. Kinda light weight by todays standards.
Im ready for some football. And that's the Fact. Jack!
I'd like to see Herbie team up with Gus and Klatt.
Izwatudidthere
Is that Drew Carey?
Start this kid over someone else and maybe it'll light a fire under their ass!!!
We can use some more Hookers on the team!