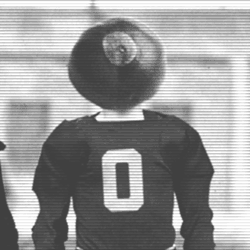 AZ Buckeye13
---
MEMBER SINCE October 04, 2015
Recent Activity
Not to mention 2018. It was only a mirage...
I came from a less-affluent community than you...we tossed pennies...
True. It doesn't do any good to try to confuse the opponent if our players are as equally confused.
True, they are all extremely corrupt but at least other countries can put a decent product onto the pitch.
"pretty soon that 4.6...becomes a 4.8, and that's not good coaching"
Throwing a little shade at the former defensive coaching staff???
All soccer federations are corrupt. Nothing earth shattering about that statement.
Once the Big Ten spurned ESecPN and they were forced to attach to the SEC, we have gotten the short end of the stick.
The SEC won't be held accountable for its weak OOC schedule...too many allies in positions of power in the NCAA.
I am not sure that we can go undefeated this year. Very tough schedule for us and playing TTUN the week after Penn State game worries me. As you said, hopefully by November we are still undefeated and hitting on all cylinders.
"record 9-27 250%...
record of 9-27 333%...
250% would be 9-36...
Alabama doesn't even have to win its division, much less its conference...
I think that we will end up with Robinson at RB and I am perfectly fine with that. Hopefully Trayanum will also decide to be a Buckeye. I know that he is concerned about playing time early but the Buckeyes have already proven that there is enough carries for two running backs. Most of these young men come in wanting the bulk of the carries but, if the NFL is their dream, less wear and tear in college is the way to go.
I thought that Evans had interest in Ohio State since he was going to take an unofficial visit this weekend. With the unofficial visit cancelled it would appear that Evans really has decided to stay closer to home. Looks like Evans is going to pick between Texas and Texas A&M and Milton appears to be trending to Georgia.
Alabama lost in its season finale to Auburn, didn't win its division, but was put into the CFP along with SEC champ Georgia.
The MSU game was played in terrible weather and Zeke was in the hospital with a leg infection most of the week. If the CFP committee truly looks at games they could have seen the mitigating factors that contributed to the loss. We just don't get the benefit of the doubt like Alabama does.
All that aside, with the talent we had coming back from 2014 the Buckeyes should have been given the benefit of defending its title. Alabama didn't want any part of the 2015 OSU team after getting beaten and outplayed the year before.
Also, our OL was great at pass blocking but couldn't really run block very well.
Not really accurate. In the game against TTUN, Martell was put in when we had a first and goal at, I believe, the 5 yard line. (I think the score was 24-19 at the time). On the first play he kept it and tried to go up the middle but TTUN stuffed the play. The next two downs Martell handed off to the RB when, had he kept the ball, he could have walked into the end zone around the right side of our OL.
"(good lord how did this team not win a natty)
The CFP committee has to let you into the playoffs to give you the opportunity to win. Our name wasn't "Alabama" so we weren't allowed in after losing a game.
"Are PEDS that potent?"
Players wouldn't be taking them if they weren't.
Disregard comment on McCord. Saw that he was mentioned in the article instead of being on the list.
I was thinking the same thing about Evans. Initially, didn't think we had a chance but since he is here on his own dime and may come up for an official visit this season...one never knows. I wonder how the coaches view this? If one of the other two guys we are pursuing, Robinson or Milton, want to commit do we hold off for a shot at Evans?
I thought that Kyle McCord was coming in this weekend? Change of plans?
I believe it does have to be at 85 by the start of Fall Camp. It is possible that, if someone doesn't transfer, a walk-on turned scholarship player could lose his scholarship before the start of Fall Camp.
I read that there were 18 scholarship players running out of eligibility after this season. With quite a few players potentially headed to the NFL early, I can see us taking 25 in this class easily (not including any possible transfers).
A team can have 10 coaches (including the head coach) and four graduate assistants. A team can have five strength and conditioning coordinators. Not sure about the number of quality control personnel, etc. Perhaps as many as the school wants to employ?
Look at the bright side...someone is actually reading and analyzing your posts ;)
So...who are the special teams nerds???
If I was looking for a BIG football school that doesn't necessarily put academics at the top of its focus...I would go with Michigan State.