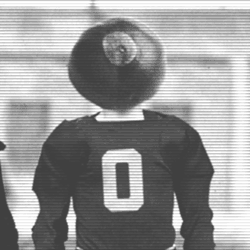 AZ Buckeye13
---
MEMBER SINCE October 04, 2015
Recent Activity
PEDs will do that to people...
This match-up could render the defenses, useless.
Pretty sure that both defenses are already pretty much useless...
It was tongue in cheek referencing the athletic teams' scandal, most publicized was the basketball team.
I understood Steele's attraction to UNC and he had me going until he mentioned them as a high academic school...
So...the committee basically used one game to decide the #1 seed instead of the teams' whole body of work???
Talk about incompetence...
Does explain why the committee left Georgia at #5 after a blowout loss...to justify jumping LSU to number 1.
One thing for sure...this game will be a track meet.
Probably Dabo on speaker phone talking while he prepares his team's next PED regimen...
Protect SEC at all costs...probably not.
SEC bias...absolutely.
LSU has looked bad in several games. Oh well, no use worrying about that now. The committee obviously wanted the SEC team to have the easiest path to the final.
The selection committee really disappointed me, while the reasons for their rankings week after week actually made some sense, the final rankings go against every metric out there.
And the old CFP selectio ugly head.
28 of the 33 computer metrics favor OSU as the top team in the country. They have looked the part except for one half of football.
Make no mistake about it...it is about filling seats and not about ranking the teams in deserving order.
No worries. I agree that all 3 would be best. The Buckeyes are ranked #1 in 28 out of the 33 computer rankings. If the committee selects LSU as #1 today, it will be against all available information they have at its disposal.
If the selection committee looks at it like I stated in my initial post...Ohio State deserves to be the #1 seed.
The selection committee isn't supposed to decide its final rankings on one half of football. It is supposed to be the entire season's resume.
Agree that Georgia is over-rated. I was just comparing above based solely on margin-of-victory for each school in their toughest neutral site, home, and away games.
I think LSU played Arkansas and Texas A&M in its last two games (although one could argue that Arkansas is playing at a FCS level right now). The FCS game came early in the year.
Ohio State has the better overall resume, more top 25 wins, and larger margins of victory in those top 25 games (with the exception of the CCGs).
If the selection committee uses one half of football to decide its seedings, it would be a disservice to all teams involved (in that case, Clemson should be ranked #1). If LSU had been #1 entering the weekend, nothing that happened in either game changes that. Ohio State won against a top ten team by double digits so the selection committee should keep the top three teams where they are currently ranked.
If the selection committee does its job correctly (taking into account both teams' body of work) Ohio State should be the #1 seed. If the selection committee only looks at the CCGs, it could be a different story.
Let's do a short comparison, shall we? Using the three top opponents LSU and OSU played.
Neutral Field:
LSU 37 Georgia 10
OSU 34 Wisconsin 21
Advantage: LSU
Home game:
LSU 23 Auburn 20
OSU 28 PSU 17
Advantage: OSU
True road game:
LSU 46 Alabama 41
OSU 56 TTUN 27
Advantage: OSU
As Meatloaf always said...Two out of three ain't bad.
The selection committee has been fair thus far in the ranking process. Ohio State still has a better resume, better defense, and has won its games against those ranked teams by more. The Buckeyes should remain #1 and face Oklahoma in Atlanta.
Don't disappoint me selection committee after the nice things I have been saying about you.
It might be important for Cincinnati to stay ranked this week.
Not near a television but the running stats for Wisconsin are crazy. If we don't stop Taylor it will be a rough road back. How has the turnover battle played out?
I am thinking 45-13. But your final works too!
You need to find better friends ;)
LSU won 37-10. We need a victory at least by that margin to ensure keeping the #1 seed.
Go Buckeyes! Play hard and throttle Wisconsin.