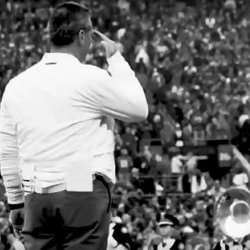 avail31678
MEMBER SINCE March 06, 2012
Favorites
SPORTS MOMENT: 2002 National Championship team is a no-brainer...I'll go with Evan Turner's last second, near-half court shot as time expires to beat TSUN in the BIG tourny. Unbelievable, and I loved Thad Matta giving TTUN's coach an earful - rumored to be in regards to him not voting for Turner as player of the year.
COLLEGE FOOTBALL PLAYER: Braxton Miller, but other Buckeyes are fast approaching..
COLLEGE BASKETBALL PLAYER: Aaron Craft
NFL TEAM: Brownies
NHL TEAM: Blue Jackets, I guess?
NBA TEAM: Cavs
MLB TEAM: Indians
Recent Activity
I do not think Rutgers scores.
That sounds right. I would assume we'd have heard a report that the NCAA determined it was 4 games, then a report that OSU filed an appeal. I think it was just 2.
Sorry Dstacify ;-)
Please share all the quotes
Interesting points CTown. +1, hadn't thought of it that way. I tend to think there's definitely an SEC bias out there, but was still accepting Bama and maybe Georgia being ahead of Minny, but this is interesting.
They jumped nine spots! I honestly don't recall such a jump for one win ever.
I'm not fretting. I feel good about the Bucks.
I do, however, dislike what I perceive to be a real SEC bias each year.
I honestly would rather be Bama. Minnesota must win out and be perfect, and even if Bama wins out (likely an easier task for them), with one loss they will have a fair chance of getting in (though they need some help). They have gotten in before without even playing in the conference championship game, and if a few things go their way, they'll likely be given the same opportunity.
2. Having more in the top 25 doesn't really matter if all of those SEC teams are ahead of the B1G teams. SEC has the highest ranked unbeaten team (though I'm not arguing against LSU being #1), and the SEC has the two highest ranked 1-loss teams, and the two highest ranked 2-loss teams.
Respectfully Allin, we criticize the committee for using such-and-such criteria, and then seemingly forgetting some other criteria, but let's not do the same. We all know that resume isn't EVERYTHING. And we all know that Bama and Clemson are full of 4 and 5 star guys. Eye test IS part of it. (but it shouldn't be ALL of it, like when Bama got in the CFP without even playing for the SEC championship).
Minnesota, while impressive in beating PSU, has had baaaad competition and they barely won most of their games. I'm fine with Bama being ahead of Minnesota (for now).
I totally hear you, but compared to Bama...still better wins than their win over TAMU.
On phone so can't embed, but 11W Tweeted this is the first time a number one CFP team has won and dropped. Ok, fine...
but the SEC has the top undefeated team, the top two 1-loss teams, top two 2-loss teams
Agreed. Clemson and Dabo are getting pissed off and will be a tough out.
That's not the whole story, though. Bama has a horrid schedule thus far. Georgia has at least beaten Notre Dame and Florida.
AND we simultaneously won our game 59-0 (scored more, allowed less) against a top 10 team.
I whole-heartedly agree, but if either Oregon or Utah wins out, It's highly unlikely there's 2 SEC teams (assuming Bucks and Clemson get in).
I still kinda don't get Georgia.
I agree - if we win the next 6 we should have a decent chance of making the playoff, and possibly winning the Natty.
Not sure how/where Joel found these facts, but 11W re-tweeted this Tweet. Looking better. Can anyone confirm this information as having been confirmed "true?"
More on Chase Young situation:

- Loan was not from Agent

- It was paid back before situation became public

- He was truthful from start

- With precedent I would expect somewhere between 1-2 game suspension...fact that it was not agent and loan was paid back will be key

— Joel Klatt (@joelklatt) November 8, 2019
What? Lawrence played in the championship game. To the tune of 347 yards.
Gotta suspend him now indefinitely. If you wait two weeks for the NCAA to make its determination, then suddenly it's Penn State week when the suspension STARTS. Suspend him now, hope the ruling is minor, and he's already done time served.
sounds great - what kind of precedence do we have for this? For accepting money but paying it back?