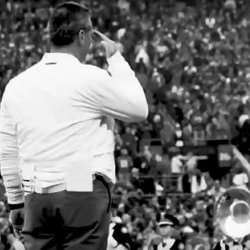 avail31678
MEMBER SINCE March 06, 2012
Favorites
SPORTS MOMENT: 2002 National Championship team is a no-brainer...I'll go with Evan Turner's last second, near-half court shot as time expires to beat TSUN in the BIG tourny. Unbelievable, and I loved Thad Matta giving TTUN's coach an earful - rumored to be in regards to him not voting for Turner as player of the year.
COLLEGE FOOTBALL PLAYER: Braxton Miller, but other Buckeyes are fast approaching..
COLLEGE BASKETBALL PLAYER: Aaron Craft
NFL TEAM: Brownies
NHL TEAM: Blue Jackets, I guess?
NBA TEAM: Cavs
MLB TEAM: Indians
Recent Activity
Ha! Or the article about how Day plans to use the TE's ;-)
You mods better buckle up, it's the offseason. You can't be getting tired of posts already...
Nice catch, but they're actually already 2-0 in 2023. We play TTUN.
Fields is already a heavy betting favorite to win the Heisman next year. He's going to have himself some games, that's for sure.
I see multiple mentions of taking on O-lineman in the third.
I fully admit I don't know a thing about Cincy and their current depth chart, but wouldn't you want a better (2nd round) O-lineman to protect the surest #1 QB in a while?
Yeh, this would likely be nothing if it was jovial, but OBJ has this look like "bring it."
Yeh, I talked to people who were convinced Oregon would cruise against us, and I was like, we just DESTROYED Wisconsin, and whooped Bama pretty good....if you think there's any chance at all that Urban Meyer is going to lose a championship game after beating Bama and Nick Saban, you're high.
Right, because Bama always drops a spot if they struggle for a half against a top-10 team. You're applying stricter guidelines to OSU than anyone else, who was undefeated and legitimately only struggled in like 5 total quarters of their entire regular season, and they were against top-15 teams.
LSU gave up 600 yards of offense and 37 points to Ole Miss. And they only beat Auburn (#9 at the time) by 3. Don't say OSU didn't look the part, because they certainly did as much as LSU did.
If every team dropped out of #1 because of 2 quarters of bad play, there would never be a worthy number 1 team.
Best of luck, sir. Hope you land somewhere that's perfect for you. And if it's in the B1G, good luck in every game except one.
Which is significant because they play Texas in Game 2 next season.
Ironically, LSU is doing its own internal investigation now.
Right? How would they already "know" it was fake cash if they hadn't already seriously looked into it? Oh, NOW they're going to do an investigation?
Because ESPN doesn't necessarily have a bias against the Big 12 or Pac 12. But they *could* against the Buckeyes and/or Big Ten. Their biggest competitor, Fox, is quickly rising up as a powerhouse in college football broadcasting. And guess who Fox covers most? Big Ten - and OSU is the Big Ten's biggest money grabber.
I'm not saying definitively there IS a conspiracy, but this is plain as day folks. It's certainly possible.
And I don't fault ESPN for wanting to maximize their profit UNLESS they have the behind-the-scenes reach to actually affect the CFP rankings or even possibly outcomes of games. Who hosts the CFP rankings show each and every week? Who gets to make the first talking points about the rankings each week, and who gets to interview the head of the CFP committee each week?
No one can convince me it's not POSSIBLE.
EDIT: Also, I'm pretty sure ESPN is also salty about the creation of the B1G Network as well...
Holy shit - he wishes they were bad last year? Does he realize he'd be giving up last years Natty??! These are glorious.
How can they compete with OBJ paying players? They do know that Clemson has the number one 2020 class, with like twenty 5-stars, right?
And manager and GM now fired....
Shea won't go first round?!? But they have so much speed in space in the NFL, I would think he would fit right in on any club.
I totally respect that Carpetbagger. I'm nearly there too.
My friend is watching and invited me over - I figure ESPN will get his view with or without me, so I'll watch it there.
There will be much beer, and I will likely re-visit the demons from the past couple weeks, but Buckeye fandom and SEC/ESPN/Clemson hate aside, this a matchup I am excited about as a CFB fan.
ESPN actually cannot lose tonight, that is probably what sucks the most
There it is, right there. F ESPN.
Why does it not surprise me that Taylor Lewan asked Vrabel the penis question?
This is amazing, I can't wait to see him in the SEC. Also, can't wait for him to break down the strengths and weaknesses of each SEC team's mascot.
I hear ya. The problem for me, though, is if you take the "Buckeye feelings" out of it (easier said than done), this should be a blockbuster Natty game. One I would under normal circumstances be fairly excited to watch.
I feel like that's cool, but also gotta suck for Day. Maybe Hafley too.