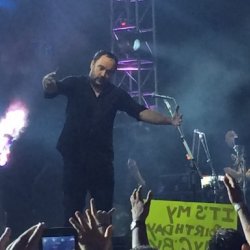 AtomBuckeye
---
Member since 22 December 2013 | Blog
Recent Activity
I bet Braxton will be in disguise every time he walks around campus from now on.
Noah's return will absolutely be a game changer. I have been excited to see how this Defense reacts to its best players on the field all at once.
Just one question though, why has it seemed like Mike Bennett has rotated more so than any other D linemen?
Absolutely absurd. I have looked for every positive after Braxton was injured and eventually talked my self out of realizing the true outcome of what could happen this season. We still have a lot to look forward to but we were exposed tonight. If the online doesn't get better from here on out, we will be yet again the laughing stock of college football. And it's already began.
This is solely on Meyer. Buckeye defense played their butts off. Our offense couldn't put points on the board.
Vonn Bell must be on the field going forward. He is the best play maker on defense.
This young man is electric! And yea he has made some minor mistakes, but didn't we all at that age. Would love to see him stick with his roots⭕️...
The next camp at Bama starts on the 13th going through the 16th of July.
I live close to where M Ferns & B Ferns are from & have friends who also graduated from St.C. My buddies have mentioned on a few occasions that M Ferns doesn't have the toughness you would want on the defensive side of the ball. Really, they pretty much summed him up as a sissy. Didn't M Ferns talk some smack on "the twitter" about the Buckeyes?
That's exactly what I'm thinking! We have some high profile kids who have gave a silent commitment and these kids will just soak up the spot light until their ready to go public.