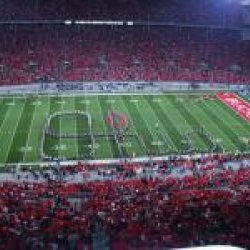 ATLBuckeye09
---
Member since 11 December 2012 | Blog
Favorites
SPORTS MOMENT: Cie Grant Slinging Ken Dorsey to the ground to win The Ohio State Buckeyes the 2002 National Championship!
COLLEGE FOOTBALL PLAYER: Archie Grifin
COLLEGE BASKETBALL PLAYER: Greg Oden
NHL TEAM: Red Wings
NBA TEAM: Pistons
MLB TEAM: Tigers
SOCCER TEAM: WHO CARES!
Recent Activity
Couldn't have said it any better! Especially in 2015!!!!!!!!!!!!
One more thing that is a bonus is that as good as Coach I like to do sleepovers with underage boys has upgraded the recruiting at TTUN they aren't even in the same league of talent that Urban & Company are bringing to CBus! You add to that the way this staff develops its talent and I see tOSU winning most of matches in The Game moving forward! And that will piss off those arrogant asses the Wolverqueen fan base even more!! Good Lord it's so great to be a Buckeye these days!!!
When I read Birm's article I was so pumped up! I woke up this morning I said this kid's coming to CBus to play for Urban & run in the Shoe! If you watch his film he's so patient as a runner and the BAM he's through the hole and past the LBs! By the way his nickname is "Zeus"!!! I love this kid!!
Couldn't have said it any better ZonaBuck! When he was hired I cautioned scUM fans about his personality. They all laughed at me. Just like they laughed at me when after Tressel won up there in 2001 I said when he is done at tOSU he would have a winning record vs scUM.
I also made a prediction about Coach Tempur Tantrum when he came in. I said he would have one good season and then leave for the NFL. I'm not saying this is that year. And at that point the WolverQUEEN fan base would say "when we hired him at the end of 2014 we really wanted John Harbaugh but settled for Jim instead." Watch they will say that when it happens within the next 2 seasons.
Yes we sort of contour our own destiny. However, there is only one problem. If PSU wins out then there is a 3 team tie for the East. Their toughest game left is @ Indiana.
This game to me comes down to 3 things
1) Coaching mistakes. I will elaborate later.
2) Special teams were HORRIBLE!!!!
3) OLine since Warriner is now not coaching the OLine it has gone down in play big time!!! This OLine is no where close to ANY OLine that we have seen since Urban came to CBus. Studrawa is not getting the job done!
Back to 1) Coaching was not good. Again the reliance on JT always being the safety valve and NOT getting Samuel in the play is going to cost us more games. Also the choice to kick the FG was wrong. Take the delay of game and back it up 5 yards for more room for your world class punter. Also I don't know if anyone saw it but on the last drive Weber on consecutive plays went out of bounds. The play clock started and the ball was set yet JT was walking around to get the play called and the time clock then started. This happened on two consecutive plays. I don't blame the refs or the time keeper. I blame THE COACHING for not catching it! That tells me something is not being watched.
We better get our act together or we are going to lose to *ichigan & some other team.
For selfish reasons I want A&M. Whichever team is #1 will go to the Peach Bowl Semifinal and since I live in ATL I would prefer to see tOSU.
Actually it was Colorado they beat not CState. And had th Buffs not lost their QB and had a decent punter that game could very well have gone the other way. Oh yeah and for the scUM trollers here: Yes I can use an injury as an excuse for CU seeing as how all I have heard from the WolverQUEEN fan base about why they got curb stomped at their house by Urban & Company last season was because of DLine injuries!
Are they improved most defiantly. Will they beat tOSU in the Shoe HELL NO!
Their front 7 yes they have players. But it's well known in college football if you have a spread attack with good WRs that Bama's Secondary struggles mightily.
I agree with your take on the Bama DLine especially at DT. However I am not sold on their Secondary. They have not shown so far in my eyes the same ability to shut a player or passing game down for 60 minutes. tOSU has shown our Secondary can control a game.
Damn!!! Get Well Soon Brother! Buckeye Nation has your back and we look forward to seeing you out on the field in 2017 as we will need you to defend championships!!
I was at both the 2007 & 2008 NC Games. While UF fans were utterly horrible nothing compared to LSU fans! I also have observed LSU fans since that game as I attended the 2011 LSU @ Bama game won by LSU. This was the game that LSU won and then faced Bama in the BCS Championship Game later that year. LSU fans were so disgusting & pathetic. While UF fans are bad they pale in comparison to LSU fans.
Boy reply calls were wrong but we get th make up now.
To be transparent the Hawaii coach admitted as was reported on EW that the whole scrimmage film thing was a rouse. That being said scUM played a team that I believe is worse than BG and had to travel much farther.
It was awesome to see! Now it's 33-17 Houston. Looking forward to my trip to Norman in 2 weeks!
As a Buckeye fan who grew up in Michigan I ALWAYS root for scUM to lose EVERY GAME!!! There is only been 3 times in my life both in football & basketball where I didn't root against because it would help tOSU for scUM to win. Even on those occasions I didn't root for that craphole school to win! I want them to be 0-12 EVERY YEAR!
Spot on ZONABUCK! Rofl Lmao.
Part of Urban's recruiting pitch is to challenge the players. He sells competition as being one of the greatest drivers in development of a player to the next level. He challenges them to play in cold weather knowing that if they want to play in the NFL they will have to play outdoors. They will be forced to perform and compete against the best in cold weather cities like Green Bay, Foxboro, Philly, DC and of course the biggest stage of all NYC. The kids get it so the whole cold weather negative recruiting isn't nearly as effective with this generation as it was in the past.
Yeah and what everyone also missed on that play to Gamble was that well after he threw the ball Krwnzel was leveled! It was an obvious roughing the QB call that would have given them an automatic 1st no matter what else happened on that play.
His likely starter is a Tom Herman cast off! I trust Hermann more than Coach I like to do sleepovers with underage boys when it comes to QBs. Herman has a championship of consequence and Hairball doesn't! I don't consider 2 patriot league titles & an NFC Championship (remember he coached in two other NFC Championships losing both) followed by losing in the biggest game on earth as good as Herman being the OC of a CFP Champion winning 4 games vs teams with 11 or more wins (only NCAA team to do this in history) all away from The Shoe and as heavy underdogs.
You mean the Wolverqueen defense tOSU put 42 on for the THIRD year in a row??????????
First of all I was mistaken on his record at Bowling Green so I give you that one. However, Florida's main rival IS Georgia! FSU has only been a big boy football school for 30 years now. Florida and Georgia go back 100 years! As far as Tennessee that's akin to tOSU and MSU. Its a good rivalry but the Volunqueers are an afterthought at Florida as far a football goes.
And your point here is????
I have said the same thing Brewster!! The Wolverqueen fans are acting like they own the conference now. They are overrated and when they come to The Shoe UFM will do what he always does in rivalry games throughout his career. Kick the living crap out of the rival!! No one ever talks about it but as great as his career winning percentage of .854 is it's his rivalry game percentage that impresses me. He's .933!!! He's lost ONE rivalry game his entire career. People will remember it as he was at Florida and his only loss to Georgia was when Mark Richt sent the entire team onto the field to celebrate the game's first TD. Until those morons win something my $$$$ is on THE Ohio State Buckeyes & Urban Frank Meyer!!!
Exactly what I thought when I read that quote QuadCities! These kids today buy into hype and BS persona so easily. Woody Hayes was tougher on his players than Knight was on his! I'm not PC because I believe it is nothing more than intellectual Tyranny!