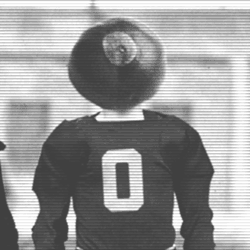 Atl_Buckeye72
---
MEMBER SINCE November 22, 2017
Recent Activity
I heard someone (I think Zach Smtih) make that point. It's not like you have to spend much time preparing in order to not leave the sideline opened though. I'm usually of school of thought that you don't show your trick plays until the most opportune times
I don't necessarily believe that it had everything to do with his lower ranking. Malik Hooker was a 3*. That said, the coaching staff saw something in Hooker but clearly didn't see it in Winfield. I don't know remember anything about his recruitment. We took 4 DB's that class 3 of which were 3* guys. BTW...3 of them have since transferred and the 4th is Jahsen Wint.
Based on what I saw last Saturday, he looked like a champion!
NCAA: Coach Saban, you have two kids get arrested with drugs and weapons charges?

Saban: Don't worry, I'll have them running stadiums on Tuesday.
NCAA: Ok
BTW....Now it is my job to helicopter the shit out of my Gen Z child
X'er - 72. I remember life before cable TV and cell phones. I remember being scared to death by the movie "The Day After". I remember leaving the house in the morning and not coming home till dark (and having to figure out what ever non-sense we got into so we didn't get into trouble from our parents when we got home) and walking to school when I was in 2nd grade unattended.
I was thinking about where all of our eSECpn conspiracy guys have been after watching the rankings show. All the analyst as well as the committee spokesman are fawning over OSU right now and criticizing both Bama and Clem for their schedules and performance.
Hard to tell if a QB is worth his salt when he is running for his life. Their OL has been terrible since before Jimbo left. I can understand a down year or so but they have been terrible for pushing 4-5 years on the OL
Others have already pointed out the coaching, play calling, oline play and running game.

Did you expect for his numbers to be on par with Haskins? Fields doesn't have a feel for pressure in the pocket and often times holds the ball too long which sometimes leads to good things down field but also sometimes results in sacks. I don't have him pegged as the type of QB that is going to make 4 Reads and pick a defense apart all game long. Perhaps we'll see that part of his game develop over the next season and a half but right now I feel like is a incredible athlete with a great arm that's learning how to really become a QB
The jury is still out on Smart for sure. There is a lot he still has to prove in my book. No one can question his recruiting. Game day and coaching hires are questionable at this point.
I am a believer that in college football the old adage of jimmy's and joe's over x's and o's is usually the case. You can't be a terrible gameday coach as you said but I don't think you have to be a football genius either. We out talent 12 out of 12 of our opponents this year and that has been the case for the past 6 years. I don't think that Dabo is a football genius but he hires the right coaches and out talents everyone
I was just asking my Dawg loving co-worker about this. He reminded me that Mark Richt used to pull 10 of the top 25 and look what that got them
I think that next year will be pretty telling for both Burrow and Brady.

Some are ready to crown Brady the 2nd coming. Dude is 30 years old and, not counting his time as a GA, has been on the side for all of what 2 and a half seasons. He's clearly no slouch looking at the transformation in LSU's passing game, but I for one am not quite ready profess him the next great one.
I think this is the strongest scenario for the B1G to get 2 in.
I don't want this. I don't give a rat's a$$ about getting 2 B1G teams in. We need to leave nothing but corpses on our way to New Orleans this year!!
So, he's not coming our way?
LOL.....I was going to ask if this is good news for us
Not saying that your source is wrong but here is an article from today

https://247sports.com/college/georgia/Article/Georgia-Football-DWan-Mathis-getting-closer-to-return-137029504/
Fields ever going to UGA never made sense to me. Fortunately he did as it ultimately ended up well for us. However, UGA has been a conservative run first old style offense for 20 years that had the prototypical QB for that system that just led them to the NC game (and was a crazy play from winning it). Fields would not have ever fit their system without some wholesale changes to their approach.
LOL...No kidding! Seriously, first world problems right?
I was considering OSU but they didn't have a slip n slide!
Here is a write up that talks about where some of this money goes

https://www.dawgnation.com/football/report-finanical-commitment-definitely-aiding-georgias-recruiting-efforts
I assume this is the list you are looking at? https://watchstadium.com/news/this-is-how-much-it-costs-to-land-one-of-college-footballs-top-recruiting-classes-07-24-2019/
That is really interesting. Clearly spending money doesn't necessarily equate to success on the field or even in recruiting (Kansas, Iowa St and Minnesota). I'm not going to jump on the band wagon and say that UGA is spending 1.5M on girls to socialize with recruits or bagmen or what ever. But, it is interesting and would be more interesting to see what they are doing with that extra money. Does Bama, UGA Clem and other have a larger recruiting staff?
Can't say that I'm totally done with it but you are right. It has just turned into another program talking about the same stuff all the other talk shows cover.
I really liked hearing some of the recruiting stories and behind the scenes stuff. I would love to hear him talk about UF's approach to the 06 game and perhaps breakdown what they saw as OSU weaknesses and a glimpse into their game planning. Also, I would like to hear what changed in 15' for the Mich and ND games, where the team played the team that we thought that we would get all that season. Did we just over match them or did something change from a coaching perspective?

Perhaps he is saving some of the more behind the scenes stuff for after the season when all the other shows are listening to Jimmy from Kansas tell us his thoughts on why we need a 46 team playoff and how it would work
2019
Marcus Crowley- 4 star - #26 RB - 0.8917
Steele Chambers - 4 star - #11 Ath - 0.9126
2018
Jalen Gil - 4 star - #2 APB - 0.9831
Brian Snead - 4 star #3 - RB - 0.9607
Master Teague - 4 star - #11 RB - 0.9132
2017
JK Dobbins - 4 star - #2 APB - 0.9791
For comparison sake - Zeke - 4 star - #5 APB - .9711
I've heard from one of my UGA friends that follows recruiting intently that the Evans and UGA relationship has cooled considerably. This after they were convinced that a commitment was coming any day (a few weeks back).
For me, it is all about the Schiano debacle a year and a half ago. That was a complete disgrace