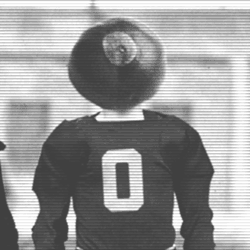 Aslfinch5287
---
Member since 27 September 2012 | Blog
Recent Activity
I'm sad the FAMU, Cal, Purdue, and Illinois posters didn't include the 'Land Grant Universities' line
I think the message here is Brutus killing a hawk... Am I missing anything else??
Shut the front door, has Brutus won the heart of a badger?
Wow, well that's brilliant then, great work
I hung this up at work and my coworker asked what the relevance was of the roman warriors and I had no response....
What is the relevance of the roman warriors?
B
The text this season has been challenging to read.
PRobably my favorite yet. The PDF is nice. But is there any way to get a hi-res JPEG version of these. When I set the pic above as my background it doesn't look as crisp as the PDF.
Keep up the great work.