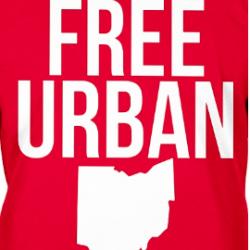 ashtabulassassin
---
Austin, TX
MEMBER SINCE June 23, 2016
Favorites
SPORTS MOMENT: Blanking Wisconsin in the B1G title game with a 3rd string quarterback, beating the spread by 63pts to earn our way into the 1st college football playoff.
Recent Activity
this site needs more low quality ads
I think you people missed the point that he wasn't trying to make a math point. His view is valid. what % of the population is actually, racist? I've lived in California, Texas, Utah, Idaho and several other states. The amount of people that I've met that I would consider racist, is about 2. Of those two, both were over 80 and had black friends.
I get that overt racism isn't the whole issue, its probably the smallest part, but that is also the only part the government or any beauracracy can do anything about (prosecuting hate crimes etc.). The rest is up to us to change our hearts, get more life experience, and get out there.
Comment removed for violating the site's commenting policy.
Comment removed for violating the site's commenting policy.
As an oregonian, where antifa seems to have started, I can attest it should have been designated a terrorist organization long ago. Since these people basically just attack and assault anyone who doesn't agree with their politics. They have been a source for unprovoked violence for a long time.
good example of E+R=O by Dionte.
this is HUUGE news for LA. The USC fan base was basically expecting to be hailing Meyer after USC grabbed Mike Bohn from the state of Ohio. And now UCLA and USC are both heading into seasons where the football coach is expected to be fired before season's end.
There is no single, possible, AD hire with more of a connection to Meyer than Jarmond. USC already hates Bohn with a passion after he failed to deliver Meyer last season. He is quite possibly the most hated man in LA. With Bohn's experience in retrospect I'm sure Jarmond will go after Meyer, also the main reason he was hired I'm sure.
If USC loses Meyer to Rival UCLA, Bohn can kiss his job goodbye. Will be interesting to see how the bidding war shapes up for Meyer between these two.
as you can see above I'm a huge proponent of playing the game in a full stadium. That being said, right now while things are still spreading and others are at risk, people should be decent enough to care about others and try not to spread it for exactly OSUfaninIndiana's reason.
but people also need to take personal responsibility. If I haven't been tested I'm not going to visit my grandmother if we live in california. If we live in a county that has had 0 cases ever, than I'll probably wash my hands, use a mask and go help her around the house.
absolutely. People can manage their own risks. We don't want or need the government doing it for us.
Yes no reason. because the game is being played in Oregon... my home state. Eugene is in Lane county. Do you know how many new cases of covid they had today? 0.
Guess how many they will have by game-day... 0 total. projected to have 0 deaths and 0 cases. In fact the ENTIRE state is projected to have 0 covid deaths for a more than a WHOLE MONTH before gameday. https://covid19.healthdata.org/united-states-of-america/oregon
Also, Ohio will have a whole month as well of 0 deaths by then
except every other state is nearly the same... and as of june/july most states will have no more deaths. Also the besides money comment is stupid. Poverty kills.
maybe the ohio state video team will be able to release some better hype videos this year with all the extra time. Last year's were terrible minus maybe one or two
some rev is better than none, but only if it is still profitable. Which it won't be for most teams sans ticket sales
actually HCQ is still a possiblility. Alone we know it doesn't help is all. But we already kind of knew that. The real question is just what needs to be used in combination with it.
a vaccine could be months away but could also be 10 years or more. The NBA won't hold to that if life gets back to normal. Which it will even if states never lift lockdowns as people won't stand to all go broke and jobless for no reason.
not going to happen. People have already stopped social distancing in stores. People have already stopped caring and that sentiment will only increase in time. People won't stand for it and the NBA will back down. Esp if life is back to normal everywhere else, it will just seem like waaay overkill like the stupid oregon game announcement.
knock it off. Its overkill plain and simple. The economic hardship will kill waaay more people than the virus between now and september if this keeps up now that things have calmed down with the actual virus. Current projections show 0 deaths in oregon for many months before this game is even played.
As an oregonian... relative to our case load this action by the Governor is super extreme. In general the gov's response has been super extreme given our very light case load of covid. The current models: https://covid19.healthdata.org/united-states-of-america/oregon show that oregon will have had 0 deaths from covid for 2-3 months before this game is even played.
if this game is played without fans we will be laughing stock as the whole world will have already moved on.
slightly unrelated, but this whole thread reminds me of how we all need to be grateful for Tyvis. He had I think 3 season saving interceptions while he was here and never gets credit for that.
I think the issue is, according to what I have read is that unlike the flu the mortality danger is the same for the young and healthy as it is the opposite.
I don't see Day maintaining the same level of success at OSU as Urban. I think year after next is when we see the losses start filtering in with more regularity.
If we couldn't win it all this year... I see it only getting harder.
glad to see this is an annual tradition without me though. Because once Urban goes to USC or UCLA next year I'm never coming back ;)
As the starter of the previous two Unpopular Opinions threads... My first gripe is that this should be titled Unpopular Opinions 3
tyvis was always my favorite buckeye, I think he saved our season like 3x in one year