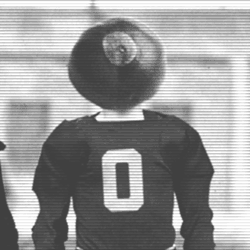 Ashtabula
---
MEMBER SINCE July 20, 2012
Recent Activity
How about:
National Champion Elliott
National Champion Jones
National Champion Lee
...
That play is called 12...better known as running your 1 back thru the 2 hole.
I remember commenting on a forum post about 6 weeks ago asking for a grade on Urban Meyer. Most gave him an A- to a B+ (a few wack-job trolls gave him C's or lower), but my comment was he gets an A+ unless you can name a few coaches you would rather have than him. I must admit, prior to last night, I might have agreed to switch him out with Saban, but I think he has solidified his spot at the top of the mountain for the next decade!
And then Meyer moved to God's country!
Urban's job is to convince the underdog that he deserves both of them!
How do you not have Frank Beemer?
0-0
I try to not let past failures or successes to cloud the importance of this year's Game.
If you give him anything less than an A+, then you must name the handful of coaches you would rather have leading the Buckeyes.
I agree it is still very early in the season, but don't forget they have had multiple practices and a few games during their Bahamas trip.
I found that to be a little weird since it is so early in the season to practice so much zone, but their personnel fits the 2-3 really well with all of their length and athleticism at the forward spots.
Certainly could be a motivational ploy to get Amir to play harder, but I'm guessing Matta has tried to push every button with this kid over the last 3 years and is growing tired of underachieving.
I didn't say the starting five "should" be nor did I say these where the best five players. I simply gave my thoughts based on who practiced with the first group the most. But, I'd say, as of now, Matta disagrees with your assessment of McDonald.
By the way, it looked to me that the starting five would be Scott, Russell, Thompson, Lee, and McDonald, but certainly looked like Lee was struggling to adjust to the new system and coaches.
Agree of Marshall...I'll go with 74 yards
What Michigan is going through right now is what I feared was going to happen to us after Tressel left. Thank your lucky stars a coach of Urban's caliber was available and had ties to Ohio State.
I totally understand the argument that recruits love alternate uniforms so the rest of us should deal with it. However, I'd argue that I don't really want a recruit choosing my school simply because of uniforms. I'd rather they make more mature and rational decisions.
DJ, with only a slight amount of inside info, Urban is a Bud Light/Coors Light guy.
Healthy:EZE
Inactive: Braxton
JT is going to fine and the offense is going to continue to improve as the younger players mature and the coaches get a better grasp of their personnel's strengths.
I'll take the ring over the trophy.
I'm going steelhead fishing followed by day drinking. Welcome to join us!
Urban wants a pissed off team. I think he has one now. Sorry Golden Flashes.
63-17 Buckeyes