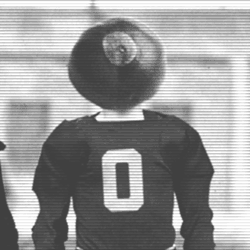 armynurseboy
---
MEMBER SINCE January 18, 2015
Recent Activity
Why is it that Keanu Reeves always plays a washed up QB from Ohio State....?
I would argue that the AP and Coach's poll still do mean something an influence, because that is how the CFP committee determines how "hard" your schedule was and if you had any marquee wins or losses when they start putting together their rankings. You beat a team ranked by the AP or Coach's poll, it still usually looks good going into November.
True. Also, did Meyer see potential in Smith that he wanted to see come to fruition. I've seen bosses give subordinates second chances to clean their act up, especially if they thought said subordinate had great potential if only they'd get their act together.
I agree. He seemed to be very hesitant hitting the hole last year and thus would often not have very good runs. Unlike Weber who hit the hole with authority and power.
Osu78, I concur. You can have an emotional attachment to a team, yet still recognize it's a bad professional move to agree to coach it. For better or worse, coaches are creatures of reputation. If you have a good reputation, you get better job offers and bigger salaries. It's not a smart professional move to accept a job that may set you up for failure (no matter how good you really are) and destroy your professional reputation that you spent years cultivating.
Even if his health improves to the point he can coach again, I hope Buckeye Nation acts with more class about it than Gator Nation did. Those guys STILL act like a jilted girlfriend.
Unfortunately, the way recruiting works these days is a "verbal commit" is just a way for a kid to insert a place holder on the roster, so at least he has a place to go if something better does not come along. He's not really yours until he signs his scholarship paperwork.....
If he's calling our O Line "arguably the best in college football" I KNOW he wasn't watching our games....
No, but he IS essentially the assistant head coach. That should count for something extra in the salary.
Plus his performance at the Senior Bowl...
Exactly. If he wanted to remain in coaching, why would you give up arguably one of the best jobs in CFB (some would say THE best job), one that you have deep personal ties to, just to take another position that, at best, is a lateral move.
I hope he gets to expand RLW to all the sports at OSU. Such a good program should not be reserved only for football....
Which are the things Urban really likes to do anyways....
Why would he want to coach for the second best football team in the state,.....???
One thing to keep in mind though: it goes both ways. If you stipulate that coaches stay at least 2 years before looking for other opportunities, you have to give them 2 years of opportunity to prove their worth before replacing them. As much as people bitch and moan about Urban being "too loyal" or nepotistic, if you expect loyalty from your staff, you have to show loyalty in return.
Sometimes coaches are better suited to the NFL where they are working with finished products vs having to actually teach and develop players.
Then again, some kids can't wait to get off the island to the mainland....anywhere on the mainland....
I wonder if Cris Carter harbors some regrets for not playing his senior year......
Sometimes these kids just need a harsh reality check. Thanks Cris, for bringing this one...
yup....which is why folks groaned when he was named starter....
He may not like it so much in January if there are many more Polar Vortexes coming down the pipe.... ;o)
Wasn't Werner a coverted DB anyways?
So does "associate head coach" make him #2 man in the hierarchy? I thought that was what an "assistant head coach" was....or are they the same thing...?
I could possibly see him going to Notre Dame IF he's able to get his health straightened out. Medical advances happen all the time, and one to better solve his cyst issue may potentially happen. However, if it doesn't happen soon, I think he really is done. I never really saw Urban coaching for another 10 year stretch. He always said he wanted to be done by his 60s.
So you're saying there's a chance....?