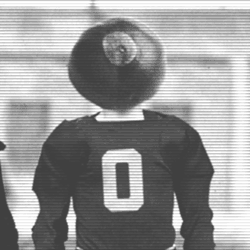 ARMYBUCK
---
MEMBER SINCE February 14, 2012
Recent Activity
Respect for Dolphins and Vikes...the others should be there as a courtesy due to proximity.
Super impressed! Thanks for sharing.
Your computer.
I like Demario McCall, I really do, but, the thought of him being the safer option is laughable. I'm gonna support Days decision either way but I've been waiting on DJ's GOAT forever now. I'm almost sad for Demario but if I'm being completely honest, , and I am, it's Wilson's time.
I have NEVER felt comfortable watching McCall field punts. I dont get that same uneasiness, or any, really, when Wilson is back. Its past time for Wilson to be the full time return man.
Me too buddy. Logged in just to throw you a bone. The Bosa family is still doing great things for OSU in recruiting. I've heard many DE recruits name-drop them!
Oh, I believe we definitely wanted him. I think it was at DB though.
This should definitely be a weekly piece. It's fantastic and a great start to the week! Well done!
59-14 Good Guys. Dobbins runs for 170 yds. Fields throws for 330
Dwayne Haskins can sling it but the more I see from him the more I realize it's not even close to being his greatest attribute. He's just a good dude!
Andy, I can't thank you enough for your tireless coverage. Kudos to you, as well as our wrestlebucks!
I feel like all these young men interviewed well but clearly Mike Weber was more comfortable than the other two. Isaiah Prince is a very articulate young man with loads of talent. If he can become mentally sound on game day with his talent he will be a steal as well. Michael Jordan I expect to have a very sound 10 plus years in the league.
Loses Color Trivia Sorry. I've never done the play on your initials before and the door was open.
It would be devastating to lose the commitment of Paris Johnson. He seems to be everything you would want in a tackle and as a recruiter as well. Are you under the assumption that Day has steadied the ship? I know he had some reservations after Meyer stepped away.
Welcome aboard Taylor. I can't begin to tell you how popular you are. The Hurry-up brings out all the crazies!
The Fields prediction is indeed BOLD. I hope you're right though.
I very much agree with your assessment Kmp!
I think it says a lot that his off-season QB coach, Quincy Avery, said if he had a son he would 100% want him coached by Ryan Day. Sounds like he was steering Fields to the Good guys as well.
Oh, what could have been, if only we were good in the red zone all year. 13-1 Is still fantastic though. Ready for next year already! Edit: I really think more power run and less read option allowed our line to continue to get better and move the line of scrimmage in the right direction.
This is the winner. Meyer is the 24th coach in Ohio State history. This puts Dwayne over 5000 yds and he is doing it 4-24. 424 it Is! I'm not even gonna play against you, so I'll bow out gracefully with a duplicate.
Thank him!
Merry Christmas 11W! Gee Scott hiding under the tree? That would be a great gift!
Yeah, not just a little bit either!
Not sure why Herbie gives everyone a complex. He flat out said they wouldn't be considered in the most deserving 4 but possibly best 4. Maybe he's wrong, maybe he's not but he gets paid to talk about it. I mean, I don't have to look very far back on 11W when 70% of our fans were saying they didn't want the playoffs because we would get embarrassed. I was definitely not among that group because I know how dangerous our talent could be when they came together. Take Ohio State out of the equation and think of it this way, ND is undefeated making them deserving from a numbers standpoint but,IMO, nowhere near the best 4. I would take Georgia over ND any day of the week. I guess my point is, what Herbie said is not absurd.