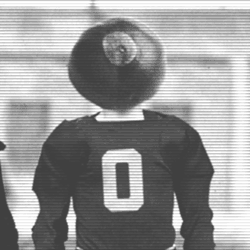 ARMYBUCK
---
MEMBER SINCE February 14, 2012
Recent Activity
Dwayne Haskins can sling it but the more I see from him the more I realize it's not even close to being his greatest attribute. He's just a good dude!
Andy, I can't thank you enough for your tireless coverage. Kudos to you, as well as our wrestlebucks!
I feel like all these young men interviewed well but clearly Mike Weber was more comfortable than the other two. Isaiah Prince is a very articulate young man with loads of talent. If he can become mentally sound on game day with his talent he will be a steal as well. Michael Jordan I expect to have a very sound 10 plus years in the league.
Loses Color Trivia Sorry. I've never done the play on your initials before and the door was open.
It would be devastating to lose the commitment of Paris Johnson. He seems to be everything you would want in a tackle and as a recruiter as well. Are you under the assumption that Day has steadied the ship? I know he had some reservations after Meyer stepped away.
Welcome aboard Taylor. I can't begin to tell you how popular you are. The Hurry-up brings out all the crazies!
The Fields prediction is indeed BOLD. I hope you're right though.
I very much agree with your assessment Kmp!
I think it says a lot that his off-season QB coach, Quincy Avery, said if he had a son he would 100% want him coached by Ryan Day. Sounds like he was steering Fields to the Good guys as well.
Oh, what could have been, if only we were good in the red zone all year. 13-1 Is still fantastic though. Ready for next year already! Edit: I really think more power run and less read option allowed our line to continue to get better and move the line of scrimmage in the right direction.
This is the winner. Meyer is the 24th coach in Ohio State history. This puts Dwayne over 5000 yds and he is doing it 4-24. 424 it Is! I'm not even gonna play against you, so I'll bow out gracefully with a duplicate.
Thank him!
Merry Christmas 11W! Gee Scott hiding under the tree? That would be a great gift!
Yeah, not just a little bit either!
Not sure why Herbie gives everyone a complex. He flat out said they wouldn't be considered in the most deserving 4 but possibly best 4. Maybe he's wrong, maybe he's not but he gets paid to talk about it. I mean, I don't have to look very far back on 11W when 70% of our fans were saying they didn't want the playoffs because we would get embarrassed. I was definitely not among that group because I know how dangerous our talent could be when they came together. Take Ohio State out of the equation and think of it this way, ND is undefeated making them deserving from a numbers standpoint but,IMO, nowhere near the best 4. I would take Georgia over ND any day of the week. I guess my point is, what Herbie said is not absurd.
Chris Holtmann is a stud, truly.
You talking to Kyle Snyder like that...Ballsy
I tried to find this myself but couldn't. I did, however, find that Steve's dad, Joe, was a two-way player for Woody on the the '57 National Championship team. Pretty cool.
It's official. All Ryan Day's are likeable!
That was obvious? More like possible, but I've been on the Balwin bus since Day found the kid. Don't underestimate him!
Troy Smith references are an auto upvote. True statement as well.
With all respect, the thought of Proctor and Hooker, as true freshmen, not improving is an assumption I won't make. We will be fine.
Fitting Stover was in first. He was likely working for hours before this. Excited for this one!
Cut him some slack, you're a Doc, he's not!