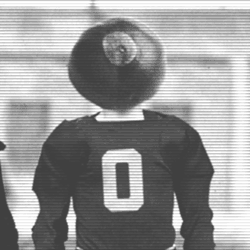 ARMYBUCK
---
MEMBER SINCE February 14, 2012
Recent Activity
Someone didnt do their due diligence and it wasnt Jeff Okudah!
BIG opportunity for Sprinkle AND others to show their potential, even if this league isn't quite as SEXY! I'm sorry, I'm just having fun with words. I'm happy for these guys.
Well, it's the Browns so I'm sure they will just think he was still at Rutgers last year.
Well said. God bless you for doing Gods work my man. We NEED it!
BOOM! Fantastic. Go Bucks!
Love Mattison and Washington but from what I can gather, did we jump the gun on a new bullet position? I guess we could have just said we're focusing on a SAM linebacker that is versatile enough to cover in space. I wasnt really aware of this until Mattison spoke about Werner earlier in the year saying it's essentially the same thing as long as he's able to cover downfield. It's almost funny they were different positions at Michigan but now they're here at OSU and they see it's the same position just a different talent level. Go Bucks!
Appreciate your response. Originally, I went back to the article and saw where Tommy T was described as a rising junior, and I certainly couldn't find issue with that statement.
Advancing, emerging, growing...I dont see the issue.??
Just for the record, that's exactly what's meant by reload.
Toutant is cleared to work out 3 months removed from Labrum surgery? I'm almost 4 months removed and not even close. I'm working with 3 lbs dumbbells. Maybe it's the biceps tendon being moved that's slowing me down but 3 months seems lightning fast.
Apparently you didnt kill it in the classroom. If only Ohio State could find a safety as good as you think you are.
First thing that really jumps out to me is that Cody Simon is bigger than I remembered. Looks like he's been doing work. The other thing is the high, high character of all the OSU guys there. Go Bucks!
The epitome of what the Buckeyes are and continue to be. Proud of this program.
Taylor Swift sucks!
It's all good. I knew one of the numbers had to be off, just wasn't sure which one. Thanks. Good write-up.
If Tyler Davis is second with 8.5 sacks, how is Isaiah Simmons first with 7?
Oh My!! Fantastic. GO BUCKS!
I've got no problems with anything he said. In fact, I think he's just being honest and I can appreciate that. It sounds very similar to how I feel about the Buckeyes. I know the Bucks can lose, anyone can, I just dont think they are going to. 48-35 Buckeyes
Saw Urban and Joel Klatt take Ohio State last night. Klatt said it was against his better judgement because Clemson has the experience of being there just last year. Urban said if it's against your better judgement take Clemson. Klatt didnt bite.
Yeah, but what does Urban know? He's like the 46th best coach! /S
As a fan, I'm hurt. As a recruit, I can only imagine. Still, best of luck Coach.
I am a Tyreke Johnson fan! He continues to say all the right things. He WILL do great things with his attitude.
I want to say it was Rutgers and we were up by 28 and Day said they didnt feel like it was enough...
The number 4...Chase Young has four sacks, Bullets force 4 turnovers and Bucks win by 4 touchdowns.
Anyone who actually read the article above has heard that, yes.