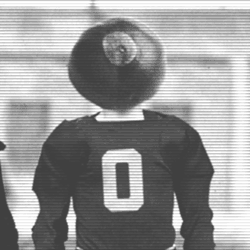 Arkansas Buckeye
---
Member since 03 December 2010 | Blog
Recent Activity
Song was good for me. Anyone want to ID it?
Please continue these updates. I hope that more fans become fans of the Buckeyes and not just the big 2 sports. I wish we supported the various Buckeye athletic teams the way they do here in Fayetteville.
The fanbase atmosphere today in Fayetteville is one of muted enthusiasm for Bielema. They REALLY don't like people not from the south down here. Recruiting will be interesting to watch. T
Badminton is actually a pretty good workout. Tennis for guys with bad knees.
Never took the lit class either. But if you could recite a little Walt Whitman back in the hippie days, girls thought you were sophisticated and sensitive.
I stand corrected then. Forgive me for underestimating the education of a fellow Buckeye. (I didn't see the picture).
Uh, Walt Whitman. Opted out of that American lit class for film studies, did we?
Big poofy air bag helmets and flip flops instead of spikes will solve the problem.
How about big poofy airbags for helmets? You could spear all you want. It's be kind of like hitting one of those people dressed in the sumo-wrestler suits.
Taver and I need to have a talk about the dismal history for Buckeyes living in fayetteville. Rumor is that there will be some dandy bargains of talented players ready to transfer.
Cincinnati Southern?
They have decent schools and no NASCAR track.
Be careful what you wish for.
Living in SEC country, an "O-H-" from a fellow Buckeye warms the heart.
Hell, in SEC country, ANYone sporting Big 10 colors gets a nod. I've got a tOSU license plate frame and bumper sticker and get honks and nods from even Penn State and Wisconsin cars.
And believe me, "O-H-" is a lot better than:
Wooo Pig Sooie
Roll Tide
Geaux Tigers
War Eagle
Just an outside suggestion: Bobby Petrino sees his future. He is going to be playing caddy to Saban and Miles for the rest of his stay at Arkansas. Recruiting into Fayetteville is an uphill battle. Neither Saban nor Miles look to be having an off year any time soon. And I doubt Petrino enjoys hoping for an upset to get that coveted 2nd place in the SEC west spot rather than playing for titles. He's got a huge buyout but he's done a pretty good job given what he has to work with.
Kal Drogon - Ed Orgeron (or maybe Will Muschamp)
Amen, brother.
The Razorback fans in Fayetteville are clearing a place for that Sugar Bowl trophy because, ya know, the only reason we won is because we cheated.
.
Wouldn't it imply that the other 50% paid more that the acutal blue book value?
Yes. Great year. Great team. Right.
But the better team won last night. That was a frustrating underperformance. At one point, it looked like the game plan was to drive, fall down, throw the ball at the basket and pray for a foul (which for some reason stopped being called in the second half). Very weak.
Did it seem like Sullinger was intimidated by Harrelson? I kept waiting for him to post up and use his superior mobility to work Harrelson into a bad position or at least move and then kick the ball out.
Every team has a bad game. It ws a sad seaoning ending performance. I hate losing to an SEC game. I'm still excited for next year.
O-H!
Amen, brother. This is getting a little much.
A local oddity for your Arkansas flavor:
The local Lowe's actually sells "hog traps". The traps are for the feral hogs that roam this area - not really Razorbacks but close enough. The traps are 4'x4'x8'. When I first moved here, I thought it was a football season joke. Not so. It is pretty scary walking through the Ozark forest and coming on a carnivorous beast with tusks that size.
Again, PLEASE put a beat down on the Razorbacks.
Its difficult, and maybe pointless, to make a comparison. Both have been outstanding both on and off the field. But they coached in different eras. I doubt Woody would have the managerial skills to run a team today. I doubt that JT would have been the inspirational force needed in the bygone era.
As much as I loath the SEC and pray (PLEASE PLEASE PLEASE PUT A BEAT DOWN ON THE RAZORBACKS), I have to defend Mallett. HE seems to be a pretty professional ball tosser. Even Petrino has been nothing but class here.
Still makes me wonder how soon his mansion will sprout that "For sale" sign.