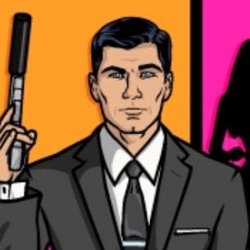 Arizona_Buckeye
---
Toronto, Ontario (via Grove City, Ohio)
MEMBER SINCE December 02, 2011
I am a devote Pastafarian and a member of The Church of the Flying Spaghetti Monster! I have been touched by his Noodly Appendages!!!
Favorites
SPORTS MOMENT: Sitting in the stands at the Fiesta Bowl Game watching Ohio State dominate the U to win the National Championship!!!
COLLEGE FOOTBALL PLAYER: Chris Spielman
COLLEGE BASKETBALL PLAYER: Clark Kellogg
NFL TEAM: Chargers
NHL TEAM: Bruins
NBA TEAM: none
MLB TEAM: none
SOCCER TEAM: none
Recent Activity
Stay safe my fellow Buckeye Nation fanatics! Wash your hands - and stop touch you face!
I have noticed that the more I work on not touching my face - the more my face seems to itch... go figure!
Bwaaaaahahahahaha... rrrriiiiiiiiiiiiiiiiiiiiiiiiiiiiiiiigght (best Dr. Evil voice)!
You got f@#$ing destroyed by 29 points, although, it could be attributed to beating yourself by putting on your uniforms and stepping on the field. After that, it was all Buckeyes, all game!
Holy shit - is the coronavirus a Buckeye? WOW, this is just crazy - in an awesome way! I was on mgoblog last night lapping up their tears of misery and this will most certainly get more flowing. They absolutely are sure that the Buckeyes are cheating by throwing loads of cash at these recruits. You know, because they're not getting these commitments so, they must be cheating!
Ah, as always, it is a GREAT day to be a Buckeye!!!
I would love to know the traffic volume data on mgoblog after a loss! I'm guessing it is thick with Columbus IP addresses due to Buckeye fans venturing over to enjoy the salty taste of their bitter, angry tears! I know I do....
Hello police - yes, I'd like to report a severe throat punch and head bludgeoning! I'm in Indianapolis at the NFL draft and there is a reporter laying on the floor with glazed eyes and drool on his chin...
Holy shit - Liam's lid eradicating video was awesome!
Having graduated from Ohio University, I've always been a fan of Joey B and wanted nothing but success for him! Sadly that did not come in a Buckeye uniform but I followed every game he played at LSU the last two seasons! It is a magnificent story and couldn't have happened to a nicer guy! I do winch at him going to Cincy - but he'll be in the NFL and that will be awesome!
Loving the XFL... watching the replay of the Defenders game as I type and will flip on the live games later today! I love the way they're running the PATs and the kick-offs! Fantastic idea on both accounts!
Like I said on 11W Twitter feed - I'm guessing Ryan Day had a bit more informational details and insight into this situation than has been released at this point. Regardless of the legal outcome - I'm assuming the details of this painted a really bad picture of their actions and Day wanted no part of it going further!
Love that picture of the Three Kings... what a great day that was!
God I hate this... There have been cases on both sides of this where the woman's accusations proved true and where they have not. Either way - it is just horrid for all parties concerned! I will wait for all of the facts to come out but I will not lie, my stomach turned when I started reading the details! F@#$!
Bert to MSU - this MUST happen!!!
Watched this one and currently watching the LA/Houston game... I like the XFL thus far!
We want you here for a long time too coach Coombs... I need to stock up on Red Bull again!
YIKES... I'm torn here. Kerry Coombs needs to be on the sideline doing Kerry Coombs stuff! Having said that - watching video of him locked in a small room during a game would produce some epic viewable clips!
I'm currently waiting it out at my current company! I have the last chunk of stock to vest March 1st and then I will start planning my exit and mine is only 200K... Dantonio would be an idiot to walk away from that coin! Especially since, given the potential scandal(s), he might not be getting another look.
There is no way in hell this is just a 'woke up and thought I'd retired today' thing! There is just way too much smoke flying around this place right now. I like Coach D., but man, there seems to be quite a bit of bad news lurking around the corner! If I were an aspiring coach, not sure I'd want to walk into this one!
Standing on my porch yelling to get off my lawn.... and leave the CFP as is!
Damn dude - I often wonder why people feel the need to post this kind of crap. My father always taught me to read the room and, for the most part, shut the fuck up if something I was about to say was just unnecessarily idiotic and should best be left as a thought to myself!
LOVE the hell out of this... Not having Coombs screaming and running up and down the sidelines just seem, well empty! He had me at 'you're just a kicker'...
You can post this article every day and it would never get old!!! Mmmmmm their tears taste delicious
I watched it all and enjoyed the shit out of it! SO much karma being slapped in Clemson's face and the irony was THICK as hell. The only thing I could have done without is Chris Fowler mentioning Ohio State lost every 30 seconds. I didn't hear Oklahoma's name the entire night, but Ohio State's... about a 1000
Is it me, or did EVERYBODY on ESPN continuously mention Ohio State losing? W.T.F..... Chris Fowler did it every single minute and now even SVP is doing it. I did not hear the name Oklahoma one time - Ohio State, probably 200