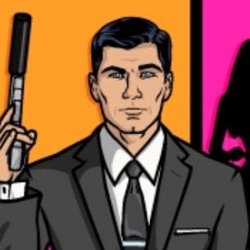 Arizona_Buckeye
---
Toronto, Ontario (via Grove City, Ohio)
MEMBER SINCE December 02, 2011
I am a devote Pastafarian and a member of The Church of the Flying Spaghetti Monster! I have been touched by his Noodly Appendages!!!
Favorites
SPORTS MOMENT: Sitting in the stands at the Fiesta Bowl Game watching Ohio State dominate the U to win the National Championship!!!
COLLEGE FOOTBALL PLAYER: Chris Spielman
COLLEGE BASKETBALL PLAYER: Clark Kellogg
NFL TEAM: Chargers
NHL TEAM: Bruins
NBA TEAM: none
MLB TEAM: none
SOCCER TEAM: none
Recent Activity
Master Teague = The Juggernaut - He is unstoppable when he gets some momentum! Crazy
I've said it all year... The Buckeyes are put on upset alert because <insert reason here> and after they curb stomp them, well, that team was obviously overrated! It will be the same every single week. But I think the number of NFL scouts that were in that stadium, mid-season, says all you need to know! Keep winning and we're in - it is that simple! After we mow down Clemson and Alabama... there will be no more noise!
Man - did anybody else get up this morning and think it was Sunday? Crazy!
GREAT day to be a Buckeye! Now, where is that f@#$ing badger!
Well damn it - they just updated it again and moved it off FS1... off to Kodi and the SportsDevil app!
HAHAHAHAHAHA... GareBear - that made me literally chuckle out loud... then I started to wonder, do they now allow cussing on Hallmark! I am proud to say the only way that channel EVER hits my TV is by fat fingering the remote!
Dru Chrisman is rising fast on my Buckeye favorite list!
On the bright side - I just check my Sling TV Guide and saw the Ohio State game is scheduled for Fox Sports 1! Saweet! I don't have access to BTN except for a few 'aggregating applications' which have performance issues and low quality video capabilities! Nothing worse than seeing your video lock up while a pass is in midair!
To those complaining about profanity - grow the fuck up - if cuss words offend you so much, you should probably unplug from the Internet and sit in a dark room watching the Hallmark Channel!
I'm kinda laughing that Northwestern is deploying longer grass as a strategy against Ohio State... unless we forget to pack the longer cleats, don't they have to play in said longer grass too? I'm pretty sure the laws of physics apply to the fat, slower guys just as it does to the thin faster guys! What am I missing here?
The whole BTN saga caused me to officially cut the cable about 6 months ago. We were renovating our condo so we moved into our furnished rental for a couple of months. I started to cut down on the reno condo and bump up the rental condo package. I ordered the 4 premium channels and then went to add the 5.00 BTN channel... Cox Communications would not let me add the 5.00 BTN channel until I upgraded my cable package again to the tune of another $50.00 - only then would they allow me to add BTN! COMBINED, my payment to them was well over $450.00... and they refused to add BTN.... So, I told them to stuff it and I cancelled both accounts!

So I have the Fire TV Cube and a boat load of 'aggregating apps' that enable me to watch every single college and NFL game without regional coverage and blackout BS - it is glorious!
Well that blows... relegated to BTN on a Friday night for the #3 ranked team in the nation... not a very large audience outside the Buckeye Nation...
Watching Joey B carve up the Gators was a blast to witness... dude has become a stone cold killer at QB and I couldn't be more elated! Having said that, the Predator lines are hilarious! I will forever be a Joey B fan except for 4 hours if LSU faces off with OSU!
Dude - take the anti-Barrett shit somewhere else and get over it! J.T. Barrett was an awesome Ohio State QB and was instrumental in a ton of victories. I'll take Urban's expertise on who the best QB was over your couch hot takes every single day.
You all know the narrative by now... no matter who Ohio State plays - pregame, they are put on upset alert and the media pundits go through great lengths to explain why the upset is highly possible. Ohio State then beats said team to death and then the post game narrative is always - well, that team was overrated to begin with and the win was not significant. In the SEC, the opposite narrative happens where regardless who wins or loses, it's the SEC so even a loss is somehow a positive and discounted when ranking the losing team... because, you know, the SEC
Yeah - only Ohio State drops in the polls during a bye week... well, I guess the Buckeyes will just have to go undefeated and win the whole f@#$ing thing
Mmmmmm... the sweet sweet taste of SEC tears! It goes good with the morning coffee
I love seeing the big ass old nut mascot pics... I'm old enough to remember when it was prowling the field! It still makes me laugh!
Current Brutus rules!!!
I think this Ryan Day guy is going to work out!
My good friend is the organizer of the Penn State Alumni Club out here in Scottsdale and he texted me with the following:
I am really starting to hate Ohio State... we finally get rid of Tressel in Tatgate and we think you're going to be down a few years and you get Urban Fucking Meyer. We finally get a break when he leaves and you get this new head coach and we think you're going to be down a few years... and he is destroying the place and you're getting loaded with more recruits... this is BULLSHIT!
BWAAAHAHAHAHAHA... it is always great to be a Buckeye - but right now, it is incredibly great!
What I loved the most about last night... was listening to Booger talk about how much Coach Johnson was instrumental in helping him become better. WOW - what a fantastic Ohio State recruiting sales pitch that was!!!
Apparently, if the flag planting wasn't enough, Nick had been chiding him all freaking night... yelling BBAAAAAAAAAAAKER, and telling him to step up his game because they were bored! Freakin awesome!
As much as it pains me to say, Brady is a quality human being... there, I said it!
It's great to be a Buckeye!!!
LOTS of booms this weekend - let's make that happen
Has anybody checked on the Husker DB that had his ankles snapped by Austin Mack? That kid is going to wake up with cold sweats for quite some time!
I have a feeling Coach Day left in Fields a bit longer this time knowing Sparty is probably going to go to 4 quarters!