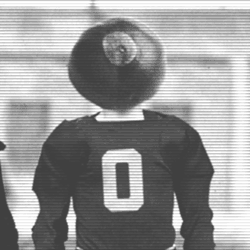 Archerm
---
MEMBER SINCE September 06, 2014
Recent Activity
Yeah, he had nowhere near the now required 5 steps to make it a catch.
LOL...I see saw what you did there... since it's not appropriate to use profanity here, you called him "goofy". Well played.
( at least, before someone removed the GFY ? )
Yep, I've heard many Buckeye fans cast doubt about our chances of beating LSU, but I really think Okudah, Arnette & Wade would have shut down ( or lets say "limited") the passing attack. My only concern might have been Burrow out running Borland, but surely we could have used Browning more, or just schemed against the QB run. Oh well, I need to stop replaying the CFP.
Don't they write one of these every year...you know "the most gut wrenching loss of the season" rather than our Decade version?
After living through the Cooper years, it amazes me to read this line...
If not for this loss, Ohio State would currently be the owners of a 16-game winning streak against the Wolverines.
Oh what could have been, with just a little more air under the ball from Braxton to Posey late in that game.
I also was confused by the mention of recusing, initially. But then the next sentence
This system is awesome and definitely works with no hitches.
makes me think he was just being sarcastic. A bit unclear, but I think he was just bashing the committee.
.
An outstanding man that is my FIL, loves the Josey Wales movie and quotes it often. He also loves Buckeye football He is also possibly, slightly dyslexic.
I love it when he talks football and mentions Josey Bosa, lol.
Thanks for the contrary opinion. True, others have better dealt with similar circumstances. To be clear, I'm not excusing him, and feeling sorry for him doesn't diminish feeling sorry for Odin and other victims. Maybe "feeling sorry for" is the wrong phrase for me to use. Just a damned shame that someone lived that way and didn't get the help and support he needed to have lived his life better. Some grow up in worse circumstances and are able to rise above it, while others do not. Still looking forward to the other episodes..
I just finished episode 1. I plan to watch the others when time permits. Right now my three thoughts are:
I feel bad for AH.and the troubled upbringing with his mom. dad, sexuality...all of that could not have been easy no matter how much he may have benefited from his extraordinary athleticism.
Secondly, I really like the man ( name escapes me ) who was the father of the high school quarterback. i wish he was my neighbor.
Bi, gay, straight, lgbtq...plus any and all other labels, really need to have no meaning or associations. Just be people.
LOL...that reminds of one I occasionally say to myself when someone catches my eye. "I found my movin' buddy".
Pretty sure flying bananas just meant that we'll soon have a d-cor with a national rotation as the best in the business, ala the current rep of venables.
I think he was/is a pretty damn good college RB, but not special like Dobbins. That YAC stat was likely due more to the quality of defenses he ran against. He was well under 100 yards rushing in each of his. post season games, which was probably the only 2 times Clemson faced a good defense. Definitely good in the open field, but no reason to fear him if we meet up again.
@silverhaven, first, not my DV. Second, interesting theory but not enough data to blame Olave mis-read on lack of QB/WR familiarity.
Loads of talent in the WR room this coming year. Can't wait to see them in action.
Yes. really nice to see some Browns film from when the team was as good as it gets in the NFL. I'm not quite old enough to have seen Warfield or Jim Brown play for the Browns, so the clips of Warfield were a treasure to see.. My first year of paying attention to NFL was the year the Browns drafted Phipps.
Really looking forward to a healthy Justin Fields next fall. Seeing Burrow use his legs to demoralize Clemson several times makes me feel certain the Fiesta Bowl would have been a comfortable win if JF was at full strength.
...Verne
@Sav45age.....Me, a blast at parties? Hard to say definitively, I don't get invited to parties.
Yes I'm serious, and YES Joe B. has earned ALL the accolades imaginable for the great year he had and being a great leader of his football team. I just don't agree that smoking is a good look in this day and time. I see I'm getting DV'd to hell for this. I guess I failed to see (through the great haze of all the smoke in this room) how popular this still is. Is smoking, even cigars, still legal inside a public building anywhere?
LOVE the Joe Burrow story and I am truly happy for his success, but I can't help feeling annoyed that Joe and teammates felt entitled enough to smoke cigars in the locker room post game. I know, It's a special night for them, so let the boys have some fun, etc. But I still feel like he tarnished his golden boy reputation. Smoking in 2020 is cool?!?!
I agree that was the way it was intended. Seems kinda harsh towards Miyan though...
I thought the same about his #7 rank in the state. He reminds me of Jalin Marshall. I'd love to see him as a Buckeye no matter the position he ends up playing.
This was the second most visited place in the campus area called The Library. First was a little further north on High Street.
Good luck to you Chug, and thanks for being a Buckeye in our time of need. This backup qb talk reminds me of a question I've been meaning to ask here... whatever happened to a QB recruit from CA named Anstrade, or something like that, in last year's class, or maybe the year before? I thought he had committed to the Buckeyes at one point.
It was intentional by me, but I was quoting from the original article above.