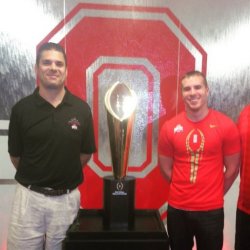 aphilly02
Cleveland, Ohio (via Mentor, Ohio)
MEMBER SINCE July 10, 2015
2016 grad from Ohio State. Previously depressed Cleveland fan but now I'm a world champ. #undisputed
Favorites
SPORTS MOMENT: Tie: Being at the Sugar Bowl in 2015 vs. Bama and witnessing Game 6 of the 2016 NBA Finals in person.
COLLEGE FOOTBALL PLAYER: Braxton Miller
COLLEGE BASKETBALL PLAYER: Jon Diebler
NFL TEAM: Cleveland Browns
NHL TEAM: Columbus Blue Jackets
NBA TEAM: Cleveland Cavaliers
MLB TEAM: Cleveland Indians
SOCCER TEAM: Columbus Crew
Recent Activity
The Departed is one of mine.
My Great Aunt lived on Staten Island at the time and worked in Tower 2 high enough that there weren't many survivors... She scheduled a doctor's appointment the morning of September 11, 2001 and din't go into work.
2 days in a row with links about bathrooms lol
Tickets to the Alabama game in NOLA. Was down there to party and watch it somewhere and had met up with my current boss and his family and friends. Told me point blank, "you're going to the game."
I too was shocked by this
High prices out of CLE too
Likely going to see this week. Perfect score from the audience on RT last time I checked.
Idk if a 9am start in Eugene is gonna fly with anyone...
Does anyone think we are actually going to play Washington and Texas in the same year in 2025? I've been waiting on news for that to be changed lol
I don't remember if I had mentioned this before, but 8 seems logistically perfect for keeping the NY6 bowls intact and not giving any team the advantage of a real home game.
I do not see true home games for the higher seeds as logical. All of the playoffs are in domes or warm weather locales where weather (mostly) does not come in to play. Having a snow bowl in Columbus or wherever would be funny but would likely not be a great on field product.
Continue with the 6 bowl rotation for the semi finals, and the remaining 4 each year are the quarterfinal sites. There is a good mix of locations (Dallas, Atlanta, Miami, Pasadena, Glendale, New Orleans) to keep it geographically fair and inclusive for 1 or 2 west coast teams as well as the southern and eastern teams. Ensure that a Group of 5 representative is in each year to ensure they get their share of the NY6 revenue. I am not sure about dates, I haven't thought about that enough.
Championship continues to rotate to various cities as it does now.
I'm really excited for this team. I think they will have a real shot at the B1G crown this year if the freshman don't hit any sort of wall similar to what LM hit last year.
Love the motivation material. Simple, but has so much meaning behind it. Those numbers improve, they can be a 4 seed or better come tourney time.
Rooting for the Nats. My buddy is the social media manager for them and I also have some family from the area. Been shadow following them for a while now. So pumped.
What in the hell does the first paragraph have to do with this topic
Calorie count is down because appetite is down, so I'm not over eating and am satisfied by my smaller meals. I work out 5-7 days a week along with hooping and swimming here and there.
Working on cutting down to my optimal weight of 185-188. Caught myself around 198-202 in the last couple months. Using a fat burning supplement called Animal Cuts which has really helped curb my appetite. Mainly used by body builders but is available for regular dudes too. Drink tons of water and keeps me focused and not thinking about food. Did a lot of research beforehand knowing that stuff like this can mess with your body. No ill effects and have dropped to 193.6 as of this morning. Really has helped me cut out late night snacking before I go to bed too.
I was at this game (pre gambling life) and had no clue what happened
Also:
Lowe Post (NBA junkie that really goes into analysis and covers a wide range of topics)
Marvel Studios News (I am an MCU nerd!)
Woj Pod (Woj also brings on good guests for interviews for the NBA, it's very infrequent. He just had Beilein on, the new Cavs coach and former TTUN coach)
Tony Kornheiser Show (just a funny show)
Pardon My Take (they're not as ridiculous as most of Barstool products and have great guests consistently)
Lights Camera Barstool (Pop culture - covers movies and television and a lot of fast food - again not too on brand for Barstool stuff)
Binge Mode (Ringer pod - Harry Potter and GOT specifically were covered in depth and it was so great)
The Rewatchables (Ringer pod - covers great rewatchable videos from like the last 20-30 years - not a fan of Simmons though)
Around the Horn and PTI recordings - I listen to catch up on national stories if I find anything interesting at the time
Brian Windhorst and the Hoop Collective (I am an NBA junkie and get a lot if good info here)
Anyone else watch that video and see how brown Urban's hair used to be??? Guess 7 years of extreme stress will grey you up a bit!
Don't get me wrong - I'm only defending OSU's uniform changes. The blackout is dumb and never works. You have to have rare fanbases to really get a full "color out" and frankly, ours isn't concerned with doing that. It would never happen but if they really wanted to push the blackout they'd hand out 105k black shirts at the entrances. But that would cost too much lol.
I get that a lot of you aren't fans. But the uniforms aren't for you. It is a recruiting tool. A lot of high schoolers look at teams and judge partially by how they present themselves. All black is a fashion thing that looks great, especially in photos. Same goes for the all greys from PSU 2 years ago. Recruits loooove having those edited photos in the alternate uniforms when they make their choice.
I saw Lion King about a month ago, that was phenomenal