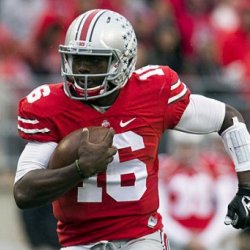 aphill89
Raleigh, NC (via Durham, NC)
Member since 15 November 2012 | Blog
Favorites
SPORTS MOMENT: Ohio State winning the BCS title 2003 (for that 2002 season) and every time beating TTUN
COLLEGE FOOTBALL PLAYER: Arch
NFL TEAM: Indianapolis Colts
NHL TEAM: Carolina Hurricanes
NBA TEAM: Los Angeles Lakers
MLB TEAM: Cleveland Indians and Cincinnati Reds
Recent Activity
Would like to see some quality time out of Victor for Sparty.
Live in Raleigh/Durham, so decent drive up. Any Triangle Buckeyes looking to take the trip up too?
I am actually not quite sure, kinda why I put out the post to see if anyone knew how involved he might be right now.
I'll take it, even though Blackledge has that Penn State in him, he's a sturdy son of Ohio and always has had good things to say about the Bucks. Thank the lord it was a very pro-SEC team.
we need to buy as many tickets as possible! just dont want to see bama have a home-game atmosphere like LSU and some other SEC schools have had in the past
ahh forgot the days of ESPN+PLUS
good point, wonder if we could drop Hawaii last minute. kinda wish we could find that vandy match-up again that was dropped a couple years ago
For real, how long have you been living in NOVA
It's funny how the first time I saw these I just thought, 1968.
Please, there's always a good crowd over there at the Brickhouse on Hillsborough Street. Always a fun time watching there and great people!
I was baby when my family moved from Van Wert, Ohio to Durham, NC. Grew up the rest of my life in Durham bleeding scarlet and gray as a diehard. I still visit my family very frequently in Northwest Ohio and go up the Shoe for at least 2 games a year. Right now I am working in Raleigh, NC and watch every game at the Brickhouse here with the Triangle Buckeyes Alumni club.
Wish we could just wear scarlets at home and just keep whites for away and neutral sites - very old school approach, but I know its not very realistic.
I would definitely have to go with VT being that downer.
https://www.youtube.com/watch?v=rPSDoWI9LC4
this is just making me depressed...
Watched him tear it up in the WBL, dropping 400 plus on my Van Wert cougars...
left out at the end: Roll Damn Tide.
Pretty solid piece, good representation.
bow tie must be installed in the new hiring criteria from now on.
I truly believe that Marcus has the talent to get it done, if Spence cant go.