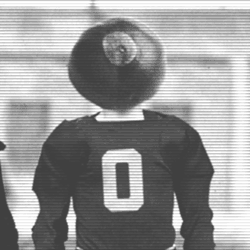 AnotherBuckeyefan
---
MEMBER SINCE February 04, 2016
Recent Activity
It was National Treasure + Independence Day. Better the last Jedi, but so many problems
Some many great ones, but one that stands out for me: A Bronx Tale. Locks the bar door, "now youse can't leave."
The Black Crowes, to me, are an interesting band. They have some GREAT hits (I especially love Thorn in my Pride and She Talks to Angles) but I don't think most of their catalog is very good.
When was the tour cancelled? He and his brother were interviewed a few weeks ago on Howard Stern and they were saying they are back together and going on tour.
Check out Joseph Banks. They have some decent looking things that are decent quality, and you can get some really good deals online (they have some on clearance less than $100). I know lots of professionals that wear their stuff
It sounds like someone is saying "but you a snitch though" at about the :33 mark
Walk-ons played more than him. And last week the Thursday bullet points had:
He says Jaelen Gill is "getting an opportunity in practice" to impress. He says Gill is somebody who has to step up given this opportunity to play. Gill has to practice to the point where the coaches trust him.
Hopefully nothing bad going on, just waiting for the light to switch on.
Whatever is going on with Gill can't help with the Drennen recruitment.
I would consider you broke. Solvent people don't take $4k loans for vacations or have $4k in collections, amongst other bills. Nor do they have to move home with their parents to pay their bills. But that's okay -- everyone makes financial mistakes at some point in their lives. You recognize you have made mistakes. Many people refuse to do that. You can turn everything around.
Have you ever tracked your spending and made a budget? Most likely not. Download an app and do that -- Mint, YNAB. Or you can just keep a spreadsheet. Track every penny you spend for 30 days. If you use reddit /r/personalfinance has some great tools and spreadsheets. You will quickly see where your money is going.
Good luck
Check out the book Boglehead Guide to Investing and the Bogleheads.org -- it has a great wiki on investing
Joey Freshwater looks like Joey Retains Water
I graduated law school with quite a few people who are were doing it as second careers. None had law related jobs prior. And, depending on what area you want to go into, a background that is not law related can be helpful.
But don't go to law school.
Quit while you are ahead. Go get a MBA instead
Gavin Cupp not even pushing for playing time. I guess the reports they were just rewarding an older guy this spring were true
Does Rivals have an active board? I don't think I've even thought about visiting a rivals site in years.
Really sucks. Best of luck to him though. Time to go find the best unsigned JUCO QB that can be here in a few weeks
I'm really looking forward to the The Border, the final book of the trilogy. I enjoyed The Force, but not quite as good the trilogy. Savages is really good and his Boone Daniel books are better than the average detective stuff.
I haven't read any Duffy stuff, but it sounds interesting.
Do you ever read John Hart? He does the Southern Gothic writing also and his books are fantastic.
You may be interested in Beat the Reaper by Josh Bazell (though the sequel is horrible) or some of Don Winslow's stuff.
All great books, and they get better as the series progresses
It's supposed to be an "amazing trilogy of books.". Didn't catch the auto-correct fast enough
Currently reading Blood's a Rover, the third book in James Ellroy's Underworld USA trilogy. An amateur trio of books.
The first 900 or so pages can be very slow, but the last few hundred really make them worthwhile.
I have. It's garbage.