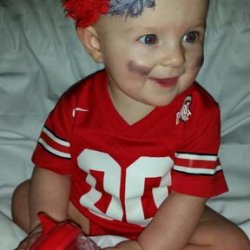 another-navy-buckeye
---
U.S. Navy Fifth Fleet, Bahrain (via Van Wert, Ohio)
MEMBER SINCE November 30, 2013
Born in the great state of Ohio. Been in the U.S. Navy for nearly 18 years... graduated in 1994 & somehow spent my youth as a TSUN fan and finally seen the light about 17 years ago...
Favorites
NFL TEAM: Green Bay Packers
Recent Activity
Somebody is rather touchy today I'd say.
Currently where I'm at in the Middle East they've banned travel to and from Italy, Iran, China, Malaysia, South Korea and Im sure Im forgetting a couple. Who knows if it's a necessary step but I'm alright with as much prevention as possible. How's the line go I hear so often? Out of the utmost of caution...
No matter how you look at it there was a conflict of interest with the refs. We had SEC refs in our ACC B10 playoff. The other guys had ACC refs for their SEC B12 playoff. Why not B12 refs for our game? Or B10 refs for the other game? Conflicts of interest. Should've been PAC 12 refs for both in my book. Consistent and a lot less change of any conflicts. I'm no conspiracy theorist but that smelled like bullshit from the start.
Should've been PAC12 officials. At least then no conflict of interest in the game. SEC officials for our game and ACC officials for the LSU game. Nobody was neutral.
Can't blame bad calls or lack of calls on this game. Sure they would've helped but I see two things did us in. The targeting call on Wade and his ejection is first. Turned the game around and gave Clemson their mojo back that we were quickly taking away. I always maintain you gotta play smart, and though I loved the hit on Trevor, it was a stupid move clearly. Two is that roughing the kicker crap. I loved the aggression but you can run into the damn kicker, no matter what. That gave Clemson a second chance when they were backed up once again and we had them on the ropes. Can't give a team like Clemson second chances, they clearly took advantage of them. Those two things right there were the game breakers for us.
Guess now it's Go Joe. Beat Clemson. For once I'll be just fine rooting for an SEC team, Clemson needs dethroned and Joe is one of ours.
There are some extremely touchy folks on here today. Kid made his choice, doesn't matter what his reaction was cause it was his. TOSU is bigger than one recruit, if not we have bigger issues to worry about.
This exactly. One hell of an interview. And a free education to boot.
Told a friend of mine just last night I thought the score would be 38 - 21. Clearly I underestimated the Defense by a hell of a lot. Glad to be wrong!
I second this
Somehow 15 years later and that was the first time I seen that video for The Reason, not sure what to make of it... and where did the time go? Expect to see Dobbins and Teague run up and down the field all evening. Make it so.
3:30am my time with work to follow a few hours later... Might have to rely on the DVR to save me. Go Bucks!
"...it could go for 6 or 60." FIFY
Am I missing something? Harrison has 8 tackles / 3 TFL / 1.5 sacks. That is easily worthy of the same level of hype as those guys.
Thankfully the customary drop in ratings when they commit to OSU does nothing to change the fact that they are beasts once they arrive.
Logged in just to say I agree and thank you.
I'll take the low humidity of the west over that godawful swampy Ohio humidity anytime. Now if I could only transplant the trees and water and Cedar Point and the Buckeyes and...
Not that it matters but I agree with your logic.
Speaking of San Diego, anyone know of any other Buckeye bars there? Looks like I'll be calling that home the last couple years I'm in the Navy.
Probably about the only time in my life I'll ever start the day off with a "Go Army" statement. Damn that was close. Wish Army could've closed.
You're not alone. I actually had the same idea. It seemed to me that Day really wanted the team to figure it out. Call it a learning moment. With a bunch of new starters and a brand new QB he wanted to see how they would react to getting beat. There's nothing better than a little trial by fire.
If I could I'd upvote this a hundred times. Tradition is what makes things interesting and fun. Without tradition all you have is the NFL. A stale product designed to cater to the masses. Commercials in my opinion destroy the joy of watching anything, whether on TV or in person. Sadly I think it'll only get worse.
That's exactly what it is. Mental mistakes and not a lot of experience yet for Fields just yet. He'll learn, and hopefully we can make some adjustments.
This is me to a T
Did it irritate me at the time? Sure. But he beat us fair and square. So I dont have any issues. Not like being told to apologize is ever sincere... What he does may be a bit grating but he is competitive and his actions on the field back him up.
That wouldn't heart break me.