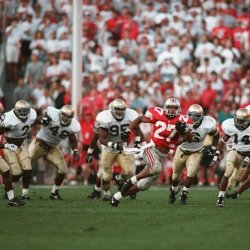 Angry Panda
---
Member since 23 October 2013 | Blog
Favorites
COLLEGE FOOTBALL PLAYER: Eddie George
COLLEGE BASKETBALL PLAYER: Travis Ford / Aaron Craft
NFL TEAM: Lions / Bengals
NHL TEAM: Blue Jackets
NBA TEAM: lol...the NBA...smh
MLB TEAM: Tigers / Reds
SOCCER TEAM: Crew / Aston Villa / Werder Bremen
Recent Activity
Ok.....now that that's done with.....go get 'em....
As someone who was born in Lexington and grew up in Columbus (with a couple years in Memphis thrown in as a child) I've always been a fan of both UK and OSU....might be the only one....the Bucks are #1 to me 'cause that's where I grew up, but always rooted for UK...I'm glad I didn't watch this game...
Living in New England and having to be around their terrible fans and the constant superiority complex(in everything not just sports)has led me to actually dislike them as much as TTUN, and therefore any Buckeye that is part of that organization automatically drops a few notches for me....it's frustrating....shrug....
Agreed, Feels odd that they would offer this late without having gotten some sort of confirmation that he's at least close to flipping...if not given a silent verbal/understanding.
Sort of....but no worse then West Virginia does now as a member of the Big 12
This.....we'll see how the rest of the team votes....
Yes.......we have arrived
This is an unpopular opinion. But I liked Cooper. He was the coach in my childhood and through my formative years, so there is a bit of nostalgic innocence there for me. And because they were so close a few times it whetted my young appetite to really see OSU succeed. Of course hindsight and knowing what comes next is also probably skewing that a little.
I do find it odd the USC has more points (974) than 'Bama (933). but 'Bama is ranked 4th ahead of USC's 5th. Just an observation, they may have flopped those.
Nonetheless, interesting indeed.
Nice!! I actually saw him earlier this month (live in Boston and took the mrs down to NYC for a weekend) got 3rd row seats!. I agree he was better than expected. He's not a dancer but didn't look completely lost being surrounded by the professional dancers. Very solid,
We didn't go backstage though, that's awesome! We did meet him after the show, took pictures, he signed the playbill and a card I had of him from his OSU days. Another guy had Eddies Tennessee Titans Jersey that he signed. Really nice, good guy, and appreciative and genuine. He was understandably exhausted so didn't hang around to long, pretty much got in a cab right after.
But also, def recommend if you happen to be able.

I also live in MA. Class D drugs in MA is apparently Marijuana
http://jessicafoleylaw.com/areas-of-practice/criminal/drug-distribution/
Also...Apparently Jones lives next door to the Police Station. So he may be pretty familiar with the officers there, etc.
Beat me to it Ethos...
Ooof.....that's tough. Always seemed like the kind of person that was good for College Athletics and from all accounts a genuine man. Kind of made me root for Minnesota when not playing us. Hope he enjoys a healthy and lengthy retirement.
So the option to petition and add exceptions in the future is interesting....In case another Boise State comes along and is a solid top 25 team and winning big bowl games......Maybe Boise State should already be an exception instead of UConn?....
Not just you.....I could watch these all day......love seeing work you know they put in payoff and the coaches show their appreciation....dusty indeed
Being a MA resident, no one in NE other than current BC students care about college football....quite sad really.....but, like with every other team around this part of the country, if BC starts winning consistently then everyone will latch on and be "experts" within 48 hours.

um...the basketball roster from '02-'03.....I didn't realize (or forgot) Nate Salley was a Basketbuck too....
it's true....I cringe when a Buckeye lands on a team up here...
Living near Boston I feel the same way about the Patriots....and all Boston teams....the fans are are totally oblivious and ignorant to anything outside of their teams. They hardly know what other teams are in the league, let alone players, matchups, strategy, etc....Its infuriating to hear the speak and....well I could go on for pages but suffice it to say I feel the same way about the Boston teams as I do about TTUN...the hatred is real....
That Said though....i hope they do have some kind of Celebration for the '42 team....invite them back have some time with the trophy.....some pointy hats and streamers....oh and cake....
Everything is Awesome.....And my work thought I was unproductive yesterday?.....HAHA...they haven't seen unproductive like the phoning in i'm gonna do today!
This is great....gotta wonder if they are being haters just to hate or if they are legitimate Duck Fans.
Shivers......just awesome...
Goosebumps.....every. time.
Great Points. This is deeper than just next man up...it's a combo of recruiting, and coaching. The 3's have to be just as capable as the 1's. The difference in talent level can't be extreme. Urban (and Herman to an extant) has shown he's a master of this. But let us not forget Cardale was a Tressel recruit. It's almost poetic.
That gif is terrifying...and living in Mass outside Boston, I'm not surprised in the least the lengths that the professor went through...smh...par for the course.