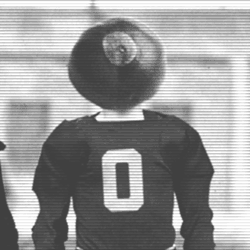 Anglefan
---
MEMBER SINCE October 22, 2013
Recent Activity
I don't understand why that's even a question. It goes without saying.
It's about time Stanford produced a decent Woods.
Plus Michigan had 331 yards of offense the entire game I believe. If you watched that game, Maryland was able to move the ball decently against them as well. This game really highlighting the talent difference in these two programs right now.
We were a 43.5 point favorite 24 hours ago and we remain a 43.5 point favorite as of this moment, so this news hasn't changed anything.
59-7
The key word here is "consider". Urban absolutely would consider coaching the Browns. But he'd almost certainly land on "no" in the end.
I read a few weeks ago that the spread at that time was projected at 50 for Rutgers. With an o/u of 53, which is hilarious.
Yeah, it's baffling to me how something that 538 predicted to have a one in three chance of happening ends up happening and people point to it and say they were so wrong. That's why it only gave her a 68% chance at the end.
I'm on the west coast and I love 9AM games
Using this logic, you wouldn't even be able to rank 25 teams. There's no way to do it where someone hasn't beaten someone ahead of them when you get late in the season
If we are playing Auburn this postseason, something has gone terribly wrong.
Yeah, I really think they are pretty much out of it already. The Georgia loss isn't going to look as good as hoped, plus no conference championship. It'll be tough for their resume to stand up, especially since if they beat UM, it likely won't end up being a ranked victory by the end of the season.
I am not sure I care who wins. I almost wouldn't mind Michigan winning because I'm afraid of everything completely imploding and Harbaugh leaving. But I will be rooting for them to lose while actually watching the game.
This will be our 19th season winning 11 or more games.
Michigan also plays at Indiana, which they shouldn't take as a given.
No analyst is going to say we won't be able to move the ball against Wisconsin.
Baseball is on the weaker network in less homes. There's no way OSU/Northwestern does much better than half of what the ALCS is doing on FS1.
We will end up at 27-28 commits when it is all said and done.
We haven't lost a noon game regardless of location since the Fickell season.
I don't see why everyone is freaking out that less people watch if it's noon. OSU/Michigan was the highest rated game of the regular season last year and it was at noon. There is also less competition at noon, so you could even make the argument that it's more exposure.
Atmosphere-wise, yes it is likely a valid concern.
Thrilled to see the WRs and DBs enrolling early. We may need some freshman contributions from those positions next year.
No startup football league has a sound financial model and the XFL doesn't either. They are projected to lose $100 million per year, but allegedly can stomach that for three years. What will determine if it continues is whether they get TV rights fees at the end of their initial deal which runs for a few years. TV money is the only thing that can make the league financially sound. If they don't get it or it seems impossible to end up getting it, the league will fold.
Yep, same is happening to me also on iOS
Hahaha! This is exactly what I was looking for when I clicked on the thread! Dude hit like 25 different receivers in the game, almost none of them were on either team.
Are you telling me this game will not get U-G-L-Y cuz we DO have an Alabi?
I'm on your side on this. The absolute most annoying thing on this forum to me is people complaining about a media opinion on our program. Just ignore it. This is specifically why I don't pay attention to that stuff, because it has no value. But then I have to read it here in the form of a complaint. The vast majority of the time, we aren't even really being insulted and it's just overreaction.