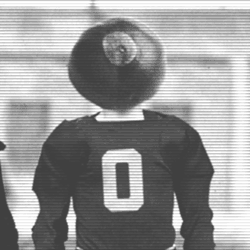 andydye84
---
MEMBER SINCE April 27, 2012
Favorites
SPORTS MOMENT: Watching Krenzel's Toss get caught by Jenkins to beat Purdue and stay undeafeated. Then in the 2011 Season seeing what looked like the same play being sucessful to tie it up with Purdue, although we went on to lose the game, for some reason that Deja Vue moment, if you will, gave me a warm fuzzy.
COLLEGE FOOTBALL PLAYER: Archie Griffen
NFL TEAM: Bengals
NBA TEAM: Heat, I know... I suck, and am a bandwagoner... Ju
MLB TEAM: Reds
SOCCER TEAM: Though they are the worst MLS team... the Columbus
Recent Activity
Who is blaming the refs by saying they are missing calls?
These officials aren't doing a good job.
I would like to see the Buckeyes play Minnesota, if they win, just for the diversity of the schedule. However, with Wisconsin up 17-7 right now. I may not get my wish.
Let's finish strong fellas!
Wow. I hope it lights a fire.
Harbaugh's Khakis have skid xarks
Ann Arbor sxells like hotdogs water!
The worst drive. It seems like everytime I go 40 from LR to Ohio I run into miles of backups all the way through Tennessee.
"Khakis are for losers. Chase Young for Heisman!" I haven't stopped in Memphis in many years. I always fill up 20 miles to either side of that place. The last time I stopped there my buddies car got broken into and we had to ride with a tow truck driver 2 hours back to Little Rock.
Chase Young in a linebacker position on 3rd?! I wish they wouldn't have called TO. I wanted to see what happens.
I can't wear anything that has the block O on it. Every time I do, the team plays bad. I have been doing this since the B1G Championship in 2017.
49-14 good guys.
490, Bob.
Tokyo Japan. Originally from Thornville Ohio.
I live in Japan and the best way to view the games overseas is usually a live stream.
I have logged in for the first time since 2014 to post on this thread. They are having a meltdown at blackshoediaries.com. anyway here are some of my favorite comments: Naturally OSU fans will insist that this wasn't a fluke Posted by rallyparakeet on Oct 28, 2017 | 6:36 PM yeah clear hold Posted by astr0li0n on Oct 28, 2017 | 6:41 PM fucking someone blocksomebody lol he had to get past like 5 defenders Posted by PhillynCityTID on Oct 28, 2017 | 6:43 PM Watching tackles for loss Is getting really fucking old Posted by Nolan Hatrick on Oct 28, 2017 | 6:47 PM They are moving down the field way too quickly. Posted by ranger995 on Oct 28, 2017 | 6:54 PM Guys, I think we're losing. Posted by MarkImpomeni on Oct 28, 2017 | Barrett is the Worst throwing QB in the Top 50 & Penn St made him look like Tom Brady Posted by dauphan8399 on Oct 28, 2017 | 7:07 PM Penn St players & coaches can Not wait to get off this field & take this L Epic collapse O Line & D-Backs & the D- Line a Disgrace And Franklin is an ass clown Posted by dauphan8399 on Oct 28, 2017 | 7:12 PM O-h-i-oh-we-are-fucked Posted by PSUHist14 on Oct 28, 2017 | 7:13 PM
Spam, eggs, white rice, and some spicy mayonnaise. My fiancé is Filipino and she says its a family dish. Though it sounds terrible, its actually really good.
84
I would want a craw fish boil, with some jalapeño corn bread. Of course you have to wash it down with beignets, and a few cold beers.
Alabama didn't crush Ohio State in 2012... Notre Dame kind sir. Great story per usual!
18 yards Bob
I guess if some guy on YouTube says it, then it must be true...
Mark May wears WOMENS UNDERWEAR!
I was born in Columbus grew up in Thornville, if you have heard of it that's OK. I have been all over the country over my last 8 years and currently reside in Tokyo Japan.
One time me and Cardale sat in the middle of a corn field for 3 weeks until some men came and built a bar around us. Cardale ordered two shots one for him, and one for me. When we were finished, Cardale burnt the bar to the ground. He then stated "Always leave things the way you found em."