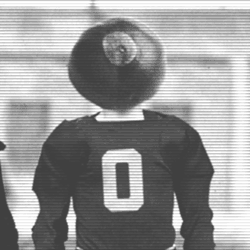 andyb
---
Columbus,OH (via Port Clinton, OH )
MEMBER SINCE December 14, 2011
Favorites
SPORTS MOMENT: Storming the field after the 06' #1 vs #2 matchup
COLLEGE FOOTBALL PLAYER: Too many to name just one
COLLEGE BASKETBALL PLAYER: Scoonie
NFL TEAM: Browns
NHL TEAM: CBJ
NBA TEAM: Cavs
MLB TEAM: Indians
SOCCER TEAM: Bayern
Recent Activity
So in both scenarios, they win both games?
I'll take either.
Anyone else annoyed that its pronounced "Verrbo" and not "VRBO" ...like it should be?
Nonsense.
I like the optimistic outlook. But where you getting those percentages from? lol
I actually heard an interview with Gene Smith on 97.1 or 105.7 (can't remember) but essentially Gene said something to the effect of "Urban retired, which voids his old coaching contract."...so he's definitely not getting paid his coaching salary anymore.
it's time for the university to welcome Tressel back and acknowledge his accomplishments as well.
They did that already, players carried him on their shoulders etc...
I see no reason this would get a downvote.
"Third down and when you're doing some exotic blitzes and things, we're going to have them walked up," Schiano said. "We always have. You get in the gaps and most teams do that."
I'm sure this has been mentioned before but... I would rather have them just run base defense on 3rd and long to get our offense back on the field! I don't care if they get a sack once every 5 times. If you're up at the line and get burned that is demoralizing for the defense because they didn't do anything wrong and still got burned. Just give them the 3-4 yards on 3rd and long and make them punt. I don't understand why we need to be so aggressive all the time.
well hopefully they are taking note. Urban mentioned its something they are looking into. I am really hopeful that its really just a schematic thing and not that they are just an average team.
We'll see in two weeks.
He went to the doctor in Philly recently. Perhaps he was told it's not healing as quickly as was expected?
not to mention, he's a 5* can't miss prospect so he's definitely going to the league. The only thing that would keep him from that is an injury problem.
Look dude,
It sucks when Ohio State loses for sure, I don't think anyone is debating that. All of my anger and criticism is pointed at those that think its time for a change in coaches.. which is so laughable to me. Losing sucks, no debate there. But it also sucks when people overreact and wish for things that they don't really mean.
For instance, do you want Kirk Ferentz to come coach Ohio State? Cause if you do be ready for a whole bunch of 9-3 seasons without any national championships.
Who would you hire to come coach Ohio State?
Part of me wants Urban to actually retire so that these losers calling for his head can see what the program is actually like without an Elite head coach in place. Our recruiting has been top 5 since he took over and we have a national championship that is less than fuckin 5 years old. Of course, I hope he never retires because Ohio State has seen unprecedented success with him as the head guy.
Was the loss on Saturday frustrating and disappointing? Absolutely. Is it worth throwing away one of the best coaches to ever step foot on campus? definitely not... what's the alternative? Remember Braxton's freshman year with Luke? yeah...
I agree with you 100%. Win the game and you won't have to worry about someone else being classy or whatever. Baker took the loss last year very personally whether we like it or not. I'm sure the flag planting thing is something he promised his guys they would do if they won, and they did. It's whatever, just win the game and things like that won't happen.
How is Gareon Conely not verified?
Just messing with you, I've been known to ask pointless questions when I'm bored at work ;)
I just re-read the post in shatner voice and laughed my ass off. Hahaha
why....do.....you......type.....like......this?
Picturing him saying this got me rolling in the office! hahahaha!
You do realize that Herman was the offensive coordinator when we got beat by MSU in the B1G championship game.....right? This is a REALLY young team and honestly I think they played above their experience level in the beginning of the season. This is kind of how I expected them to look this year. JT did a hell of a job last night given his protection...he put the ball where it needed to be most of the time...there were drops...bad routes...and just a lot of mistakes that a team with more experience wouldn't have made. They will learn from this and come back stronger. This loss does not kill the season. We're fine.
I love Westworld right now, part of the greatness of the show is not knowing whats going on yet. Of course, if it turns out to be just what everyone is thinking that will be disappointing. I am just having a good time coming up with different ideas of what could be happening.
Absolutely, and further... you can't "take all those things out" you have to live in reality coach. Sorry.
I would agree with you, too bad its Herman's when Urban retires in 50 years. lol
Still can't decide which was better...the throw, the catch, or the insane amount of field awareness it took to keep his foot inbounds. Just goes to show that all of the practice really pays off, you know they probably ran that same drill a million times in camp and practice.
"It all starts at the top. History shows Ohio State doesn't have it. History holds the truth."
Dying at this point!! lol Love it, Ramzy.