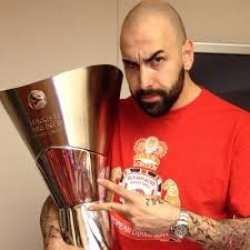 andretolstoy
Silicon Desert (via Columbus born and bred. )
MEMBER SINCE March 20, 2012
Favorites
SPORTS MOMENT: All the wins, some of the losses.
COLLEGE FOOTBALL PLAYER: All the Offensive Linemen
NFL TEAM: Bengals
NHL TEAM: CBJ
NBA TEAM: Cavs
MLB TEAM: Reds
SOCCER TEAM: FK Pelister, FK Partizan, Crew, PSG
Recent Activity
I just found it odd that he never really stayed long at any position for any team. He's been in 1-2 years almost every job he's had.
It's funny how the technique of not turning to the ball works in the NFL because they seem to be a little more lenient with DB/Corner play.
tOSU's secondary couldn't as much fart next to an opposing WR without being called for DPI. As frustrating as the coverage (or lack there of) was, I think a lot of those calls were bad. The problem is that Schiano literally said, "if they call it, then it's a penalty" so they never really did anything other than work on the same stuff to change the problem. It was borderline insanity.
Man, Day Mussolinized the entire defensive staff.
My take is that it's probably not that every single one of them deserved it, rather he is setting the tone as a HC.
No. But he did hold a surprise press conference to announce he's playing square dance with his offensive coaches.
Check that. Special Teams
Why is everyone always bashing on my boy Chug?
FantasyNoob broke it before Brim and 11W.
Slackers
Bearcats could use Tathan.
How does one go about buying a professional sports franchise? I may crack open my piggy bank ...
As far as coaching and recruiting overall, I think Coach Holtmann can handle his own. Basketball is much more corrupt in a way and more difficult to develop a program than say, football. This is just my uneducated opinion. Basketball players seem higher maintenance.
As far as coaching the last five minutes, we haven't had a coach that could master the last five minutes of the game like O'Brien. In spite of everything, OB was a master the last five minutes of a game.
Is Rutgers better than UCLA?
You know he ran the offense pretty darn effectively in the Bowl game against Oklahoma State while Smith was suspended. And Zwick played injured that game.
Zwick wasn't a bust. No one expected Troy to do what he did and that wasn't the easiest of transitions.
Besides, at great as Troy was, he seemed to always have an 'issue' every so often pop up because of bad choices. In any case, Zwick most likely would have done well if he transferred, and probably should have.
I'm thinking Canada somehow finds a spot in Indiana
Does Bill Cowher have any interest in coaching?
I had no idea that Brown passed over Cowher to hire Dan Shula right before he went to the Steelers just because he had the 'dad' coach commonality.
The people of Cincinnati should have had an uprising long ago.
Only for now. Day hasn't called an offered him a spot. Hold tight.
2025 we play Washington first game, and then go to Austin to play Texas right after.
New Orleans and Washington. Dude is messed-up.
I recant my initial post.
Why did this get a down vote this is a legit question?