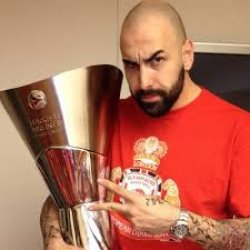 andretolstoy
Valley of the Sun (via C-bus)
Member since 20 March 2012 | Blog
Favorites
SPORTS MOMENT: All the wins, some of the losses.
COLLEGE FOOTBALL PLAYER: All the Offensive Linemen
NFL TEAM: Bengals
NHL TEAM: CBJ
NBA TEAM: Cavs
MLB TEAM: Reds
SOCCER TEAM: FK Pelister, FK Partizan, Crew, PSG
Recent Activity
Thank you for your service.
Here's another view if that wasn't enough
Do we have to tear the entire thing down? Can we just recondition the inside?
I don't want to trigger anyone, but does he stand a chance to start with the line-up at UNC? Does the other Picktown player?
Glad Hypevids are back. But if we're going to consistently go with the R&B, I'd like to hear some N2Deep in some of them ... just saying.
The Cowboys need to clean the organization? I'm surprised to hear this.
I'm just confused how everything was refuted up to now and then all of sudden Cris knows something. Were the Cowboys attempting to stifle this?
Sorry I asked Mr. Forum Goebbels....
Looks like Coach Schiano has benefited from being at The Ohio State he looks visibly moved and like a new man. Maybe he can take another BIG team like Iowa or the like and make us even more competitive?
Sounds like a Betty to me ...
Loved Malik. Wish he could've stayed one more year. Heck, offer his entire family. ... Ma, Grandma, all of em'...
I never says this, or rarely believe it, but Clemson was mostly a coaching loss than anything.
There. I'm done.
Spielman courageous and a leader on and off the field.
SO much hypocrisy in the way the University and Corporate sponsors make money off students compared to students not being able to make some money in selling personal items.
It may be apples and oranges, but I get a little vindication off of this. Especially, after coming so close to ruining a good man's life.
Burn the MF'er down.
Why does this kid pick Butler over Ohio State in the first place?
I hope Jent gets an opportunity to prove his worth somewhere.
Not sure what just happened to the Basketball program. But cheers anyways!

Go Bucks!
Technically just his job. He's hanging around the C-bus, taking some culinary courses and taking-in some Clippers games.
OK. Matta said he's hanging around. Let him go recruit. What about the assistant coaches? Who's 'legally' allowed to do recruit during a coaching transition?
I know these may sound like silly questions, and a kid is highly unlikely to commit without a head coach, but it's really turning out to be a bad move by Smith. Right now, this is on him.
My question is now. Why is Smith in such a hurry? Whoever comes in here he is going to have to rebuild, I don't care it is.
Take a few months Smith.