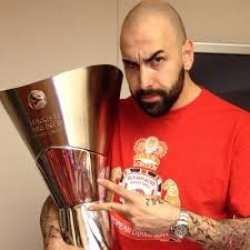 andretolstoy
Silicon Desert (via Columbus born and bred. )
MEMBER SINCE March 20, 2012
Favorites
SPORTS MOMENT: All the wins, some of the losses.
COLLEGE FOOTBALL PLAYER: All the Offensive Linemen
NFL TEAM: Bengals
NHL TEAM: CBJ
NBA TEAM: Cavs
MLB TEAM: Reds
SOCCER TEAM: FK Pelister, FK Partizan, Crew, PSG
Recent Activity
Personally, I'd stay in Sacramento if I was Kosta. But that's just me.
It seems like there was a lot more preseason videos in years past. I haven't seen one in a long time.
That was some TMZ stuff right there.
Can't believe pirates have submarines now. WTH??
What would have happened to the BIG at that point had Saban, after beating us, stayed on at MSU?
Great article. Brady seems to have some gifts, nonetheless. Keep moving forward young man.
I think there is really good potential here. One factor that I SEE as a potential pitfall is this season's schedule. I don't care who you are, it's a really tough one. Getting us through this year into the playoffs can be used to propel the next few years. OR, if we fall short and lose 2-3 games this year, it could do the opposite.
Either way, I am fully aware that we've won a lot the last 15 or so years and I've witnessed two National Champions in my lifetime. I'm going to be grateful either way.
Can we get a couple of seasons from these kids?
So I listened to Cris Carter go on national TV and say, "If Meyer continues to coach, he'll die"
And then I read Mrs Meyer's Tweets basically saying the same thing, along with the fact she's done with her husband being engulfed in the lifestyle.

Then I heard Zach say it's pretty much a done deal he's going to USC.
Finally, I saw a Reggie Bush interview where he said he was playing golf with Meyer and point blank asked him to coach at SC and Meyer told him he was done. Bush also said he believes Meyer is done.
Honestly, I don't know what to believe, but I would be a little upset if he does coach with the health issue being used the way it was.
The expression on the face of player standing next to Higdon when he made the prediction speaks volumes.
This is definitely a telling piece. I had my suspicion, but I'm pretty sure now. They don't know how to respect the rivalry. Heck, Harbaugh changed Bo's hard-ass saying, "Those who stay will be champions" to "Those who who try hard will stay and put it on top of.."those who stay will be champions."
The guy wussified something that didn't need to be changed. He doesn't understand... Harbaugh is a joke. I thought he was going to make this a better game. But nope.
This made my skull twitch.
There is no such thing as Chicago style BBQ. Stop this. Stop this now ...
Someone must PAY!!!!!!!!!!!!!!!
Crap. Now I have to root for Golden State??
He's not indebted to me about working anywhere else. But he sort of is about being truthful about it. That's my University. I'm an alumni. He owes it a little more respect. Again, this is ONLY if he overstated the health issues. If someone goes on national TV like Cris Carter did on his behalf, and says "if he continues to coach, he'll die" that means there's a legit concern and if he coaches again, then there really wasn't. His wife also alluded to this being "too much".
I think I'm owed honesty. If he doesn't give it. He doesn't give it. I'll get over it. Like I said, he'll always be my THIRD favorite coach at The Ohio State University. I am grateful for upgrading the program. And I'm certainly glad he changed his recruiting ways (if what Smith says is true).
But, if he does coach at USC. I certainly will not become an automatic SC fan. Heck, SC won't even be my favorite PAC12 team.
I'd wear Bearcat garb now. Just sayin.
He can do whatever he wants. But after all that talk about the cyst as the main reason for his retirement, along with collaborative efforts by his wife on Twitter and Cris Carter on ESPN, who literally said if he continues coaching he'll die because of the cyst, I'll have a hard time believing anything that comes out of Meyers mouth from here on out. And, I'm definitely going to cut Florida fans some slack as well for their outbursts against him. Again, if this turns out to be true, then he'll definitely be a good fit at USC with that type of character.
Again, it's a free country, but damn man. Just say you were ticked at Ohio State and that's why you left. I would have understood this. Don't take folks on an emotional roller coaster about your health and then snicker at them while collecting a new football paycheck in a new zip code.
The Ohio State University was your supposed home. Be honest about why you leave, Urban.
They've helped folks out before and they may have been trying to help. I can't fault the Herman's for being charitable. All the alleged stripper and flight attendant stuff aside.
As an Arizona resident, I am glad we're tapping into the talent pool over here. Coop seemed to be the last coach that explored out here. The talent is vastly improved and if ASU and UofA don't get their acts together then they deserve to lose the State talent to California teams, and now, THE Ohio State University.
Our DB's in the Indiana game really ticked me off.
I'm going to keep saying this, but our schedule this year is ridiculous.
I still think the Stadium should dawn his name, or at least "Chic Harley Field" --- and there needs to a movie of this man's life.
I was sort of thinking that he humbles-up because he's producing less and the Reds pay him less, while allowing him to retire in Cincy like he wants.
I know it's virtually impossible to restructure a MLB contract, but maybe Votto will offer to restructure as pressure builds on him for lack of production? I mean the guy will almost be 40 when his contract ends.
Ok. I sat through all of those - the proposal was darn sweet. But the punting spectacle he put together against MSU should definitely get him NFL drafted. Jim Tressel looked on in admiration...