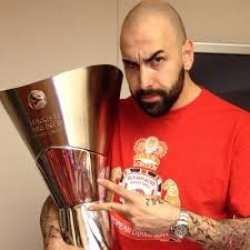 andretolstoy
Silicon Desert (via Columbus born and bred. )
MEMBER SINCE March 20, 2012
Favorites
SPORTS MOMENT: All the wins, some of the losses.
COLLEGE FOOTBALL PLAYER: All the Offensive Linemen
NFL TEAM: Bengals
NHL TEAM: CBJ
NBA TEAM: Cavs
MLB TEAM: Reds
SOCCER TEAM: FK Pelister, FK Partizan, Crew, PSG
Recent Activity
Katie Smith, Jim Tressel, or Urban Meyer
It's hard to reason or have a rational back-and-forth with people who think they're God's elect.
Whatever Dabs... you have one game on your schedule this year and I'm dressing up like Rudy that Saturday.
The other organizations asked the check-out guy at the Burger King if it was safe to have fans ...
I still wouldn't blame Wade and Davis if they still decided to sit out at this point. The back-and-forth could mess with anyone and the fact that the start is over a month a way, I would not trust any of these mugs not to pull the rug from underneath the program again next month.
I won't even go into the potential long-term damage Warren and Co. did to BIG football with this complete underwhelming display of professionalism. I've read about Third World nations that function better than the BIG does at this moment.
Why in over a month? Why not next week?
chances are most of already have too.
This was my question. I'm glad Price has improved. If he doesn't start, he can definitely pop-in to spell a lineman and be effective.
Don't fall for this again guys.
Mm mm mmm.. Giants should have picked Haskins.
Big old Pete Johnson took out two defenders on the last option play. Man I wish we'd see the Fullback position more today.
Two points to this: 1) I experienced what you just wrote with excitement and anticipation 2) Thank you for letting me know that I am getting old.
Go Bucks.
I don't know about you guys, but I'm thinking Curling is going to be the next sport I follow. CFB and pro sports have too many hands in the pot.
Do not blame him one bit.

Sarcasm font homeys, sarcasm font.
I could rewrite I'm listening to my doctor who actually knows my medical conditions and has been working with me for years over and over again, and the reply from some folks will always be well, if think YOU know better than team US medical science double blind placebo controlled randomized trial experts, don't blame us when you die. Now, wear your mask, bitch! Science!
I'll be honest. Vaccines per usual will be about 50% effective. And I'd rather not pump my body full of aborted fetal tissue among other synthetic stuff. And I'm not an anti vaxxer. I think they have their place

There is a point where we're all going to accept some risk in life. We are all going to die.
No, I'll be taking 10,000 IU of Vitamin D, 1,000 mg of Vitamin C, Quercetin and Zinc like my family doctor prescribed me
You can take the Johnson & Johnson magic juice if you want though ...
No we don't. We need to trust our family doctors who know our medical history and actually see patients during the week.

The Science as is being sold to us in the media and experts in DC is political sewage created to scare the pants off people and create buzz concepts to force people into tribes and sway elections.

I'd like to find out now Warren magically got the job Jim Phillips was slated for?
So you mean stop posting and thinking rationally then? Check
We live in a society that blacklists treatments and creates straw men with conditions entirely for political control.

If for some chance they decided to play, Davis should be allowed to come back if he wanted. No penalty no jack