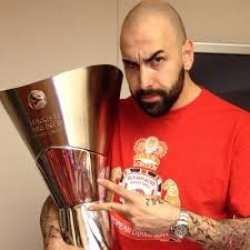 andretolstoy
Silicon Desert (via Columbus born and bred. )
MEMBER SINCE March 20, 2012
Favorites
SPORTS MOMENT: All the wins, some of the losses.
COLLEGE FOOTBALL PLAYER: All the Offensive Linemen
NFL TEAM: Bengals
NHL TEAM: CBJ
NBA TEAM: Cavs
MLB TEAM: Reds
SOCCER TEAM: FK Pelister, FK Partizan, Crew, PSG
Recent Activity
I agree, but I think he would be an outstanding GM.
Folks tend to forget that PAC12 has bigger issues than just who's going to coach at USC - Larry Scott.
I wouldn't coach a PAC12 team or be an AD at one of those schools until that guy leaves, is fired, and/or retires.
This is exactly what I was referencing, and I disagree with Coach on this one. Meyer would have gone medieval on Fields had he insisted on not supporting those knees with a brace. There's no full proof protection for an injury but I've already seen Fields take a cut on that knee that made me wince and we're just three games in. He needs support on his knees.
Day is going to be a good pro coach one day but he's not there yet. College players don't get their way. If God grants them the ability to play at the next level then they can start insisting all they want. While they're in college they get to be told what's best for them.
The only complaint I have with Fields is that he needs to get braces on his knees for extra support. He needs to be told to put them on or he doesn't play.
I think Miami (OH) is our trap game guys
I'd like Day to mandate Fields wear a knee brace for support. Allegedly Fields was adamant about wearing one, but then I've saw him take a cut on a scramble last week and the way he reacted to it made my what's left of the hair on my head stand straight up.
No bueno, son.
Man - at work, anyone know of how to stream this?
To his defense. Coop had us on the doorstep of a Natty twice. 1998 we should have still been in the title game.
Who remembers playing the 0-10 Badgers in the 80's during Bruce's tenure?
I always loved losing them them 6 to 0 when we should have beaten them 30 - 0.
Fick keep the game low key for himself because he didn't want it to be about him, rather his players.
There's really no connection between Fickell and Cooper in this regard.
Whatever happened to Arden? That guy was a pretty good athlete and, I think, played MLB?
Steve Tovar and Matt Wilhelm both said they're too busy to call but they just wanted to say, "hi."
It looked to me like a guy coming off a pretty big achilles heal injury, but what do I know?
I love JT and Cardale, but to think we had two QBs the caliber of Joe and Dwayne waiting their turn and we had to cut one of them loose because it wasn't fair to keep him second string because he paid his dues, worked his butt off, and got his degree.
I always wonder how the season would have been different had we had Burrow start instead of Dwayne. It was just a win win.
I'm rooting for Burrow pretty heartily.
Folks talking about Danyonio and coaching ceilings etc., etc.
First of all, Dantonio and MSU had our number there for a while. They came in without fear and smacked us. He did this with the Walrus. Imagine if he went for a actual OC worth his salt.
A guy on this thread mentioned that you can't recruit on name recognition only. Well actually that's 80% of what you recruit on. Ohio State sells itself. The other 20 is a combination of coach(es), facilities and NFL potential.
Luke has been able to turn Cincy around and get Ohio boys even though Cincy isn't a big name or doesn't have that name pull. This in itself is elite. Dantonio and Kelly were both able to do it.
The ceiling for all of these guys is how much they're able to get outside of their ego. Kelly has had success at ND despite the fact that he seems like a real jerk. Dantonio, like his Jedi Master Jim Tressel, has been too stubborn to invest in an OC that may want a little control and will push you to get the elite QB, but will also take your team to another level. Had he done this MSU would most like be sitting with a natty right now. Maybe if Kelly worked on his perception that he's morally debased and stopped acting like a madman on national TV, maybe he could more out of his teams. Aimless screaming has an adverse effect.
So, if Luke wants to be elite he can most certainly be elite if he gets out of his own way and does for his offense what he did for his Defense, get the innovative coordinator. It's a shame he didn't do so already because he has some offensive weapons. Ridder is a darn good QB, and his TE and RBs can hang with anyone.
Folks who say that Fickell will never be able to coach at Ohio State's level are idiots.
He's a better coach than half of those leading the BIG schools.
When your offense can't produce you put your defense in a tough position, especially when you're playing an opponent that is 2-3 deep to your 1. Freeman, whom we seem to overlook had a homecoming too, was beyond frustrated.
Cincy's Defense didn't play half bad for most of the first half but with that fluke seizure event to one of their players and just being pounding they stood no chance.
I thought their offense would be a little more innovative especially since they were picking on Arnette a bit. They definitely could have/should have put some points on the board.
The great question for them is how do they respond? This could definitely be a game to grow from.
Fickell has some great recruits coming in so the future is bright. I don't see him moving-on for another 3-4 years. He needs to scour the lower ranks for a new offensive mind and give him his shot at coordinating this team. It takes longer than 3 years to build-up a program and he has them moving in the right direction fast.
As for the Buckeyes, I'd say that right now we're on the bottom end of a top 5-6 team. But the sky's the limit if we can gel, stay undefeated, and then roll at the end like 2014.
Hats off to Joe Burrow. LSU is definitely top 3 in my book right now and maybe better than Clemson.
PS. A couple of you guys on this board are genuine trolls.
That was actually not a good PI call.
I was looking for a throw like that from Fields, not bad.
I really like Master T.
Tuf still doesn't look healthy the way he was running.
This has nothing to do with his philosophy, that's nuts.
What we are witnessing here is a team with superior personnel and coaching. No offense (pun intended) to Denbrock but Fickell may need to get a young mind in there.
That's the thing. This shouldn't have been a surprise. There are ways to move the game away from the line to neutralize them or, at least, give you a fighting chance.
Crazy, I'm downright frustrated for Cincinnati. They have zero preparation offensively for this game.
That TE / WR could do so much more damage and rarely use it.