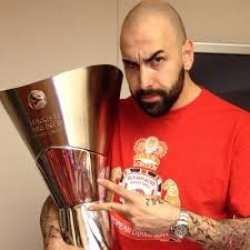 andretolstoy
Silicon Desert (via Columbus born and bred. )
MEMBER SINCE March 20, 2012
Favorites
SPORTS MOMENT: All the wins, some of the losses.
COLLEGE FOOTBALL PLAYER: All the Offensive Linemen
NFL TEAM: Bengals
NHL TEAM: CBJ
NBA TEAM: Cavs
MLB TEAM: Reds
SOCCER TEAM: FK Pelister, FK Partizan, Crew, PSG
Recent Activity
Can't help but think that Fickell would have gotten more out of our LB play had he still be coaching here.
Fields has no ceiling as far as I'm concerned. He could surpass Burrow's Heisman's performance with the right formula.
My only concern is his knee. Earlier in the year he refused the wear the knee braces for support and there were numerous times when I saw him take cuts on his knees that made my hair stand-up (well, what's left of it anyways.)
There was one time mid season when I was certain the way he popped that knee and his reaction to it that it was a torn ACL.
He is going to have to wear braces and get used to running with them even after his knee heals-up.
How does this scenario make more sense than drafting the number rated QB coming out of college?
Per the law. You can't touch cops. You smack him on the back and say, Hey pal. You just broke the law. In some states, this is an automatic charge of battery whether there was intent or not. The courts will decide the intent and punishment, which will probably be nothing but a fine.
You can't go around laying your hands on cops unless there's real reason too. He probably will not get convicted of anything, but they just want to make sure people understand this is a no, no.
Thank you for this emotional laxative. I feel cleansed but empty inside.
On a side note, we're a really good Syncro Swimming, Pistol, Rowing, and Volleyball school as well.
In his TV gig now, Meyer has thrown out criticism against TTUN for not gearing their O around their talent, namely their WRs. He was really high on their WRs. Especially DPJ
Ironically, I don't think Meyer did that so well himself. Burrow was not going to win a NC for The Ohio State under a Meyer offense. And I don't think Meyer would have done what LSU did and rebuild their offense around their Ace. On the other hand, I think Day's offense is better suited for Burrow. But what's done is done. I can't hate on a talent like Haskins who rewrote history. He clearly had the best arm than any QB we've ever had.
However, Burrow has the "it" factor. His ability to read the defenses is beyond anything I've seen at this level, while not as strong as Haskins, Burrow's arm was right up there. He also had the ability to throw WRs open and make plays happen with his mobility. Fields has a little bit of this right now, but Haskins didn't have it as much.
I've always said that what gets the old coaches canned, as elite as they may be, is not their lack of knowledge rather their stubbornness to change. Woody was stubborn, Tress was stubborn, and Meyer is stubborn. As much as you don't want to hear it, Coaches like Dabo have a little more humility and are willing to evaluate their ENTIRE philosophy. Meyer will never in a million years scrap his system or alter it because he can't possibility be wrong. He came into Ohio State saying "the plan is infallible." Well, we saw that it was indeed fallible his last few years. An infallible plan doesn't allow your team to get pummeled by lesser talents at Iowa and Purdue, or collapses in the BIG against MSU or in the playoffs against Clemson because you can't get over yourself and revert to running the QB when in doubt.
The bonus here is that I think that Fields has a great potential to run our offense next year, like Burrow ran LSU's this year.
Here's to the future.
God grant you many years young man.
Is it crazy that I don't care he did this? Were these guys all seniors? Then all did was become that one uncle getting drunk at Thanksgiving and handing out chewing gum or quarters to the kids, except he was doing it from a much higher tax bracket.
The thing that SHOULD HAVE gotten him in trouble was smacking the cop in the rear end in the locker room.
I did follow football this year. Texas was beset with a lack of defense and no offensive creativity.
I always wondered how much Burrow would have actually achieved the heights he obtained at LSU if we were to remove the QB controversy etc? I'm not sure a Meyer offense would have allowed him. I could be wrong. Maybe under Day he would have fared better?
Cincinnati is going to be better than Texas next year as well.
All their reasons are gay.
I tend to agree here. I'm not sure where the Oregon disrespect is coming from. They have Mario Cristobal and they beat a really good Wisconsin team. Plus Oregon is itching to beat us.
I sure as hell hope our coaches and players don't share the attitude of this thread because that balloon'll get popped in Eugene if they do.
And he didn't gripe once.
Great year men. NOTHING to be ashamed of. You did your part, the rest of us fell short.
GoBucks!
I absolutely SUPPORT them smoking cigars after running the table and winning the whole, damn thing.
I don't support Kirk Barton smoking cigars after beating Michigan, celebrating like they won the whole, damn thing, and then getting smoked (pun intended) in the Natty against Florida.
See the difference?
Browning took the bate in that play and took the wrong gap. Then had to try to chase TL down.
Browning was in position to blow that play up.
I agree. We haven't had great LBs since 2015 when we won the natty. I'm not sure why that position is lacking?
I wasn't rootin for LSU last night, but I was rootin for Joe Burrow.
Just his facial expression after he said it...
I LOVE this kid. I'm telling my son to grow up and be like Joe.
Man, Coach LJ shouldn't be making less than a million Bones.