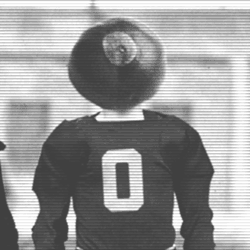 AlwayzABuckeye614
---
Member since 05 January 2014 | Blog
Recent Activity
It still amazes me Deshaun Thomas is not in the NBA.
So DOPE to see this again.
Observation. Between this Wisc game and the Bama game it looked as if Cardale got FASTER when running lol. He looked pretty slow vs Wisc, but looked super fast bulldozing Bama players.
The only action I understand in Lacrosse is when a goal is scored :p
Is OSU the presumed leader because Harrison is a local kid, or is there some kind of proof saying otherwise?
Damn, Still no Xavier Peters offer! :/
Any updates as to why yet?
Hot damn loved his highlights!
Sorry but I blame the writers and media for hyping this kid up to Buckeye nation. I mean how else would we get the info that Big Jack "will end up at OSU" paraphrasing there but that's basically what we have been hearing the last couple of years, so what else are we to think when the info is coming from people who have access to Carman???
Man, SO MANY Ohio guys that I think we need in this class. I cant think of a more stacked year the guys from Ohio are highly ranked and sought after. I hope Meyer makes 2018 class more than half Ohio.
Did Josh Meyers enroll early? Havent heard anything about him this Spring.
Coming from a fellow Northland grad, I hope to see John Branham do well and get a Buckeye offer. Love when the Columbus city league kids get significant interest in big time colleges.
So I just came across a video on Twitter and guess who was telling Watson he had to go? former Alabama player and current Bengal Wallace Gilberry and another guy named Ryan Anderson. They made Watson leave smh
Merica.....smh. Hats off to Deshaun for taking the high road and not causing a scene for being disrespected.
Is square really 280 lbs???
Whatever happened to Malik Hooker's brother and his recruitment? I haven't seen anything on him since this past football season. Is OSU still looking at him?
These DE and DL 2018 guys might want to jump on board for next years class, because there could be what 3-5 OSU rushmen leaving after next season?
Lewis, Sprinkle, Hill, Holmes, Hubbard. Missing anyone?
Braxton Miller was the same way when he played here, as far as acting like his shit dont stink in public.
Come on Taron Vincent, you can be the key cog in the middle, just make that move North to the good guys.!
Where can we find the numbers of the new players?
Still cant believe he's gone from OSU already, he was like a damn fart in the wind, phew, gone. Good luck man!
You guys know the REAL reason the word "urban" was used, dont pretend you dont by saying "if they were dressed correctly" etc. I've gotten DENIED entry for the SAME reason here in Columbus in the Arena District at those clubs, being "too urban" is a cover up for the real reason. Not gonna get into that anymore here but some of you need to stop being too political and call it what it is.
Are we sure Fuller is the same size as Pryor? Pryors film looks much taller than Fuller in his film. Pryor looks more 6'3 and Fuller looks about 6'0 in his. Not that its a big deal, but it comes as a surprise Fuller is that tall.
I still dont like the way Meyer and his staff slowly recruits Ohio players. Nobody will ever convince me otherwise that I am wrong. Case in point, Tavion Thomas got offered by everybody else first before OSU offered, Malik Vann got offered and is still getting offered by every one else big, watch OSU get its hand forced again because of that and offered Van. Van got offered by Bama today. Tyreke Smith was offered by OSU after a few big schools as well.
People get mad the bball program doesnt offer or didnt in the past a lot of Ohio kids, to me, its the same with the football program. we need the top players out of our state, period.