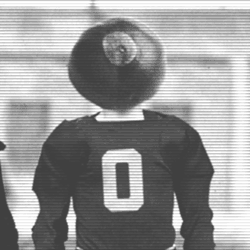 Always_A_Buckeye
---
MEMBER SINCE May 27, 2018
Recent Activity
The coach was running Urban's offense.
No reason for any dvs for this comment. upvote to support your right to write your take.
Overall a great dtaft for the Buckeyes. Disappointed that Haskins wasn"t picked higher. Love the respect that Campbell and Mclaurin received. With Hartline as coach the wide receivers should only get better. Despite his injury Sheffield did alright. OSU continues to be the place to be developed.
I liked the other chart better. Easier to read. Could you repost it please? Thank you.
Looks great. Nick Bosa, always a Buckeye!
Wonder when 11W will change and update the Recruiting photo.
Not sure that he's looking to the NFL as the pinnacle for his career. There are a lot of reasons why a college job becomes superior to the NFL. He's landed at one of the premiere programs, compsensation is/will be on par with NFL, and the ability to recruit and develop the best of the best, all can make coaching in college equal to or even better than the NFL. Plus no salary cap.
You are totally on point!
Agreed. Can't blame him for the coach's decisions not to use him as he should have been used. That's on Urban, who also did it with Zeke at times.
Another great story and another player who really represents OSU well. It's so much easier to keep at it when things are going well and there's no pain. Overcoming physical pain and adversity is so admirable and a great example for others. Way to go
On point. Why the dv?
Think Joey is going to be ok
You are totally on point
Amen!
Absolutely glad to call them Buckeyes. They represent the University well.
Hoping Nick has a great combine. Let's go. True shame his career at OSU got cut short. He will Always be a Buckeye.
Let's go Bosa! Good for him.
Perhaps he meant the new and improved 2019 version????
I wouldn't call that micomanaging. That was a very reasonable, necessary, and even caring response. To have ignored that would have been ridiculous and not taking care of TOSU, not watching over the student athletes, and not watching over one of his employees, which would be dereliction of his duties as AD.
Not all skills transfer between jobs. If he develops the skills, has the passion and earns it, so be it. Same as in football, longevity, or putting in time doesn't, or shouldn't determine who starts, or gets the job.
I don't think Day needs him as a closer. Time to start a new chapter. Loved the previous one starring Urban. But now the spotlight should be on Day.
Urban didn't hire Day.
Let's hope so.
You can ask but unless it's in the contract...it's just an ask , a verbal agreement and not a contractual obligation.
As a business you look for the best talent.