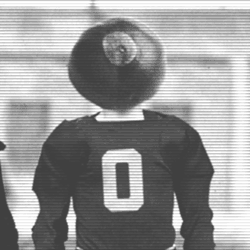 Always_A_Buckeye
---
MEMBER SINCE May 27, 2018
Recent Activity
Not always, 48% can be the majority.
It's Ryan Day's ship and he's more than capable.
Lol. Thanks for the laugh!!
Seems the concern is spreading and warranted. The NBA cancelled the Jazz-Thunder game tonight. It was just announced a player reportedly tested positive. And now the NBA has suspended their season until further notice. Sounds like a sound decision by OSU and Michigan. And by the NBA. More schools will follow. Even if other colleges don't follow suit, recruits and their families will begin to reassess unnecessary travel and will begin to impose their own travel restrictions to limit potential exposure.
Good points. Some of which also apply to our fans.
Maybe try again. It's a good post
Just curious. Did you remove your original post or did the moderator?
Interesting article, however, it is missing contextual data. For example, I Would have liked some reference numbers for each of the drills and each position: give us information about average times and elite times.
No down vote here, just a quick response. I. understand your loyalty to JT, but I disagree. He should have been benched his last year.
What's reported in the article certainly is not slamming a school.
Disappointing and misleading article title.
You're absolutely right: inaccurate headline by 11W. Very disappointing, no need to go for click bait.
That said, Mattison is simply speaking confidently about his program's ability to develop talent.
NorthPoleBuckeye: Great response. It seems Zach should be actively rooting and hoping for them to commit to the Buckeyes. Zach, why aren't you actively rooting for them to commit? Your statement is confusing.
The coach was running Urban's offense.
No reason for any dvs for this comment. upvote to support your right to write your take.
Overall a great dtaft for the Buckeyes. Disappointed that Haskins wasn"t picked higher. Love the respect that Campbell and Mclaurin received. With Hartline as coach the wide receivers should only get better. Despite his injury Sheffield did alright. OSU continues to be the place to be developed.
I liked the other chart better. Easier to read. Could you repost it please? Thank you.
Looks great. Nick Bosa, always a Buckeye!
Wonder when 11W will change and update the Recruiting photo.
Not sure that he's looking to the NFL as the pinnacle for his career. There are a lot of reasons why a college job becomes superior to the NFL. He's landed at one of the premiere programs, compsensation is/will be on par with NFL, and the ability to recruit and develop the best of the best, all can make coaching in college equal to or even better than the NFL. Plus no salary cap.
You are totally on point!
Agreed. Can't blame him for the coach's decisions not to use him as he should have been used. That's on Urban, who also did it with Zeke at times.
Another great story and another player who really represents OSU well. It's so much easier to keep at it when things are going well and there's no pain. Overcoming physical pain and adversity is so admirable and a great example for others. Way to go
On point. Why the dv?