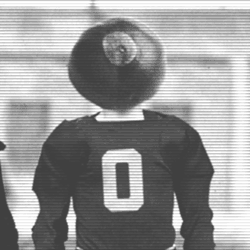 alust2013
---
MEMBER SINCE September 05, 2012
Favorites
SPORTS MOMENT: The overtime field goal by Devin Barclay that sent us to the Rose Bowl after the 2009 season. One of my favorite games I got to see in the Shoe.
COLLEGE FOOTBALL PLAYER: J.T. Barrett
NFL TEAM: Colts
NHL TEAM: Blue Jackets
NBA TEAM: Cavs
MLB TEAM: Indians
SOCCER TEAM: I watch real football
Recent Activity
I traded DeSean Jackson for Mike Thomas before week one, and at first I thought I had made a mistake, but I definitely did not. Got TP off waivers, and they have been my two best receivers. I did take David Johnson over Zeke in the draft, but I figured they would both be excellent and at that point Zeke's status was still somewhat up in the air with legal issues.
Indeed. Harbaugh should review the tape to see how much holding his line got away with before whining about the officiating.
I have to agree here. I think they would match up PSU and Bama because I think they want to see OSU and Bama in the title game.
I think you're right about Franklin if they win. Maybe Chryst if they lose.
Haha, please talk about the officiating. Our defensive line was getting held all day and it wasn't called once. I'll give them the missed PI or defensive holding or whatever that was, but they did not lose to officiating
On paper, I think we will shred them. In reality, they are always scary. I think the defense will make them look pedestrian and as long as the receivers keep their progress up, we should come out on the right side of the scoreboard.
I think it's worth noting too that if we had lost to Wisconsin or Indiana or Northwestern and beaten Penn state, this conversation would be moot. That seems like a pretty nasty technicality to lose out on. We lost to a decent team so we get punished if we get left out of the playoff, while if we had lost to an average team or another team it would be irrelevant because we would still have a relatively easy path to the big ten championship game and wouldn't need help
How do you figure Michigan has the best wins? They beat Wisconsin at home by a TD, and beat up a decent Penn state team again at home. We beat up Oklahoma on the road, beat Wisconsin by 7 on the road, and crushed Nebraska at home. Michigan's resume is far from bad, but I don't think it can match ours. Either way it will be settled in two weeks.
Very good point. I also might add that if we got left out it would effectively be punishment for losing to a decent team rather than a crap team. If we had lost to any team in the division worse than Penn state or any of the West teams, we would probably have no problem getting to the championship game and the loss basically wouldn't matter
I'm just hoping Sparty saves their annual season ruiner for happy valley and we win out and all of this becomes a moot point. Regardless of what happens, I think there will be moves toward expansion because you will have several unhappy fan bases this year.
Yeah, if we win out, we will have wins over two or three top ten teams and another two or three other top 25, and our only loss will be in a fluky way against a top ten team on the road at night. Hopefully that will be enough. We should do our best to lay 62 points on the Michigans just for good measure.
Totally agree here. He knew that it was not likely, but I think it says a lot about his attitude. As one of the best players in the team, he is still playing hard and trying to win.
Not only is that great, it comes with its own theme song.
To be fair, I think if we had won that game last year, we would have looked slightly above average while beating TTUN and Iowa, then gotten pantsed in the CFP semifinal. The team just didn't seem to want it that bad last year.
Agreed. Especially since for almost every other play, just touching the ball is irrelevant without possession. The only other one I can think of is a punt, but that at least makes sense.
Fairly certain the RT jumped early, but they didn't call it. Regardless, our D line stepped up when they needed to most
That was not good for my health. Felt way different than the dicey games last year though. Plus Wisconsin is good.
I'd argue that it was more Devin Smith
Couldn't have played it better there. That's what we had been doing on 3rd and short and they bit on it
No kidding. And these guys are all recent draft picks