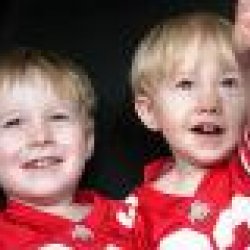 AltaBuck
---
Denver, CO (via Park City Utah)
MEMBER SINCE May 20, 2011
Grew up near the S&G course over on McCoy Rd. My grandfather was head of Neurology and a surgeon at Riverside Hospital. He knew Woody and would assist the team med wise. Ended up out West in my teens and fell in love with the mountains. Graduated from Park City HS and the University of Utah. I work in technology supporting Gov't accounts. Happily married to a Duck fan and living in Denver with our two sons (who are not Duck fans). GO BUCKS!
Favorites
SPORTS MOMENT: Sun Devil Stadium January 3, 2003 - Lost my voice for 3 days.
COLLEGE FOOTBALL PLAYER: Chris Spielman & Antoine Winfield (Tie)
COLLEGE BASKETBALL PLAYER: Aaron Craft
NFL TEAM: Denver Broncos
NHL TEAM: Colorado Avalanche
NBA TEAM: Utah Jazz
MLB TEAM: Cincinnati Reds
Recent Activity
Sorry..had to post. This scene just popped into my head.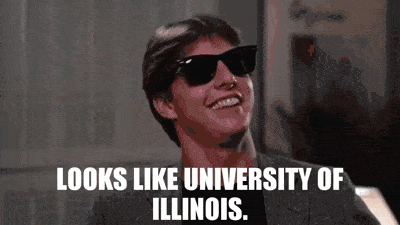 Yep...their consistency is for shit. They'll call a ticket tack foul on one end and then someone gets mugged on the other end and no foul is called.
Hopefully Coach Day calls Bert and let's him know he didn't get the MSU job so no reason to fly up to East Lansing for the interview.
Running some 12 personnel would be great to see and highly effective I think.
up vote for the O Brother, Where Art Thou reference.
I tend to agree with you. I really don't think the amount of WR talent is scaring away RB prospects. Also, if I'm being recruited as an RB, I would prefer going to a program in a colder climate where the ability to run the ball is at a premium when the weather turns bad. Recruiting is cyclical...you have good classes and bad. People were throwing Coach Stud under the bus when he had a some big misses. Now the guy can't miss.
I absolutely agree with Ramzy that Gronk rejected OSU based on the lack of TE attempts but that was all about Tressel's offensive philosophy and not the amount of talent in other position groups.
Just reminded me of how Pete Carroll left SC right before the shit hit the fan. A poor comparison when you think about it. SC was a power at that time. MSU, not so much.
If that's the case, I'm surprised he isn't heading of to coach the Seattle Seahawks.
The TUN mortified punter gif will live in infamy. Although it occurred in their only win over tOSU in 2011, it was an omen for the decade to come.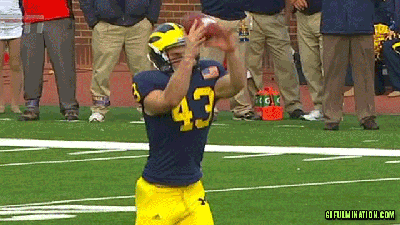 I'm not sold on Clemson's RZ defense. If JK catches those two passes, where he was wide open, then we are talking 3 out of 4 RZ TDs in the first half.
I think Joe picks them apart Monday. Clemson's only chance is to get to Burrow via blitzing or the LSU receivers/RBs start dropping TD passes.
CJ was on target with that 4th down throw. Nice juke to get away from Bresee.
Really looking forward to seeing Marcus Crowley next season. Hopefully, he has fully recovered from his knee injury. I think the combination of Crowley and Teague along with a healthy Fields will be more than adequate regarding the OSU run game.
Bell should have stayed on the ground, shut his eyes and convulsed.
It was just one of those games. The play you referenced was whistled dead to review Wilson's catch. A break for the buckeyes that actually turned into a break for Clemson because I think JK takes it to the house on that play versus the FG we get after the review.
Always great to see a local Colorado kid choosing the Buckeyes. Sam is a very good wrestler which always bodes well for line play and technique.
Team will be on a mission next year. Proud of Coach Day and the staff. Proud of the players that gave everything last night. Still trying to figure out how to cope with this loss. I haven't felt this bad since the MSU loss in '98.
I guess the ACC refs suck as bad as their conference
Cost his team 3 pts.
I've been hating their fanbase since Tattoogate. They were worse than the TTUN fans with their self righteous BS. Then, when the most evil asshole associated with CFB, rapes young, impoverished boys for over 3 decades, their legendary coach turns a blind eye along with the majority of their fans. I respect the players but I'll never respect their fans. Plus, Franklin is a douchebag. I liked OBrien.
Just have a feeling that special teams will play significant role in the outcome of the game. I'm thinking Garrett Wilson houses one on a punt return (but then i get negative and think that he might muff one too). Any thoughts on who has the edge regarding special teams in this match-up?
With a weaker interior Oline, fully expect Clemson to attack the edges using both passing and run plays with Etienne. The LBs need to play extremely well. Harrison, Browning, Borland and Werner will have to bring their A game.
Thank you for the insight. I did not realize there are specific signals for each offensive group.
Going back to Clemson's 2016 championship season, their only loss was to Pitt, and NC State played them in a close game that Clemson ended up winning 24-17. Both those teams huddled when calling plays in their respective games with Clemson that year. Makes you think.
In the 2016 match-up, DC Venables seemed to know exactly what the OSU offensive staff was calling prior to the play. I do realize that offense was very predictable Ie - Running a jet sweep anytime JT was under center. That said, there has been talk about Clemson's ability to steal play signals from opposing teams. Do you think there is any truth to those rumors from fellow ACC coaches, and if true, what can the OSU staff do to mitigate Clemson stealing signals?