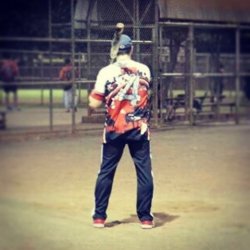 AlohaBuck
Travis AFB, California (via lancaster)
MEMBER SINCE February 11, 2014
Buckeye from lancaster, was living in Hawaii, now in the Bay Area(for now)
Favorites
COLLEGE FOOTBALL PLAYER: ZEKE!
COLLEGE BASKETBALL PLAYER: Chris Jent
NFL TEAM: browns
NBA TEAM: cavs
MLB TEAM: reds
SOCCER TEAM: crew
Recent Activity
Pantaleo has to be from the jersey shore.
Am I right to assume Retherford not scoring a tech fall or getting any bonus points is good for the Buckeyes... I'm not certain how all this works, so I'll take my beating if I'm way off and wrong.
We won a game tonight, in which KBD didn't play all that well (offensively), CJ made some bonehead plays, and Tate didn't play all that well. Plus did it on the road. Might be our best win of the season considering all of that. Potter was fantastic, and didn't get in foul trouble.
My biggest worry would be that at some point, a team that is deep enough and athletic enough, will press the buckeyes early and often, and I am unsure how they will handle that. They just struggle so badly with it, and then even when they do break it, they really struggle to then get into any offense.
Holtmann out of time outs is fantastic! Some of the plays out of timeouts have gotten us easy layups or wide open shots.
I'm going with 95 or 98 because the 90's brought some real pain as a teenager and having such awesome teams who lost to UM... which made 98 hurt so much more because we finally beat those jerks and lost to the other school up north.
I feel like Eddie deserved to win a Natty, and that 98 Team was just nasty!
Give me Rosen and Minkah with the first two picks please!
anything that makes barca worse, is good by me!
Last Chance U season 2 is out, and it's really good again!
Don't consider myself a big dempsey fan. Think he's a little bit of a selfish player, BUT I love the role of brining him off the bench for 25 minutes or so. However, that goal was nasty!
I love seeing El Tri lose, and now we won't have 40k mexican fans in an american stadium wednesday night!
Tap Sports baseball
Score hero soccer
Euchre
Family Feud Live- Awesome game!
I disagree, we talked about this last week. Zeke keeps finding ways to put himself in situations that aren't good. He needs to get his **** together. He's already being investigated by the league, and he's out getting involved in other incidents... just not a good look for zeke
eh, maybe from some accounts, of people who claim to be guys who cover recruiting but there are plenty of guys out there who are legit and do their own research and have sources.
I won't miss Axelrod at all..
just wait though, axelrod will be posting pics of these messages on his twitter soon.. he loves searching himself on twitter or looking up his name of forums..
these guys still gotta go out there and prove it on the floor... but I really liked watching that. There wasn't anything fake about that, you could see him beaming with excitement.
I love the because it shows who he is.... he plays both sides, all the time, so he can always claim he was right. Always been the thing that drove me nuts about him, going back to the cold pizza days.. he ruined that show.
doesn't matter who the GM is, if you want LeBron and other stars, you aren't going to have assets. Miami didn't have them either. You have to give up something to get something.
those white uni's are amazing. Id love to see them week 1 At IU.
for some reason the embedded version won't appear..
Connor's defense in this sparring, is bad.. even Floyd might get aggressive if he fights like this.
so many good things in here... i can only give you one helmet sticker tho..
take 670, and get off at Neal avenue. when you see the 6th street church, just part on any of those streets, and you have a super easy walk to the stadium, but better yet, you are just a few blocks from Mirror Lake and The Oval. Then when you leave, you'll have no traffic. I park there every game and have never once had an issue parking or leaving.
if anyone can find a way to blow 100 million that he probably shouldn't touch, its floyd. he will bet it on something stupid..... yeah, like Tennessee, any year!
Didn't floyd basically raise himself and quit going to school? I mean, his act is annoying and he's probably going to be broke sooner than later, but if that is all true, and he still made himself to be a millionaire, then that's pretty badass. Plus, my wife watched that soundbite of him reading and instantly said, I bet you he is dyslexic.
I think the only chance Connor has, is to either land a big one early, or get Floyd to wear smaller oz gloves. Otherwise, as much as I like Connor and just generally think Floyd is annoying, he's going to dominate this fight and Connor is going to be dead tired.
I mean he can't be THAT lukewarm towards OSU, because his snapchat is him there at the woody all the time..