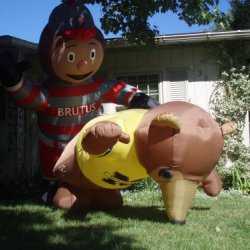 AlltimeTE
---
MEMBER SINCE January 28, 2015
Recent Activity
Edwards has offers from Bama, LSU & UF....should be a 5*
Feeling the Edwards Mo....give me he and Henderson and call it a Day!
He doesn't mention tOSU for Camar Wheaton but I'll bet OSU is in it as both Alford and Day visited him in the past 30 days...
I'll be interested to see what happens with Wheaton, most of the hype schools secured big time RBs this year, tOSU did not. Texas losing Drayton hurts them. He recruited both Hyde and Zeke to tOSU and Bijan to UT.
If Aranda bolts watch Orgeron pass again on Corey Raymond again for DC....
Thanks for responding re. Malone. Funny he talks about the UM fan support, he had to see that 1/3 of that stadium was Scarlet. Are you saying TOSU is not offering to let him play baseball?
UM Insiders are claiming the Stroud visit is going very well and they think they get him.....
Gibbs is staying in the South. Did not schedule an official with OSU. Last visit is Bama...either he sticks with GaTech or UGA/Bama. A family member has confirmed this on Bnuts.
Anyone seen any comments after Saturday's game from Malone? He's my #1 get.
Michigan H.S. Football ranks up there with Indiana. Not saying Martinez isn't talented. Look at that pic, not one fan in the stands lol.....
Wish he was bringing that big DT with him to Cbus
Sad OSU is relegated to flipping a RB from either Iowa St. or Ga Tech. Something about Alford is not attractive to these kids.
Why would these kids get excited about a USC offer? Helton is a dead man walking.
Cowan wearing UGA gear @ the Rivals Atlanta yesterday FWIW
And, tOSU's APR includes a Kicker which brings the score down (even though he is the #1 ranked kicker)
Melton is "Tuff Borland" slow, I say pass. Timed at nearly 4.9
Besides Fleming, he's tight with Ricks (#1 corner, visiting OSU) and Rakim Jarrett (both tweeted on the commit video)
Kid looks 3" shorter than Kaleb in that picture...closer to 6' 6"?
And Ahrens had 29 against Iowa and never saw the court in the last 4 games....
Watching the video from this event, I'd say Leroux is a massive project, the fact no offers from MSU/scum/Wisky is very telling...his feet are in quicksand...
Borderline has eliminated OSU. Heading to 2 spring games- Clemson/OU. No activity with OSU-NONE. This kid is Urban Meyer loss.
Kevin Feder Part II......he also dominated as a H.S. DL due to his overwhelming size and inferior competition....this kid has lead feet.
No. They have a preference for the Braun kid from GaTech that is visiting in March. He's a take because of his versatility and 2 time All ACC plus he's open to RS...
Buckeyes have led the B1G in QB play in the 2000's POY, Smith/Brax/JTB and Haskins
We'll see if this sticks from both sides- no TAMU, TX or Oklahoma offer.