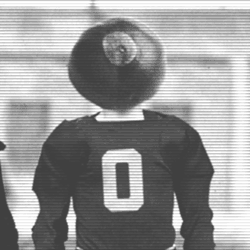 AllDay028
---
Member since 23 July 2012 | Blog
Recent Activity
I will always root for and have love for Teddy. Great buckeye.
He's definitely a late round guy and I honestly have a hard time seeing him sticking in the NFL. But he's graduated and is losing his position coach which probably makes it an easy choice for him. Best of luck to him and we'll always remember him as a great buckeye.
Nowhere? Todd Mcshay has him as the 13th best player: http://insider.espn.go.com/nfl/draft2016/insider/story/_/id/14108029/memphis-qb-paxton-lynch-continues-rise-mcshay-top-32 That's the first place I looked.
Lee almost definitely won't be back. He's a likely first rounder, it would make no sense. Bell is a borderline guy but I expect we'll lose him as well. Marshall will almost definitely be back though, that I agree with.
Tim Beck is consistently bad. If you want to root for a team where we aren't critical of our millionaire coaches who underperform, I suggest you cheer for someone else.
We can win next weekend or we can keep employing Beck. I'll be interested to find out what Urban chooses.
Tim Beck is really awful. I got crucified for last year saying he was a bad hire considering he had never had success anywhere he's been. I hate being right, but this year and this game in particular has shown how poor he is. Urban can either demand excellence and fire him. Or we can continue to keep Beck on the payroll and lose games. I know which one I support.
I'm sorry but If your positions is "rules are rules regardless of how dumb and he broke them" then sticking up for Tressel and not Pryor is a complete lack of consistency. Tressel knowingly broke the rules, regardless of intent or justification, just as Pryor did. There seems to be a tendency among Buckeye fans to treat these separately because we've, without knowing most of the pertinent facts, decided that Tressel must have had pure intentions and TP must have had bad ones. But that's no more than conjecture. Lastly, regardless of the rules TP broke, the rules Tressel broke were the real reason we got hit so hard, if he follows the procedure as he should then the players are out a couple games and that's that. Both should be welcomed back with open arms, just as both should be blamed for what happened.
DJ, you know Cody Kessler was a finalist for the manning award and had one of the best seasons in USC history, right? He'll be on a lot of preseason AA and Heisman short lists.
Posting on message boards about sports is up there.
Birm, Bucknuts is saying Ferns has never met Sandwich and they don't know each other. What is the reason for the differences in opinion, you think?
I've had it for both my Moto X and my Nexus 9 since November and have no issues. Like it a lot more than KitKat.
Just so we are clear, you are advocating banning people from public university events because you disagree with their chosen profession? Who becomes the arbiter of morality in this case? Who should be banned? Where does the line start and stop? It's completely impossible. And frankly, many people would call you (and any institution that implemented this) bigoted.
From what I've seen, the media hasn't devalued Brax, but a lot of buckeye fans sure have.
How do you propose FSU stop porn stars from posting whatever they want on Twitter?
Absolutely do not think you can call Beck an upgrade over Herman considering Beck's shaky history developing QBs.
Not even waiting till the signing ceremony. Possible there was just a push to stir up a story?
Any important late night updates?
Birm, You said sometimes recruits/parents come to you for advice. Have you ever counseled a player or his family that maybe OSU isn't the best place for them?
Anyone who thinks the third quarter was conservative didn't watch the game.
This post deserves it's own thread. Could not agree more. A complete lack of football knowledge calling people to blame Herman for a performance that was on the execution of the players.
I'm sorry
Manny's is worth the trip IMO. It'll packed on both floors with basically only buckeye fans. I often take the trip from the Tribeca area even though it's inconvenient because the atmosphere is so good.
Law Enforcement to get involved if you aren't sitting enough? My god they are killing the atmosphere there. If you can't handle standing and/or people standing around you, stay home. Absolutely atrocious.
Every year I'm surprised when I see Kimbo Slice walking into the team hotel.